Common Grounds – The Story Behind Our Sustainable Coffee Producer
In this blog, Castlefield Investment team member Eleanor Walley explores the ethical credentials of Castlefield's chosen coffee blend from Daterra - a coffee farm leading the way with its sustainable ethos.
Like many workplaces, we get through a lot of coffee.
As a values-based organisation, we want to source our coffee from a company exhibiting strong ethical and ecological credentials. Coffee is a boom-and-bust commodity, and global production is heavily dependent on factors like weather conditions and disease, creating a volatile market that subjects coffee farmers to precarious financial situations.[1]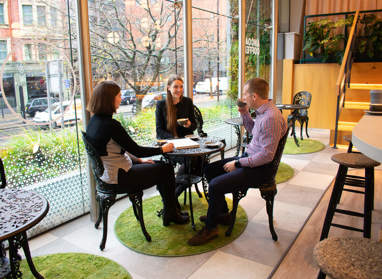 That's why certifications like Fairtrade, guaranteeing coffee farmers at least the Fairtrade Minimum Price for their coffee, are essential in providing farmers with a safety net. Likewise, the Rainforest Alliance, which provide a certification that focuses strongly on the protection of ecosystems and the environment, recently implemented a mandatory additional cash payment made to certified producers over and above the market price of the commodity.[2]
When our UK-based coffee supplier told us that our usual blend was being phased out, our Senior Partner asked me to check out the sustainability performance of the coffee producer before choosing a replacement blend.
For me, the story behind our choice of coffee producer serves as a meaningful illustration of our wider purpose, whilst demonstrating the extent to which ethical considerations flow throughout the business. It is reflective of how the team at Castlefield strive to forge ties with those that share our aspiration, to contribute social and environmental good – whether this be the companies we choose to invest in, attracting clients seeking to invest responsibly, or the businesses that we connect with.
As a values-based organisation, we want to source our coffee from a company exhibiting strong ethical and ecological credentials.
We source our coffee from Daterra, located in the oldest coffee plantations in the Brazilian Cerrado region. Daterra was established in the 1980s, committing to a promise of "offering always the best we can to people and to our planet" far before the concept of sustainability became so heavily popularised.[3] Sustainable agriculture and environmental preservation are key to the mission of producing high quality coffee in harmony with nature.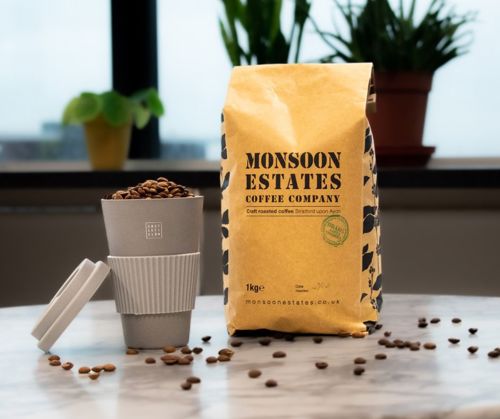 Testament to this is the plethora of certifications awarded to Daterra – the first coffee farm in Brazil to receive Rainforest Alliance and ISO14001 certification, as well as IBD Organic certification for a portion of the farm.[4]
53% of Daterra's land is used exclusively for environmental preservation, reforesting over 340 hectares around the farm and planting over 610,000 native trees since operations began.[5] Daterra is also a carbon negative organisation, meaning they remove more carbon from the atmosphere than they emit. At a time where most businesses are tirelessly working towards net-zero, some may wonder how this is possible.
However, the very nature of Daterra is geared up for carbon sequestration. coffee trees sequester carbon from the atmosphere as they grow and by employing regenerative agriculture practices such as soil regeneration, Daterra are able to further increase carbon sequestration whilst improving soil health.[6]
Daterra is also a carbon negative organisation, meaning they remove more carbon from the atmosphere than they emit
Daterra are working to stimulate the entire production chain by only selling coffee to sustainably certified exporters. In addition, they offer carbon credits to their network of distributors, roasters, and coffee shops to help their coffee distribution chain achieve carbon neutrality from seed to cup.[7]
Despite concerns that standards of worker protection are less stringent under Rainforest Alliance Certification than Fairtrade, we felt confident that as the only B-Corp certified coffee farm in the world, Daterra is addressing areas like fair wages and the prohibition of forced labour. Certified "B Corps" are regarded as organisations that commit to the highest levels of social and environmental responsibility.[8] The certification process takes a holistic view of sustainability covering a wide spectrum of environmental, social and governance issues – from employee benefits, to supply chain practices and environmental preservation.[9]
In an industry where public trust has previously been compromised by multinational players, having confidence in the sustainability credentials of our coffee producer is vital. For example, Dispatches, a documentary aired in 2020 uncovered young children working long hours in arduous conditions picking coffee beans for Starbucks and Nespresso. The slogan and philosophy at Daterra is "Growing Relationship Coffee" highlighting the importance of its relationship with the soil, the water, the workers and the community, just as much as its relationship with quality and clients across the world.[10]
Upon reflection, I thought this aspiration to establish positive relationships with both people and the planet resonated nicely with Castlefield's own purpose of supporting the welfare of the widest community of stakeholders. Daterra's commitment to protecting workers, as well as the ecosystem fauna, flora, soil and water springs within the farm disrupts the narrative that associates the coffee industry with adverse ethical and ecological impacts. 
As a values-based organisation these things genuinely matter to us. That's why we're known as the Thoughtful Investor ®. It's also why if you visit our offices, you'll never receive a cup of instant coffee. 
All information quoted is obtained from sources which we believe to be accurate at the time of publication, but may be subject to change. We therefore cannot be held responsible for the implications of relying on this information. 
Written by Eleanor Walley
[1] Coffee farmers - Fairtrade Foundation
[2] Does Rainforest Alliance Certification Guarantee a Minimum Price for Certified Crops? | Rainforest Alliance (rainforest-alliance.org)
[3] Who We Are – Daterra Coffee
[4] Sustainability – Daterra Coffee
[5] Mission Climate: Daterra takes up commitment to increase Carbon Sequestration. – Daterra Coffee
[6] ibid
[7] ibid
[8] https://www.bcorporation.net/en-us/certification
[9] ibid
[10] http://www.daterracoffee.com.br/sustainability/