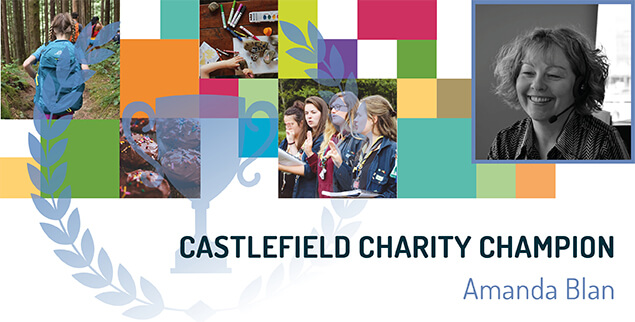 A wonderful number of our co-owners engage in voluntary activities in their own time, and here we invite them to talk about their voluntary work. It's great to be able to celebrate their efforts and the impact they have both in their local communities and further afield.
We start this series with a co-owner who deserves to be shouted about! She has dedicated a huge amount of her spare time over the years volunteering for Girl Guides, making her a true asset to her community and society at large.
Amanda is a Senior Executive on our Finance Team, read on to hear about her experiences in her own words.
My involvement with Girlguiding dates back to 2013 when my daughter joined a local Guide unit. I am now the Leader of our unit which can have up to 18 girls, aged between 10 to 14, on the register.  Girlguiding is the largest UK charity for girls and young women. Guiding is so much more than an after-school activity or a way for girls to spend an evening. Through fun, friendship, challenge and adventure we empower girls to find their voice, inspiring them to discover the best in themselves and to make a positive difference in their community. Our Promise links us to other Girlguiding members and the ten million people involved in guiding across the world. Although we may have different languages, cultures and beliefs, each member makes a commitment to do her best.
Girls work on a programme based around 6 themes: Know Myself, Express Myself, Be Well, Have Adventures, Take Action and Skills for my Future. All our badges and unit meeting activities are linked into one of these themes. Long gone are the days of Guides working on knitting or cooking badges. Today's Guides can choose to work on Interest Badges such as Vlogging, Media Critic, Human Rights and Upcycling. As a Leader, it is really inspiring to help girls develop their interests in a diverse range of topics.
My unit tries to have at least 3 trips out every year. Over the past few years, we have enjoyed days at theme parks, indoor rock climbing, roller skating, pottery painting and bowling. Last year we also had an exciting sleepover at Blackpool Tower, sleeping in the famous, historic ballroom! During the Covid-19 crisis, we have continued to meet weekly using Zoom; this has been challenging but I know from parents' feedback just how much they need and enjoy regular interaction with their Guiding friends and our activities.
I have found working with the girls hugely enjoyable. It is so rewarding to see a nervous, shy 10 year old grow and develop into a well-rounded, confident young adult. My Guides make me "LOL" every week and meetings always finish with big smiles; spending time with them is an absolute pleasure.
Written by Amanda Blan