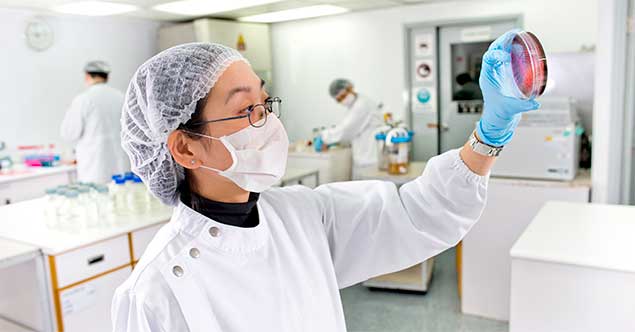 We always try to be at the forefront of good practice when it comes to Environmental, Social and Governance (ESG) investing and, as you know, we look to support companies which are "doing the right thing" in all of these areas. Last month, we featured Greencoat UK Wind which obviously scores highly on the "E" of ESG and this month we've chosen a company which is especially strong on the "S", or Social aspects of our favourite acronym.
It's really pleasing to see the "S" of ESG becoming more prominent recently and never more so than during the pandemic-related lockdowns and restrictions that we've all endured over the last couple of years. And yet, for many businesses, out of adversity comes opportunity; the opportunity to accelerate the roll-out of new products or services, to ride the waves of rapid changes in the market and in society and, perhaps somewhere along the way, to do some good. The subject of this month's stock story is one of many in our portfolios which responded to the pandemic in a positive fashion - FTSE-100 firm Intertek Group PLC.
Intertek, which we hold in our Castlefield B.E.S.T Sustainable UK Opportunities Fund, specialises in Total Quality Assurance or, more specifically, Assurance, Testing, Inspection and Certification. The company is an industry leader with more than 43,800 employees in 1,000 locations in over 100 countries. Intertek helps clients to meet quality, health, environmental, safety, and social accountability standards for virtually any market around the world. It holds extensive global accreditations, recognitions and agreements, and its knowledge of and expertise in overcoming regulatory, market, and supply chain hurdles is unrivalled. Among the many industries served by Intertek are construction and engineering, food and healthcare, government, hospitality, retail and transport. In 2019, the directors of the company looked at the group's own conduct and launched Total Sustainability Assurance, an audit and certification programme under which they hold themselves to the same high standards to which they certify their clients. The ten Intertek Corporate Sustainability Certification Standards are:
Quality and Safety
Risk Management
Enterprise Security
Compliance
Environment
People & Culture
Communities
Governance
Financial
Communication and Disclosures
The social benefits of Intertek's wide range of activities is probably best demonstrated by some examples. We have chosen three, but there are many more.
Last year, the company introduced a programme called Kindness which is designed to support the wellbeing of Intertek employees across the world[1]. The programme is based around six core areas of wellbeing, namely: making connections with others; energising and motivating yourself; mind power and self-confidence; staying positive; mindfulness and resilience; and feeling supported. Employees have access to e-learning modules on each of these areas plus they can use a personal Kindness Journal to focus on their own wellbeing goals.
In another initiative, this time designed to support disabled people, Intertek Hong Kong provided their ProtekTM COVID-19 Hygiene Check Certification to Rehab Life, a charity supporting people with disabilities, particularly those who are wheelchair-bound[2]. The charity uses specially designed and equipped vans to help more than 60 people travel between their homes and hospital every day, so it's essential that the vans are as clean as possible. Intertek tested samples taken by swab from several high-risk areas, including back seats, handles and windows, which then underwent rapid biomolecular analysis at an Intertek lab. These tests showed within 24 hours that good levels of hygiene were in place and helped enable local volunteers to provide the best quality service to users. The Hong Kong team also helped Rehab Life and other charities to work with more than twenty customers to donate Intertek-tested PPE products and other supplies to more than 500 people on low incomes, including street cleaners and cardboard collectors.
In South Africa, the company has established an Enterprise and Supplier Development programme to help create sustainable growth by empowering black-owned SMEs within both their own supply chain and in the wider economy. The programme is supported by Intertek staff who have worked with these organisations for a long time and know them really well. For example, they have worked with the Bevies Care Centre and Masisizane Service Centre for more than fifteen years[3]. The social work done by these centres has made a significant impact on the lives of underprivileged children in the KwaZulu-Natal area of South Africa. There have also been several new beneficiaries of late, including Zazele Training and Development, a company that works with entrepreneurs from disadvantaged backgrounds to train, equip and support them in setting up their businesses.
As investors, we often talk about a company's "Social Licence to Operate." By this we mean the ongoing acceptance of a company's standard business practices and operating procedures by its employees, stakeholders and the general public. This licence is created and maintained over time as a company builds trust with the community it operates in. In order to protect and build a social licence, companies are encouraged first to do the right thing and then be seen doing the right thing[4]. While regularly generating good financial returns for investors, we feel that Intertek also works extremely hard to maintain its Social Licence to Operate and it's because of these two things that we remain happy shareholders.
 References
[1] https://www.intertek.com/investors/year-in-review-2020/kindness/
[2] https://cdn.intertek.com/www-intertek-com/media/investors/2021/Intertek-2020-Sustainability-Report.pdf Page 27
[3] https://cdn.intertek.com/www-intertek-com/media/investors/2021/Intertek-2020-Sustainability-Report.pdf  Page 29
[4] https://www.investopedia.com/terms/s/social-license-slo.asp
Information is accurate as at 10.11.2021. Opinions constitute the fund manager's judgement as of this date and are subject to change without warning. The officers, employees and agents of CIP may have positions in any securities mentioned herein. This material may not be distributed, published or reproduced in whole or in part. With investment capital is at risk.