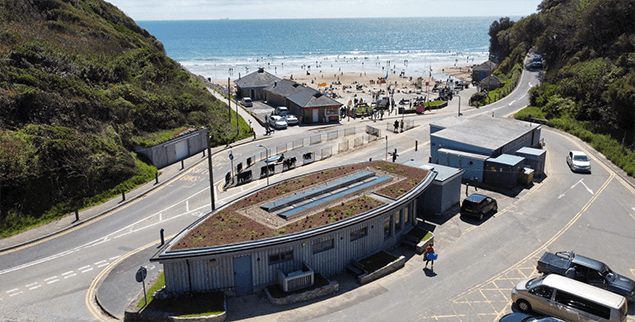 Having lived through some uninspiring decades for civic and commercial architecture, notably the 1980s and 1990s, the 21st century has, to my mind, brought a big improvement in the quality, efficiency and aesthetics of the modern building and of the wider public realm. Take a look at a modern office, civic building or private housing development and you might well see products supplied by Alumasc, subject of this month's UK stock story, which is a UK market leader in the type of high-quality products which enhance a new building or, when retrofitted, really improve an older building.  
Based in Northamptonshire, The Alumasc Group PLC has a history dating back to the middle of the last century. In the 21st century, the company has grown and evolved through a series of shrewd acquisitions and disposals. 2007 was a transformative year for the group, because that was when it acquired Levolux, a solar shading company, in a transaction which helped re-position the group's building products activities into the much more interesting (to us) sustainable building products arena. This deal, plus the 2008 purchase of Blackdown Greenroofs and of Rainclear Systems in 2012, combined with the disposal of several businesses, enabled the group to focus on its core building products activities. Then, in 2018, Alumasc acquired Wade, a leading manufacturer and supplier of high-quality drainage products. Also in 2018, it commissioned a new 88,000 sq. ft. factory for Timloc, its Housebuilding Products business[1].
Alumasc sells into a wide range of end markets, from public housing to infrastructure and private commercial structures.  The company operates three business segments; Water Management, Building Envelope and Housebuilding Products. These days, almost 80% of group sales are driven by building regulations and specifications because the performance and environmental characteristics offered by Alumasc products are very attractive to architects and structural engineers
We've been investors in the company for several years now and, apart from it having a strong business case, we like the fact that many of Alumasc's products are designed to make buildings much more attractive and sustainable. They supply products and solutions which add value while conserving scarce resources such as energy and water in the built environment. For instance, the company's living roof systems contribute to biodiversity and the attenuation of storm water. These eco-friendly products, such as Blackdown Green Roof systems, can support a wide range of planting to help enhance the urban landscape and encourage nature to flourish[3].
The company is involved in some fascinating projects on buildings old and new. For example, in Water Management, Alumasc's guttering products feature on famous structures such as the impressive King's Cross St. Pancras station as well as the Royal Albert Hall.  With the need to retain as much of the Albert Hall's original character and features as possible, the company's Apex Heritage Cast Iron gutters and downpipes were moulded to replicate exactly the traditional fittings[4].
One Alumasc product we especially like is the Hedgehog Highway, produced by its subsidiary Timloc, to help tackle the declining number of hedgehogs across the UK. The Hedgehog Highway[5] has been designed to connect gardens, enabling hedgehogs to forage widely for food and shelter without encountering any obstacles. Timloc Building Products will supply hedgehog highways on a not-for-profit basis to developments across the UK to encourage housebuilders to protect hedgehogs in this way.
The surfboard-shaped building in the foreground of the attached photograph incorporates products, such as the green roof, supplied by Alumasc as part of a BBC "DIY SOS Big Build" programme, which aired as part of Children in Need 2020[6]. The building is the HQ of Surfability UK[7], a Community Interest Company based in Swansea which provides surfing lessons and experiences for people with additional needs due to disability, illness, injury or learning difficulties.
By focusing on markets with long-term structural growth drivers, such as solutions which improve the efficiency and quality of the construction and installation process, Alumasc management aims to increase group revenues faster than those of the wider UK construction market. In relation to good governance, the directors recognise there is still work for them to do; for example, in employee diversity. Clearly, building and construction are historically male-dominated industries but the Alumasc board are working hard to address this and are open to engagement on it, which is encouraging.
 Written by David Gorman
Information is accurate as at 09.09.2021. Opinions constitute the fund manager's judgement as of this date and are subject to change without warning. The officers, employees and agents of CIP may have positions in any securities mentioned herein. This material may not be distributed, published or reproduced in whole or in part. With investment capital is at risk.
[1] https://www.alumasc.co.uk/about-alumasc/history/
[2] https://www.alumasc.co.uk/about-alumasc/overview/
[4] https://www.alumasc.co.uk/operations/water-management/
[5] https://timloc.co.uk/product_category/hedgehog-highway/
[6] https://www.bbc.co.uk/programmes/m000pbx6
[7] https://surfabilityukcic.org/