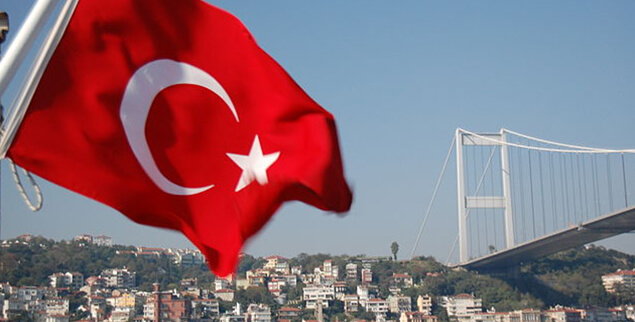 See footer for image information
Castlefield B.E.S.T Sustainable European Fund News
Turkey in Crisis
By Rory Hammerson
Turkey has been in the grips of a severe financial crisis for some time, and the question we should ask ourselves is how much does it matter? This piece is a brief exposition on the Castlefield B.E.S.T Sustainable European Fund's view on the emerging crisis in the Turkish economy. The Fund does not hold any Turkish companies and the only exposure is indirect via one company, which holds an investment in Turkey. On the back of the turmoil, we spoke with this company on Monday afternoon— the Italian bank UniCredit.
Background
Last Friday was seminal, as the Turkish Lira plunged and debt spreads rocketed, with the 5 year credit default swap spread trebling from 1.5% at the end of last year to 4.5% ('CDS' - a tradable financial instrument used to insure against a bond issuer being unable to repay its debt). At the start of August, the US Treasury Department imposed an asset freeze on two senior Turkish officials (the Ministers of Justice and the Interior) for their role in the detention of an American pastor. Turkey responded with sanctions against two of President Donald Trump's cabinet. Markets responded predictably; the Lira crashed, Turkish bond yields soared, and Pastor Brunson remains under house arrest.
It's too early to tell what will happen with longer term sanctions or whether trade between the two countries will be jeopardised (Turkey already risks the deliveries of 100 F-35 jets as punishment for buying its missile defence system from Russia). What is certain however, is that Turkey requires huge capital inflows to help manage an economy saddled with corporate debt, and a spiralling currency overlaid with tough sanctions is not a healthy state of affairs.
UniCredit
UniCredit is a company we have written about before during the political upheaval at the end of May. We were sanguine about the outcome then and we remain sanguine now. What moved the share price down around 5% on Friday was a comment by the ECB, which surprised the markets by naming three banks with Turkish exposure. UniCredit was one of them. Sitting at 2.55% of the European Fund portfolio,1 this is a typical position for a transformational company (the fund only buys two types of company – High Quality and Transformational) and is a classic example of an organisation going through self-help. When Jean Pierre Mustier took over UniCredit's tiller in July 2016, the bank was rudderless. With no strategy and in dire need of capital, Mustier set to work immediately. He rebuilt capital, raising €20bn through a €13bn rights issue and selling €7bn of non-core stakes. He implemented a de-risking program to improve the asset quality of the balance sheet after the woeful acquisition of Capitalia, an Italian banking group, which brought only a portfolio of rotten loans to the bank. Finally he transformed the P&L, by taking out a swathe of operating costs including 14% of staff, and nearly 1000 bank branches in Italy, 24% of the home turf estate. Aligning staff with long term incentive schemes over three year KPI's which then take another four years to vest, Mustier has a well-deserved reputation as a determined and intelligent CEO. He is described by staff as the man who re-instilled a sense of pride into a company which had been mismanaged for many years.
UniCredit may be Italian but it has exposure to Germany, Italy, Austria, CEE and Russia, and of course Turkey. Italy is the main revenue generator at 47% of revenues. Still in recovery mode from the global financial crisis, the Italian economy still has legs and although GDP expectations will probably be lowered from 1.9% to 1.5%, the growth and contribution will be positive. Germany represents 21% of revenues, Austria 10%, CEE and Russia around 13%, and Turkey 2%.
UniCredit owns 40% of Yapi Kredi Bank, Turkey's fourth largest bank and is treated under the equity method in UniCredit's accounts. Turkey is therefore a small exposure for the income statement, but we need to look at capital risk to understand the impact on UniCredit. Core Tier 1 capital sits at 12.5% for UniCredit. For every 10% move in the currency the impact on capital is 2 basis points.  Another sensitivity to consider would be that for every 100 basis point move in credit spreads, the impact on capital is 1 basis point. UniCredit's loan exposure to Yapi amounts to US$2.5bn.
In conclusion, for UniCredit and the wider European portfolio, the direct risks of Turkish exposure are small, to a certain extent hedged and not a huge impact if things go badly wrong. For example, if Yapi were to be written off, this would lower the equity value of UniCredit by 4-5%. The risk is more of emerging contagion, with capital flows potentially leaving other emerging markets with twin deficits, large reliance on foreign direct investment and inflation. In a world where trade agreements are under review, this is a concern. Whilst we should remain alive to a de-escalation of rhetoric and inflammatory language, economic history tells us that emerging market crises are often sparked off in just such circumstances. We watch this space.
1. Source: FactSet, as at 31/07/2018.
Disclaimer
The views expressed are the fund manager's alone. You should not rely on these views to make an investment or other decision, but should obtain independent advice of your own. You should not consider the fund manager's views to constitute investment, legal, tax or other advice.
The value of any investment may go down as well as up and an investor may not get back the full amount invested.
Castlefield Investment Partners LLP (CIP) is authorised and regulated by the Financial Conduct Authority and is a member of the London Stock Exchange. CIP is registered in England & Wales No. OC302833
Whilst the views of the fund manager are given in good faith at the time of writing, their accuracy or completeness cannot be verified by CIP. The fund manager's views should not be considered a personal recommendation, nor to represent the views or opinions of CIP, its partners, members, employees or agents.
Image Information
Image 'Bosphorus Bridge and Turkish Flag' by KLMircea. Available under the license terms available here