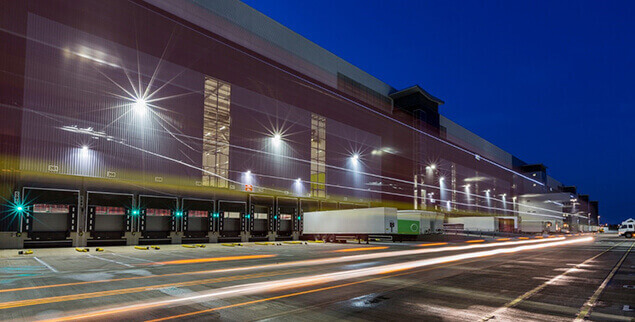 Tritax Big Box (BBOX) is an example of a Real Estate Investment Trust (REIT) held within the Castlefield Real Return Fund.
As the name suggests, it invests in a portfolio of very large logistics warehouses, the majority of which are 500,000 square feet or larger.[1] These are subsequently let to distributors, supermarket groups and other specialist retailers. Among these companies are DHL, Morrisons, The Co-op and Howdens. The portfolio of warehouses is generally located away from the South East and tends to be aligned to motorway network links. Units are fitted-out by tenants to meet their individual business-model requirements, often incorporating a high degree of automation. This can entail fit-out costs that are even greater than the cost of constructing the shell of the building itself. This, and the shortage of similar sized units or locations to build new units with similarly good transport connections means that leases and tenant relationships are long. BBOX boasts an unrivalled Weighted Average Unexpired Lease Term (WAULT) within the warehouse/logistics sector of 14 years, improving visibility over future revenues.
The Group currently owns 58 investment assets[2] and has a contracted rent roll of £166.8m (as at 30.06.19)[3]. Rent reviews are structured on an upward only basis, providing opportunity for further yield growth. The majority of its assets have been acquired off-market (86% since IPO)[4] allowing it to achieve more attractive prices by avoiding competitive bids.
As well as investing in existing income-producing assets, the Group purchase land, or options over land, with a view to being developed into Big Box assets in the future. This is an attractive route to enhancing yield over time, with the majority of developments constructed on a pre-let basis, therefore further minimising risk. Evidence of the value uplift provided by pre-let developments is well demonstrated in the groups year on year results, as these units are often purpose built for the client. For example, in 2018, 63% of take-up was purpose built[5] for pre-let tenants, a figure driven by the lack of readily available modern and larger scale buildings elsewhere. This directly translates into longer lease terms. Development activity and a long-term commitment to holding assets has seen its portfolio grow to an impressive total of around 30.9m square feet with the potential to grow to 41m square feet[6] taking its current development pipeline into consideration.
The Group has recently acquired db Symmetry (DBS) (now Tritax Symmetry), one the UK's largest logistic developers with a land bank of 2,500 acres[7], which managers believe will be capable of delivering a further 38.2m[8] square feet. DBS have been involved in this specialised land development since 1996. This provides an exciting opportunity for the Group, which could see it effectively doubling their current space and rent roll as the land bank is developed over the next 8-10 years[9].
As a qualified REIT, Tritax Big Box is required to distribute 90% of its income as dividends to investors and the shares currently yield c.4.8%[10]. The structural trends within e-commerce and omni-channels in retail all support the continued demand for these larger type assets, especially those greater than 100,000 square feet. With a strong tenant base, long contract lengths, upward only rent reviews and the potential value-uplift coming through from the acquisition of db Symmetry, we view Tritax Big Box as an attractive investment within the Real Return fund.
Information is accurate as at 31.01.2020. Opinions constitute the investment team's judgement as of this date and are subject to change without warning. The officers, employees and agents of CIP may have positions in any securities mentioned herein. This material may not be distributed, published or reproduced in whole or in part. With investment capital is at risk.
TNRRBLOG/310120
[1] https://assets.investis-live.com/presentations/5d31f26e356b240b00a1df6d/contentAssets/BBOX_H1_2019_Results.pdf
[2], [6] https://tritaxbigbox.co.uk/wp-content/uploads/2019/08/Tritax-Big-Box-REIT-plc-BBOX-Half-year-results-to-30-June-2019.pdf
​[4], [5]​ https://tritaxbigbox.co.uk/wp-content/uploads/2019/03/BBOX-AR18-web.pdf
[7] https://otp.investis.com/clients/uk/tritax_big_box/rns/regulatory-story.aspx?cid=1978&newsid=1228714
[10] Factset, as at 30/01/2019