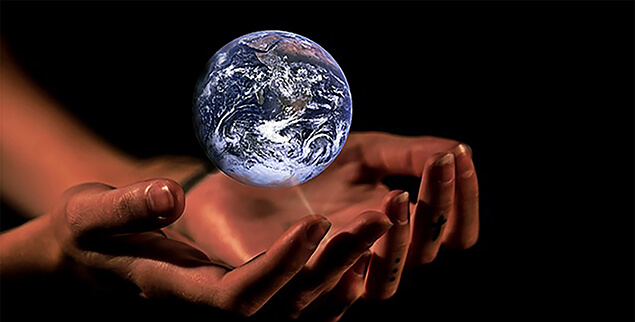 -Report from Castlefield Advisory Partners
for Good Money Week – 30 October to 5 November 2016 -
Overview
"Tracker" or "passive" funds have become hugely popular investment products, with more than £16.7 billion invested in the UK's nine biggest funds.

A tracker typically follows a major market such as FTSE's All Share or the FTSE 250 although with the rise of Exchange Traded Funds (ETFs) it is possible to track almost anything, from the price of oil to the Asian property markets.

Trackers can offer low-cost equity investment because they rely on automated trading without any active decision making or fund management.

They have attracted many investors in the UK and overseas who complain that the traditional fund management industry charges fees which are complex and expensive while delivering outcomes which are often uncertain.

Many pension schemes use trackers as their default investment option.

This report focuses on the very large part of the market relevant to private individual investors, for example tracker funds investing into the FTSE All Share Index or a similar market.

It sets out to show that although trackers may be a cheap investment solution they finance damaging social and environmental activities and put investors' money at risk.

It also shows that investors can get higher returns from actively managed socially responsible investment funds which set out to make a positive impact on society and the environment.
Passive investing has grown rapidly and is popular with Millennials
Since 2007 "tracker" or "passive" funds have grown by 230%, four times faster than actively managed funds which increased by 54% in the same period, according to Morningstar. There is now $6 trillion invested in trackers worldwide compared with $24 trillion in active funds.[1]
In the US, passive funds now account for one third of all mutual fund assets, up from a quarter in just three years, according to Morningstar and FTfm. [2]

Younger investors or "Millennials" are particularly drawn to index tracking, according to US asset manager Legg Mason, which surveyed 5,000 affluent investors. It found that investors aged 18-35 allocated over 90% of their equity portfolio to exchange traded funds in the US, and 86% in Europe. Wealthy investors over 40 held about three quarters of their stocks through ETFs in the US and 60% in Europe. [3]
UK tracker market - more than £16.7 billion invested in nine biggest funds
The UK's largest providers of tracker funds are Blackrock, Vanguard, Legal & General and HSBC, with more than £16.7 billion invested across their top nine mainstream fund products.

Many of these funds are relatively new – five are less than five years old – and they have attracted huge levels of investment in a short space of time.

Vanguard's All Share Tracker Fund launched in December 2009 but already has over £5 billion in assets whilst HSBC FTSE All Share Index has accumulated £1.4 billion of assets in just two years.

To put this into context the UK's largest responsible investment fund is the Alliance Trust Sustainable Futures Managed Fund with total assets under management of £564m.

In September 2016 Hargreaves Lansdown, one of the UK's largest and most influential wealth management firms, announced the inclusion of trackers on its Wealth 150 list of the UK's best funds. It said the proportion of its investors choosing trackers had nearly doubled since 2011, from 6.1% to 11% [4]

 
Table 1: Size and growth of the largest UK Tracker Funds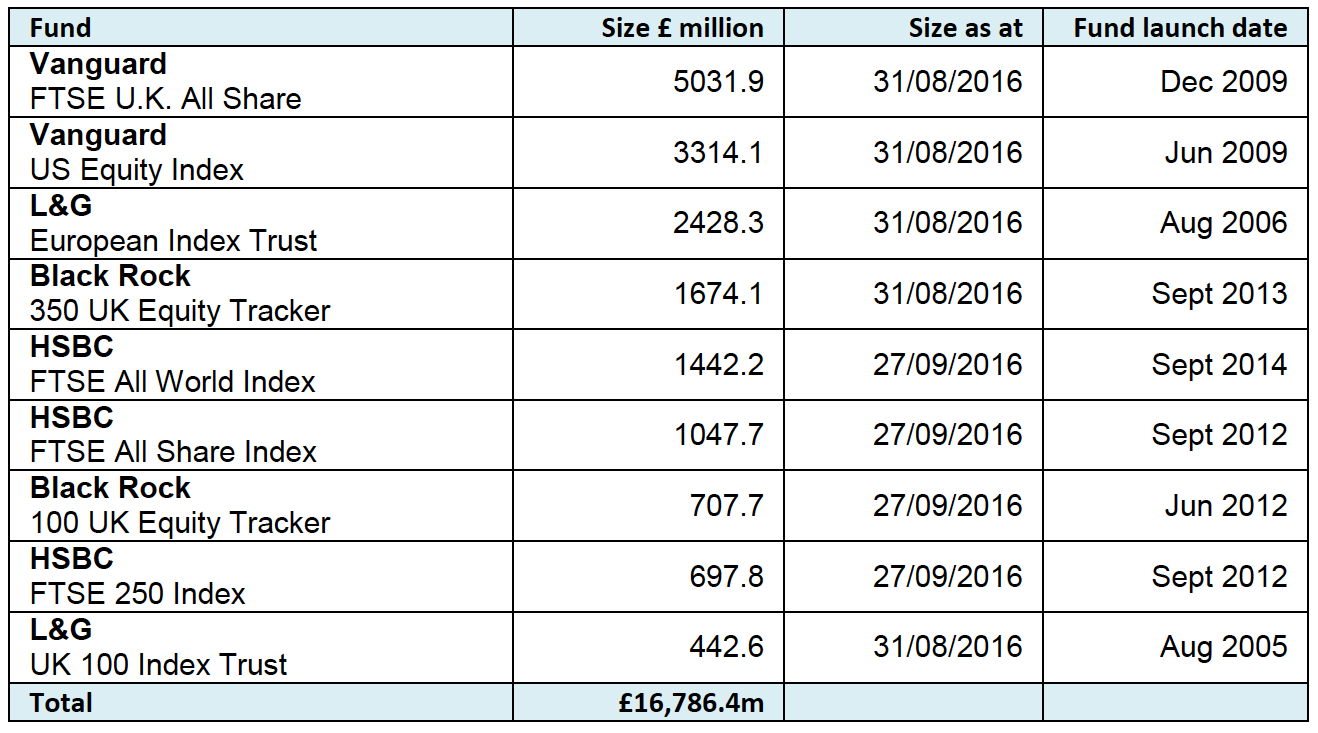 Negative consequences of tracker funds
Trackers may be a cheap way to invest in equities but there are significant downsides which investors should be aware of.

Lack of control over where money goes – Investors' money is invested in every company in a given market, determined solely by its size and current success.

Negative impact on society and the environment – Investors may find their money is funding activities at odds with their values, with significant tracker investments in tobacco and fossil fuels.
Threat to financial returns – When markets crash so do trackers. Funds which automatically bought shares in the dot.com boom without any investment analysis lost money in the subsequent crash. Climate change action now threatens fossil fuel investors with significant potential losses.
Performance – Tracker returns are often not as strong as those from sustainable responsible investment funds which seek to make a positive impact on society and the environment.

Lack of governance plus shareholder absenteeism – Tracker investments leave large volumes of equity un-governed making it harder for shareholders to hold companies accountable for their actions.

Worse than Marxism? Alliance Bernstein argues that passive investing is worse for society than Marxism. [5] In a research report it notes that both active investment management in capitalist economies and centrally planned Marxist economies seek to allocate capital to productive purposes, but trackers abdicate that responsibility and simply invest in the largest businesses.
Why investors should care
Example: British American Tobacco – UK tracker funds have invested more than £0.5 billion in BAT, one of the world's largest producers of cigarettes. The number of smokers is reducing across the developed world in Europe and North America, but is rising in low and middle income countries.
With few restrictions on how companies advertise in places like Indonesia, BAT makes profits from damaging the health of young people in the developing world [6]. For more on this issue see http://global.tobaccofreekids.org/en/global_epidemic/asia/philippines/.
Tobacco kills six million people every year and nearly 80% of the world's billion smokers live in low- and middle-income countries, according to the World Health Organisation. [7]
Table 2: Tracker fund investments in BAT (British American Tobacco)

Example: Investment in Fossil Fuels – UK tracker funds have more than £1.2 billion invested in fossil fuels. Mark Carney, Governor of the Bank of England, has warned that investors risk "potentially huge" losses from climate change action that could turn vast reserves of oil, coal and gas into "unburnable" stranded assets. [8]
Table 3: Tracker fund investments in fossil fuels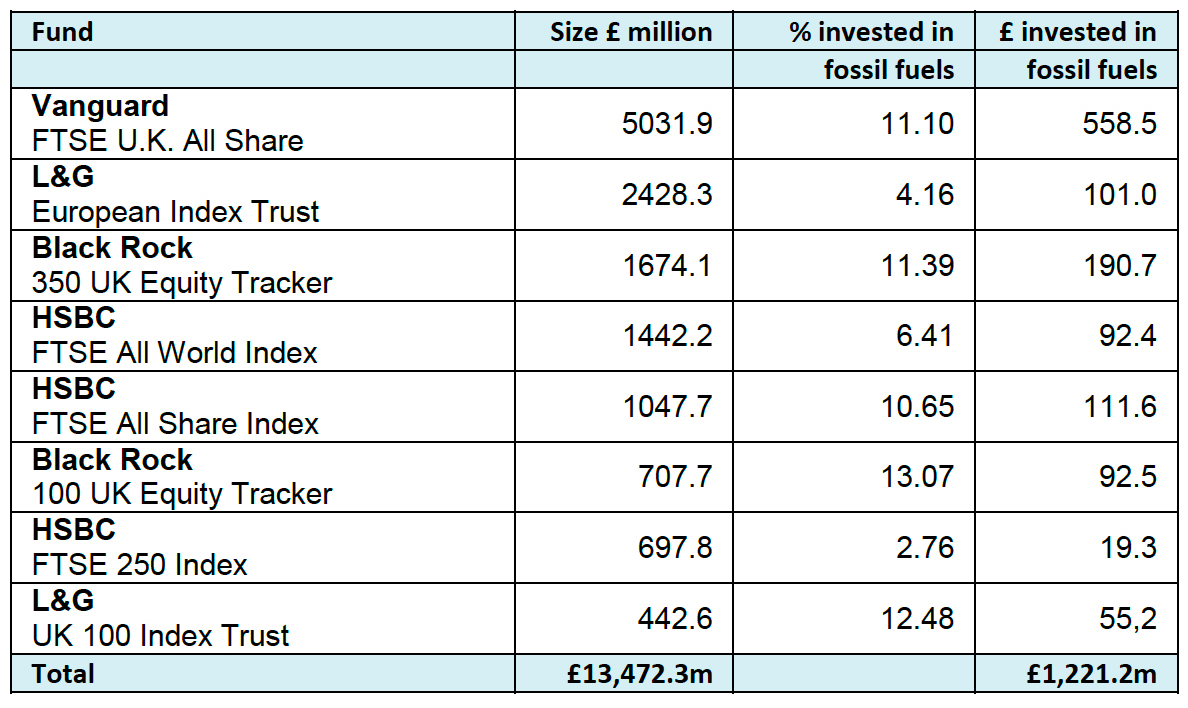 The Paris Climate Agreement to keep global warming below two degrees comes into force in November, and countries worldwide are taking action to deliver on their commitments. Climate risk has become a mainstream financial issue, and in the UK a number of local authorities are starting the process to divest pension funds from fossil fuels.
However, fossil fuel companies are resisting pressure to change their business model to align with a two degree world. Despite Shell's acknowledgement that global warming is an issue, it continues to open up new areas for exploitation such as the Athabasca region of Western Canada a huge area of destructive oil sands exploration. [9]
FUND HOLDINGS
EXAMPLE – VANGUARD FTSE ALL SHARE TRACKER AND OVERVIEW ON FUND HOLDINGS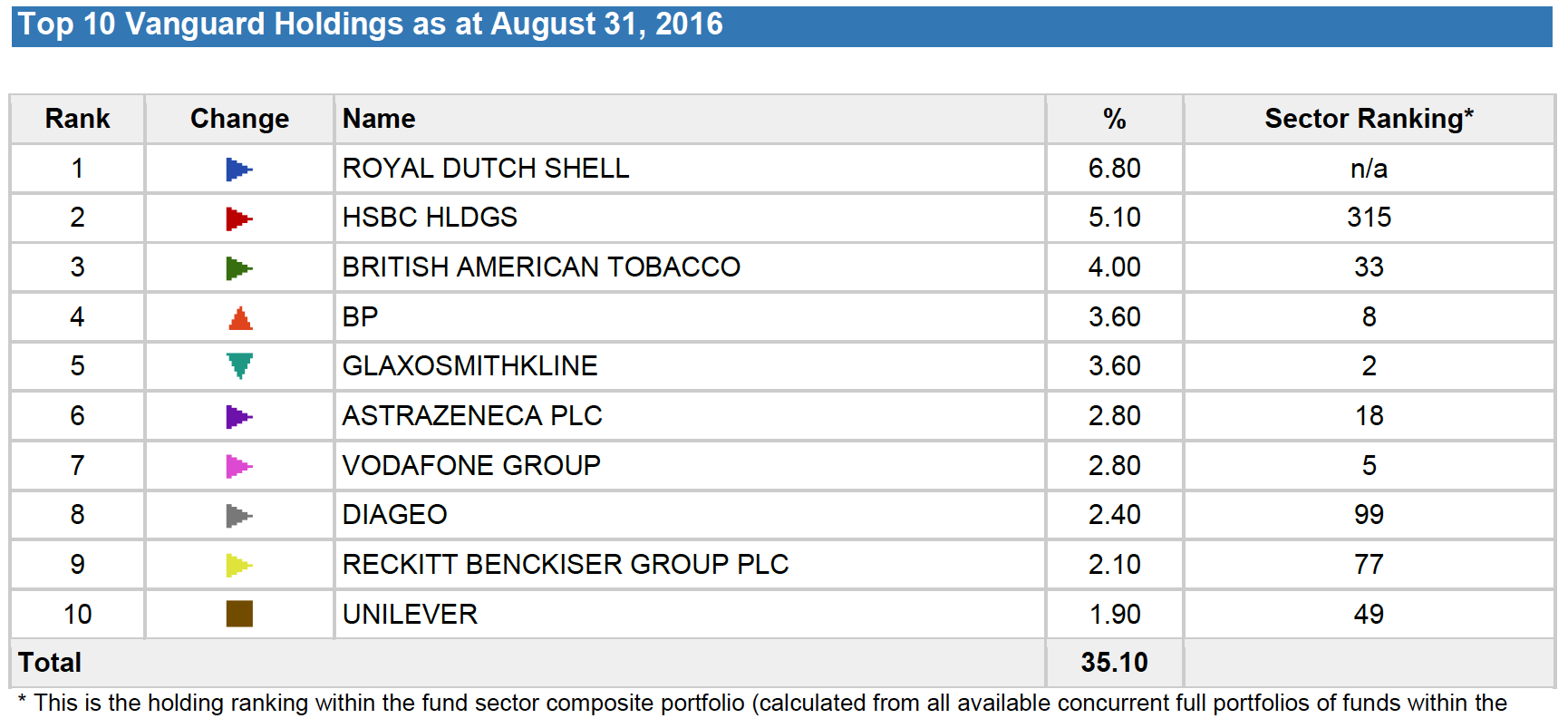 Vanguard FTSE All Share Tracker
Vanguard's FTSE All Share Tracker is the UK's biggest tracker fund worth more than £5 billion.

More than 10% of the fund is invested in two oil and gas companies, Royal Dutch Shell, its biggest holding, and BP.

It has £0.2 billion invested in British American Tobacco, its third largest holding.
EXAMPLE – SRI WHEB FUND AND OVERVIEW ON FUND HOLDINGS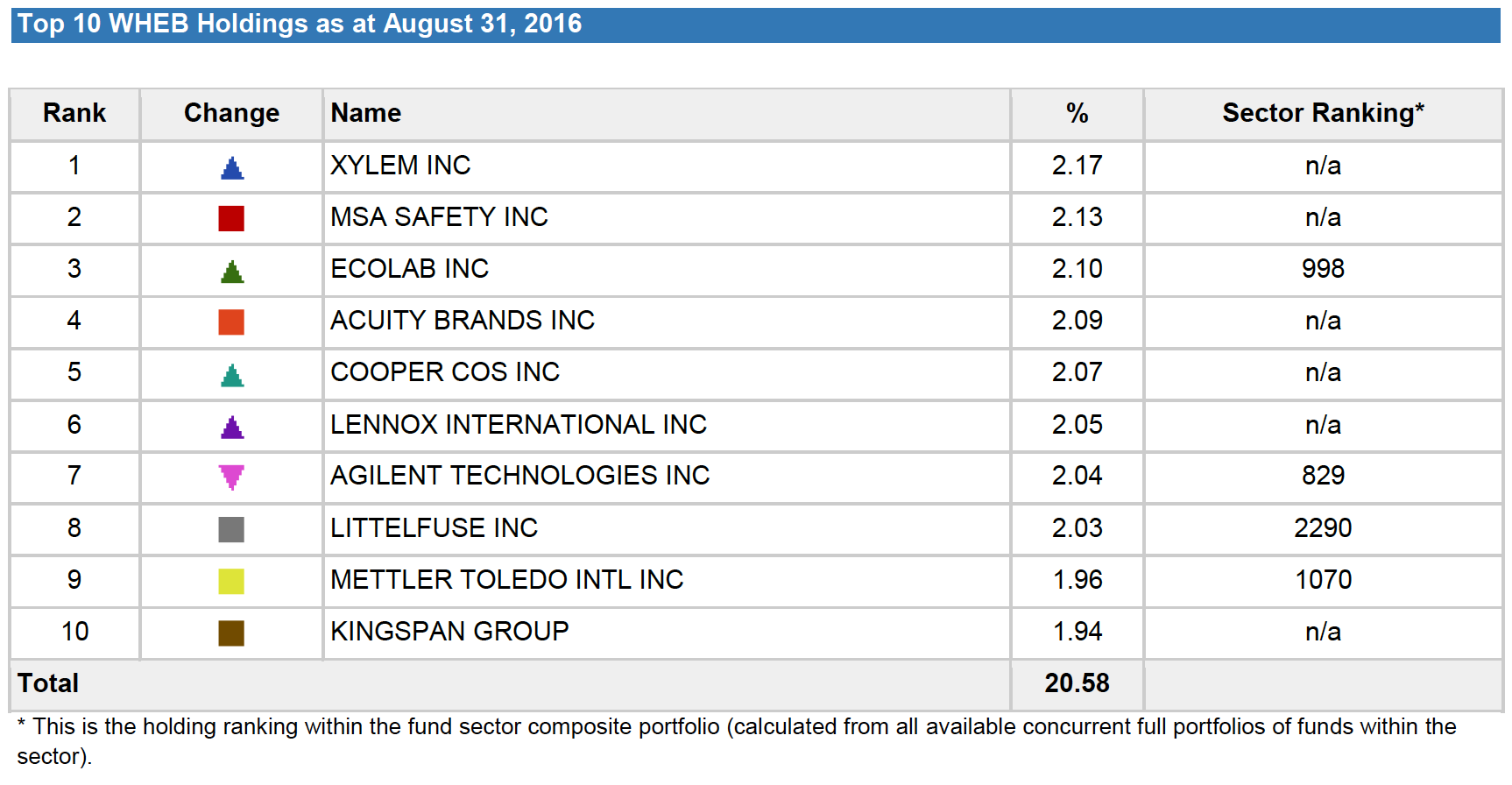 The WHEB fund invests across a range of environmental themes and now has over £100 million in assets under management.

Its largest holding is Xylem, one of the world's leading water technology brands active in areas such as water testing, pollution control, water pumping/processing and infrastructure development.

MSA Safety is a leader in the design and manufacture of safety equipment for work in hazardous environments, including breathing apparatus, safety clothing and equipment for people working at heights.

Ecolab provides water, hygiene and energy technologies and services to the food, energy, healthcare, industrial and hospitality markets. Its food safety services provide consulting to restaurants, hospitals, food retailers and food and beverage manufacturing facilities. It supplies chemicals used by beef and poultry processors to reduce pathogens in uncooked meat, such as E. coli and salmonella.
PERFORMANCE
Actively managed socially responsible funds can outperform large trackers
Managed socially responsible investment funds have outperformed some of the biggest UK tracker funds despite higher fees.

Alliance Trust (Sustainable Future UK) and WHEB Sustainability funds have both beaten the Vanguard FTSE UK All Share, L&G European Index Trust and HSBC FTSE All Share tracker funds over the last three and five years.

Socially responsible funds have long-term sustainable investment strategies, and are well placed to spot opportunities in the emerging green economy.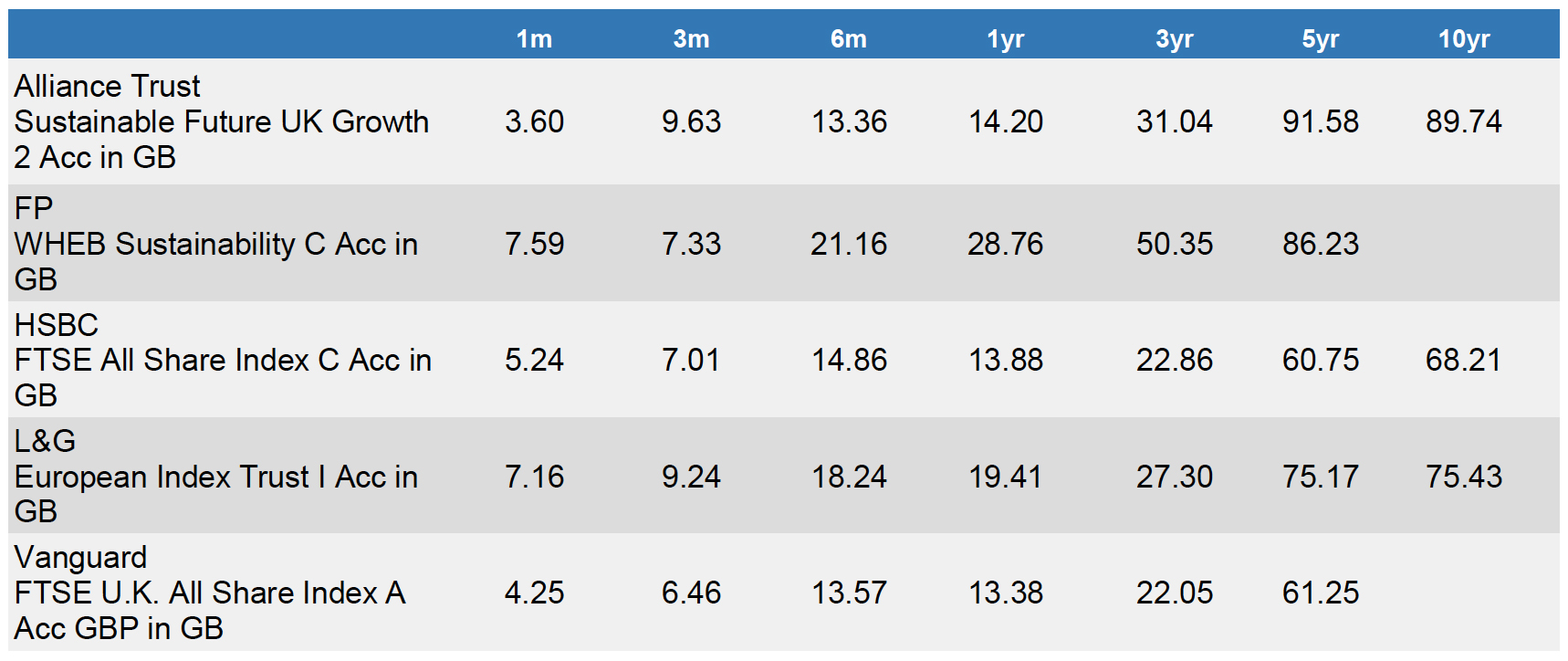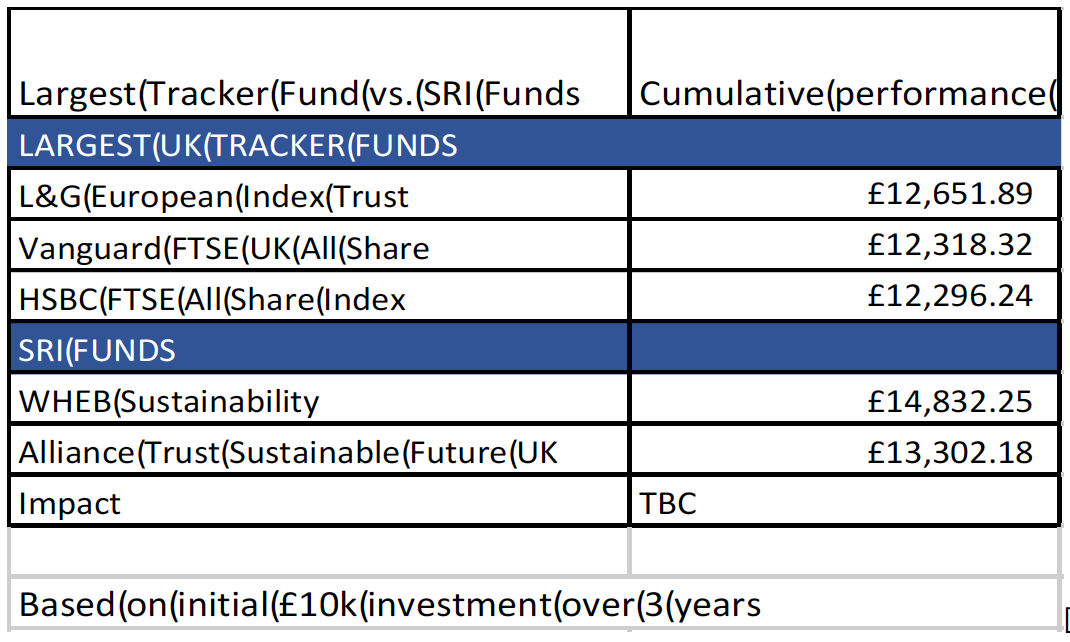 Example: Vanguard FTSE All Share vs. WHEB Sustainability
For every £10,000 invested into WHEB Sustainability the annual charge would be £105. The same value of investment into Vanguard FTSE All Share would cost just £8.

Of £10,000 invested with Vanguard £1,440 would be invested in Shell, BP and British American Tobacco, financing a range of damaging social and environmental activities.

£10,000 invested with WHEB would be managed by a team of investment experts who publish detailed information of the case for making investments and track the social and environmental impact of making those investments.
The chart below shows that over the last five years investors would have achieved a better return from a responsible investment strategy with WHEB or Alliance Trust than from the Vanguard product, with very considerable outperformance over the majority of time periods.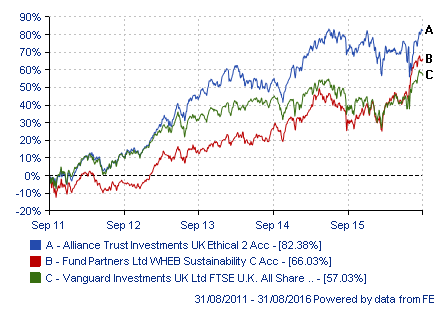 The chart below shows SRI funds from previous years compared to market trackers: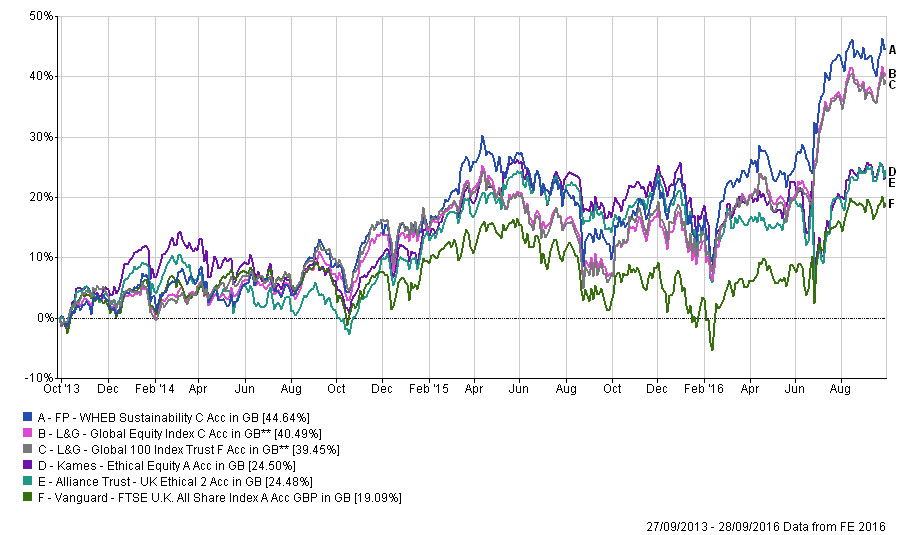 Reasons to invest in a socially responsible investment fund
Strong performance and long term investment strategy with promising returns.

Actively working to reduce or eliminate exposure to fossil fuels contributing to climate change.

Proactive investment strategy in solutions to worldwide social and environmental problems.

Making it easier to invest ethically by improving access or information.

Providing consumers with excellent responsible investment products and services.

Excellent standards of transparency making public their underlying investment holdings.
The top three social responsible investment (SRI) funds selected by Castlefield are:
FP WHEB Sustainability Fund

Alliance Trust Investments UK Ethical

Impax Environmental Markets Ltd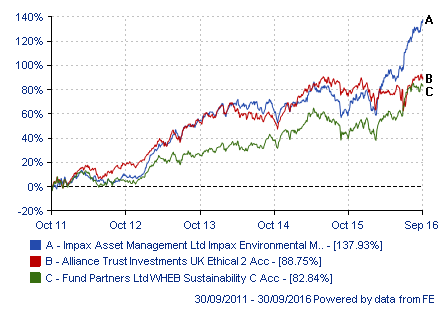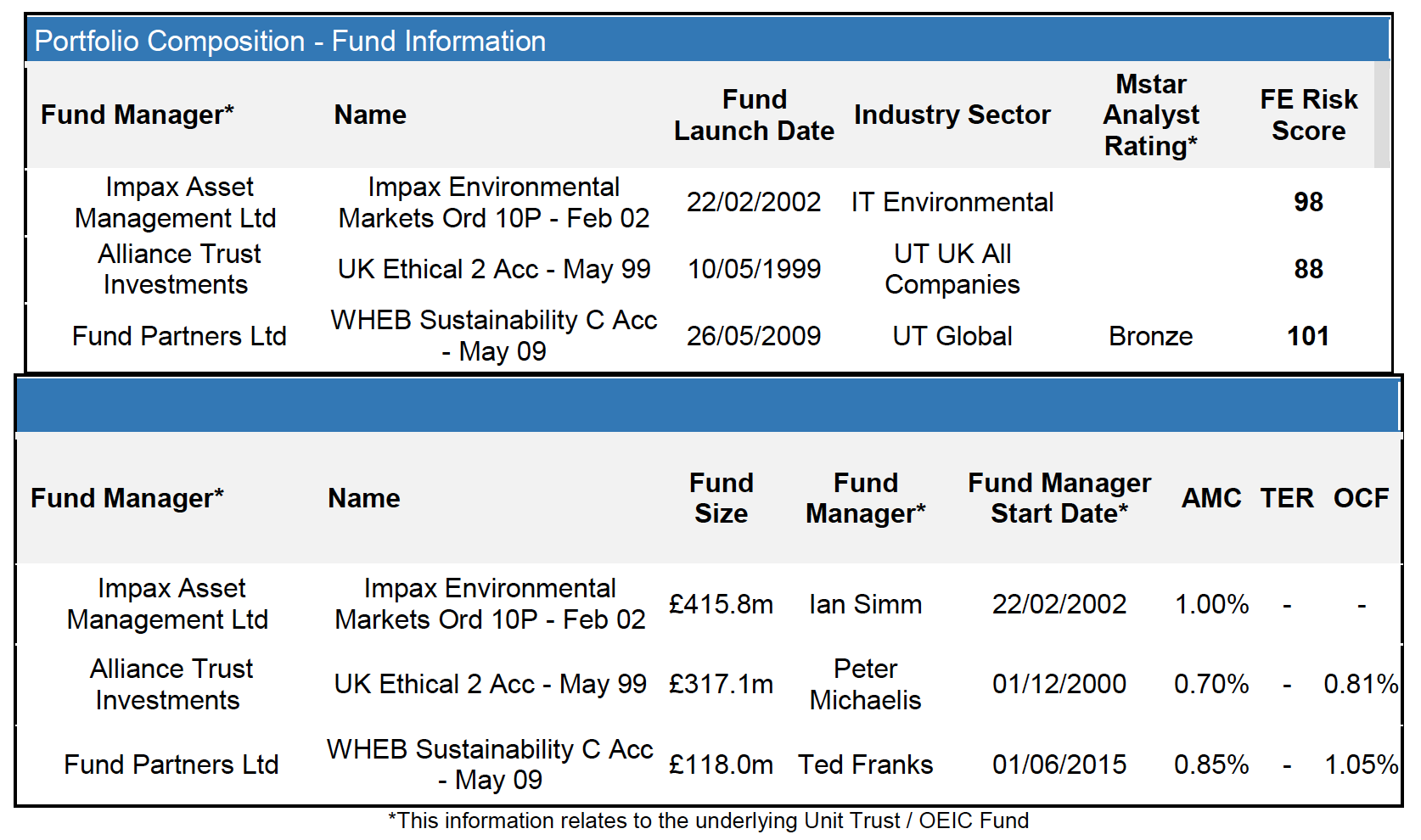 Conclusions
Cheap tracker funds are winning an increasing share of the UK's investment market but investors need to wake up to the real cost of passive investing.

Tracking sacrifices active management decisions, failing to identify future risks such as stranded assets or investment opportunities.

Tracker funds are blind to ethical issues such as climate change, health and human rights concerns and actively finance socially and environmentally damaging activities.

Tracker funds hold large investments but do not hold companies accountable for their business strategy or social and environmental performance.
John Ditchfield, Partner at Castlefield Advisory Partners 03/11/2016
[1] Passive funds grow 230% to $6 trillion, Financial Times, 29-5-16
[2] Passive funds take third of US market, Financial Times, 11-9-16
[3] Millennials shun active managers, Financial Times, 10-6-16
[4] Hargreaves Lansdown investors flock to low-cost tracker funds, Financial Times, 1-9-16
[5] Bernstein: Passive Investing Is Worse for Society Than Marxism, Bloomberg, 23-8-16
[6] http://global.tobaccofreekids.org/files/pdfs/en/Global_Cigarette_Industry_pdf.pdf
[7] Fact sheet on tobacco, World Health Organisation.
[8] Mark Carney warns investors face 'huge' climate change losses, Financial Times, 29-9-15
[9] http://www.bbc.co.uk/worldservice/specials/151_globalgiants/page8.shtml
MEWHITE/031116