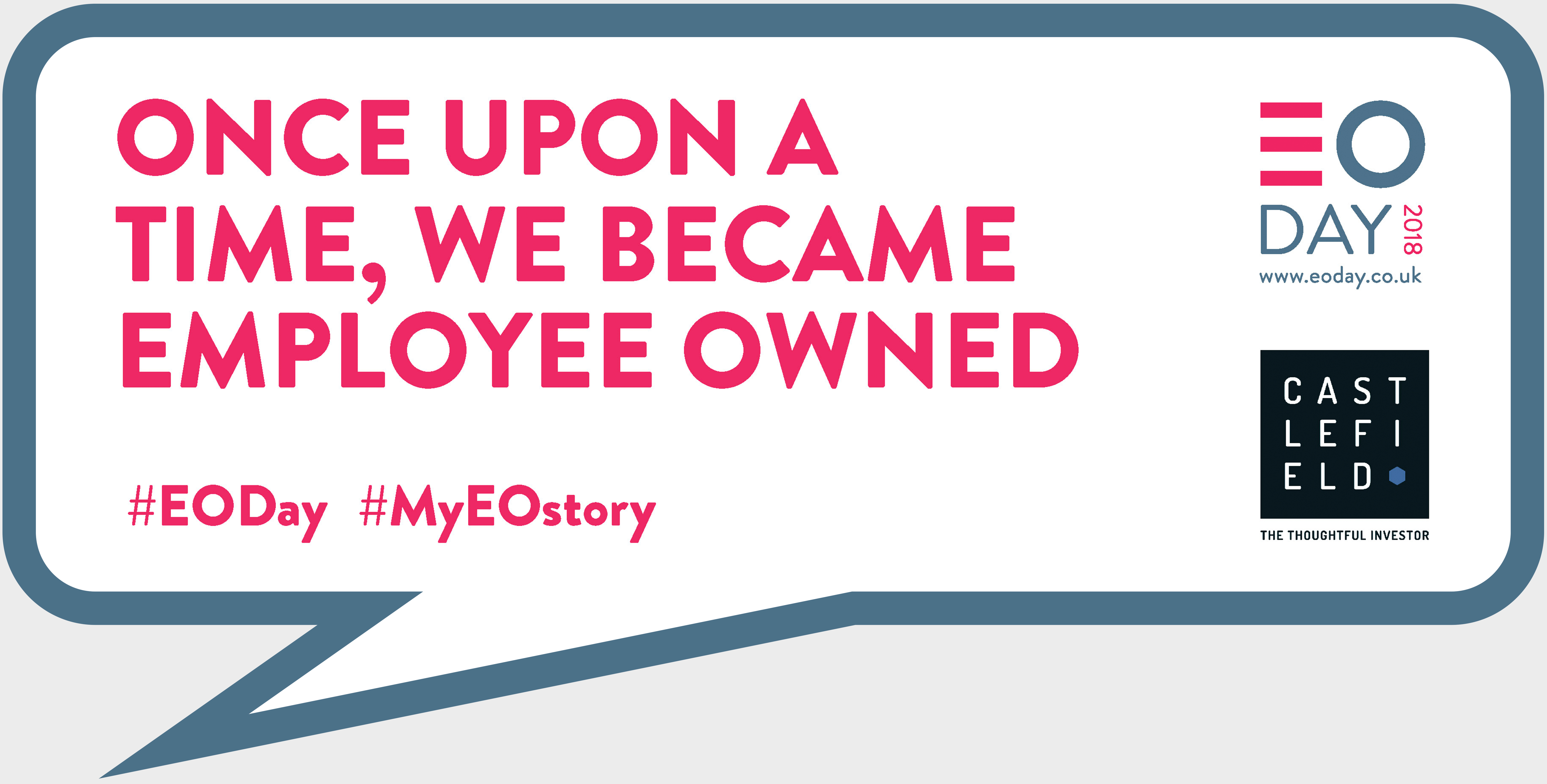 We're in the build-up to EO Day this Friday 29th June and this year's theme is to 'Tell Your Story', encouraging employee-owned businesses the length and breadth of the country to share their experiences more widely. As always, we have lots planned at Castlefield around EO Day, and telling our story below is part of it.
Our Castlefield story has its origins not in 2009, when we formally transitioned to being an employee-owned business, nor even in 2002 when the company was founded, but in the years preceding that as our now Managing Partner John Eckersley (right) began building a team focused on managing money for charities. As this business grew through its initial days within stockbroker Henry Cooke, Lumsden plc and then at private bank Brown Shipley, John increasingly had a belief in a very different kind of model to that prevalent in the finance sector at the time (and which in reality still prevails today).
This led to the Castlefield story beginning in 2002, when the initial small team came from the UK fund management arm of Brown Shipley, with John and close colleagues leaving on friendly terms and with the backing of the Burdens Charitable Foundation (BCF). This was the foundation of the present Castlefield business, with BCF still an important shareholder today.
Until 2009, Castlefield was simply an investment management business. The then current partners decided that future growth would be based on two key aspects – true all-employee share ownership of the business and the execution of a 'buy and build' strategy. A group holding company and Employee Share Ownership Trust (ESOT) was created and seeded with £100,000 of the partners' own money. Subsequently, our financial advice arm was developed via our first acquisition in 2011 and then second in 2014. These businesses could claim to be the UK's two oldest and most well established financial advice firms with a focus on sustainable and responsible investment, meaning that Castlefield is now an integrated advice and investment management group. The success and growth that has followed these moves led to the launch of an investment funds business in June 2016. This potted history hopefully shows how the evolution of Castlefield to where we are today stems from making that decision in 2009 to embrace employee ownership and grow the business accordingly.
Our EO model is a hybrid one, meaning that we all have the option as co-owners to be direct investors in the business, or indirectly via our ESOT, or the 'Piccadilly Trust' as it is known. At present, current colleagues own c.34.4%* of the company directly, with a further 20%* held by the ESOT. BCF owns 26%* and almost all of the remainder is owned by former colleagues. The Piccadilly Trust has been increasing its stake, having grown to the current level of 20%* from 6% in 2017. 
*Data correct as at end-2017.
The Piccadilly Trust is a key part of our Castlefield story and is chaired by Graeme Nuttall OBE, the Government's independent adviser on employee ownership, and author of "The Nuttall Review of Employee Ownership", which you can read here.
As an employee-owned business, all staff have an opportunity to share in the success of Castlefield by investing in our business and everything that we do reflects not only the values we share as co-owners, but also the principles that are important to clients. In this way, in a world where unsettling takeovers and mergers within the financial services sector appear to be almost daily occurrences, we are working hard to build a sustainable business for the long-term benefit of all its stakeholders.
Why was EO implemented within Castlefield? John had founded the business in 2002 and was the major shareholder. As we grew, he recognised that the company was increasingly the product of a broadening base of colleagues and not just dependent on him. Widening the shareholder base across colleagues was a natural extension of that process. In addition, in a previous role before founding Castlefield, he had seen first-hand what didn't work in terms of business succession and problems with funding the move from one generation to the next.
As a result, in founding Castlefield he always had a vision of the company being self-sustaining over the long-term and not relying on a sale to enrich a small number of senior figures at the expense of the wider colleague base. Our long-term view is that Castlefield can be kept in our own "family" hands through multiple generations of owners and transitioning to employee ownership is our means of achieving that.
Since then, our story has continued to develop as the success and growth of the business has allowed our EO vision to gather momentum. From initially celebrating EO Day with a dozen colleagues organising a breakfast bacon roll, we now spread events over a day and a half to allow our over fifty co-owners to take in our latest financial projections, strategic plans and enjoy an evening out. For 2018, our ESOT is paying for everyone's meal at our social event, from funds retained following a company-wide survey over how to split surplus profits between a bonus payment and funds for the ESOT. Step by step, we are able to empower ourselves to take greater control of our destiny.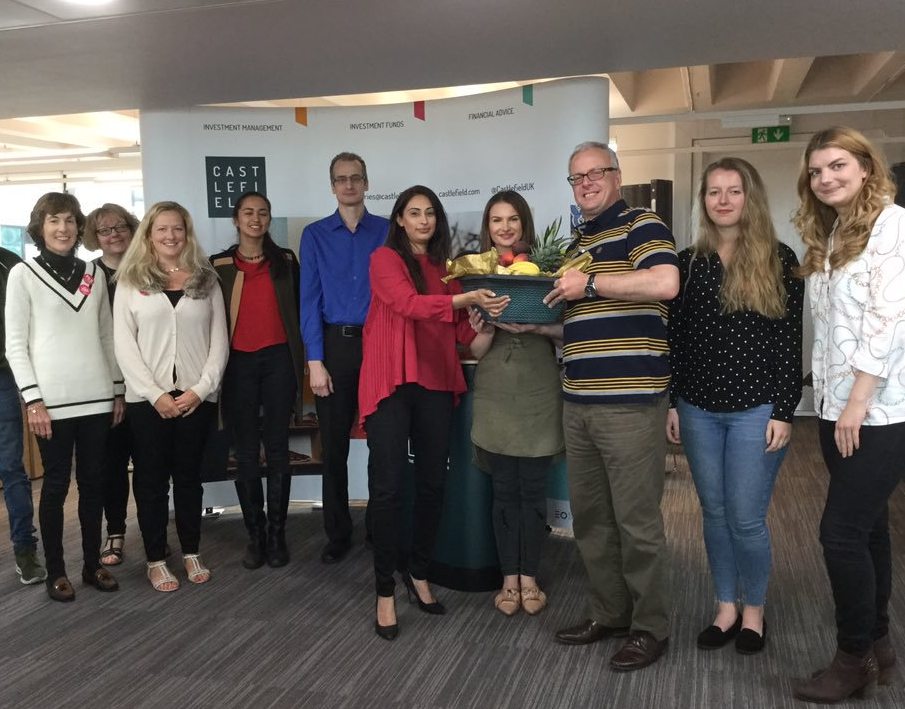 The winners from last year's EO day activities.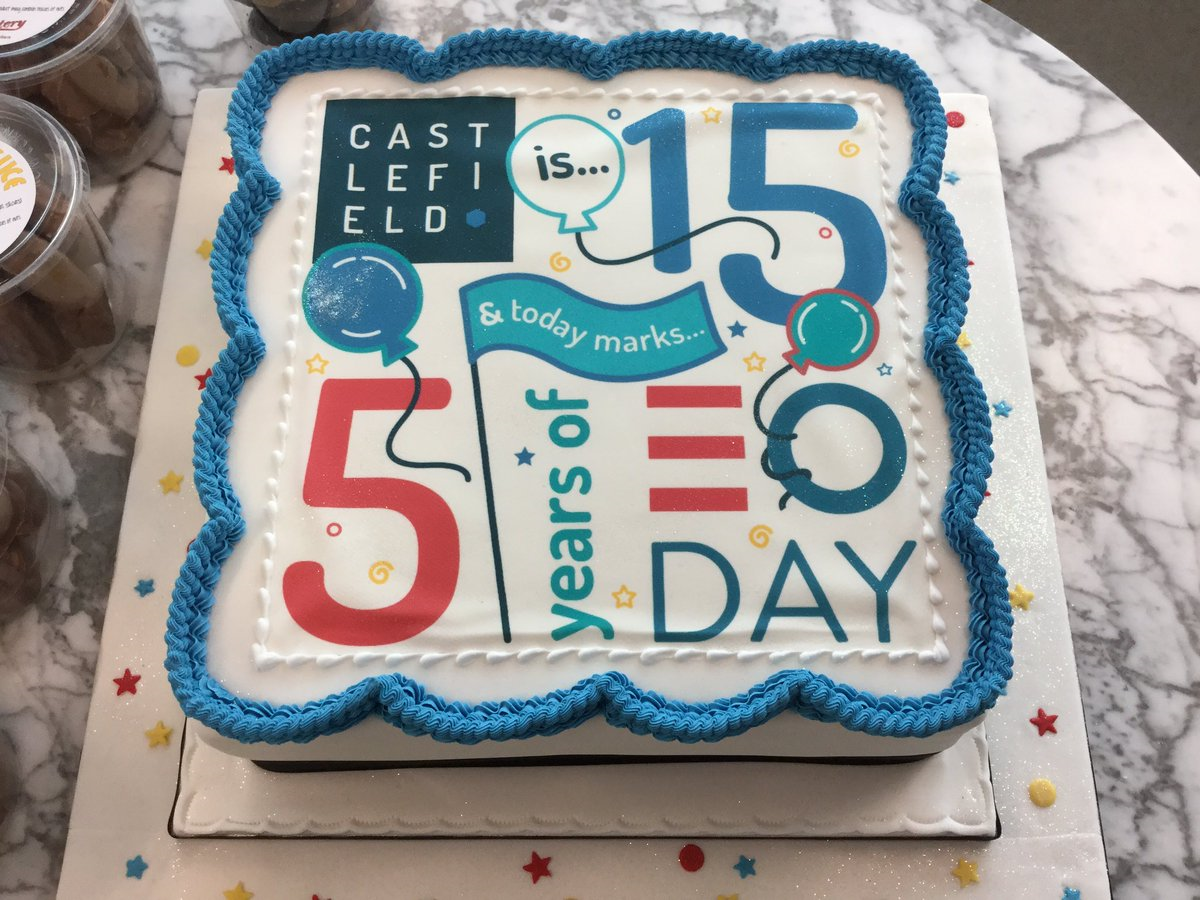 An improvement on a few bacon butties... Last year's EO day celebration cake marked 15 years of Castlefield and 5 years of us being employee owned.
Other major steps in our EO story have seen the election and appointment of our first ever ESOT Representative, a process announced on EO Day 2016, while our Rep is now supported by a Co-Owners Council. As the business grows further, further profits will be diverted to help the ESOT grow and expand its influence – not just in contributing towards company events, but over time as the natural buyer and seller of shares from and to colleagues, helping to facilitate the recycling of our business through the generations.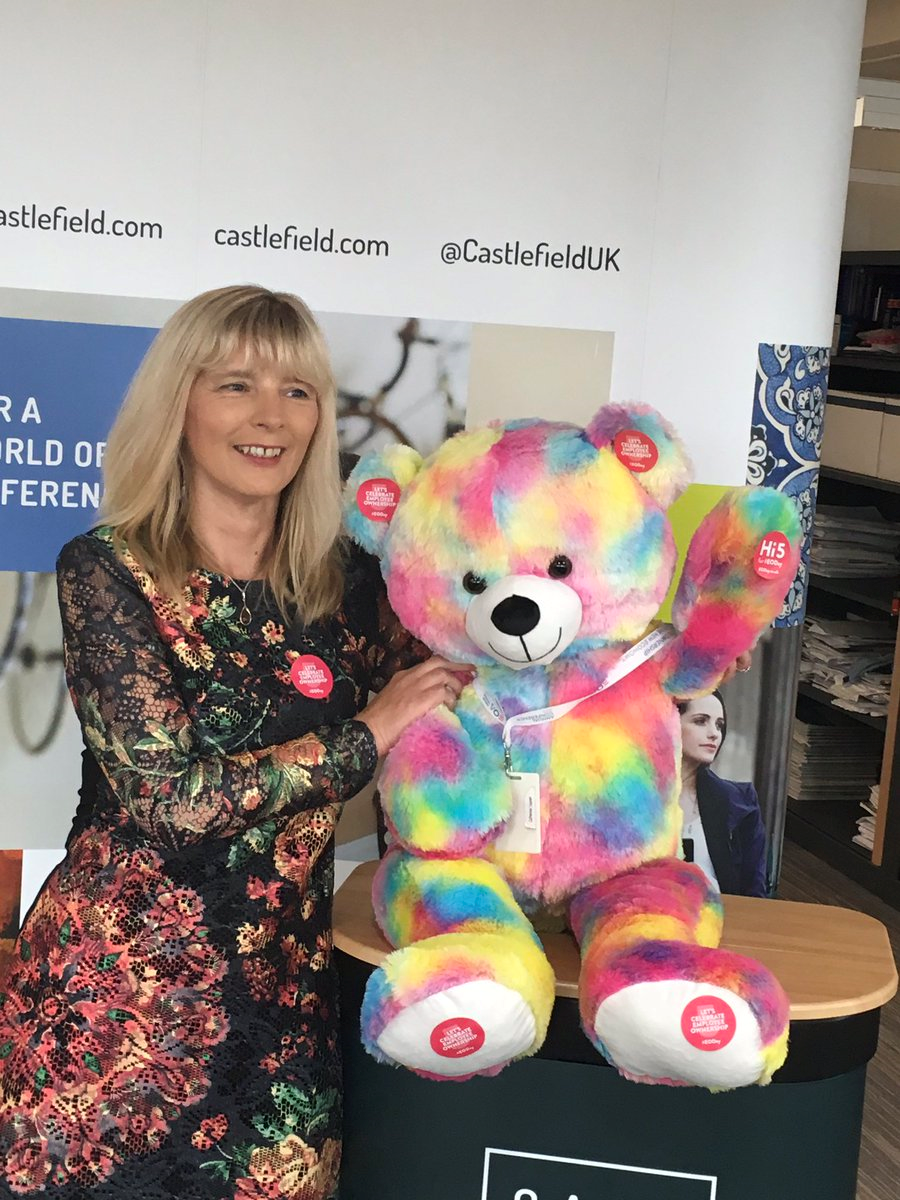 Our ESOT representative Alison Newall joining in the festivities.
Given the importance of the transition to employee ownership in catapulting our growth forwards, an inherent part of our EO story is our involvement with the EOA. Spreading attendance at regional network meetings and the EOA Annual Conference is one way we use to share co-owners' exposure as widely as possible to the sector and other like-minded businesses; in addition, John Eckersley sits on The EO Sector Group whilst in 2017, Simon Holman was invited to join the newly-formed EOA Membership Council. These two bodies aim to influence awareness and support for Employee Ownership in the UK and enhance the membership proposition respectively. In this way, we hope to be able to learn from the experiences and insights of others at the same time as sharing our thoughts to benefit companies exploring or newly-transitioned into employee ownership. We know how important our EO model is to our success and aim to spread the word as widely as possible that there is a different – and better – way of doing business.
So that's our EO story so far. We look forward to writing and sharing the chapters to come...
Written by Simon Holman