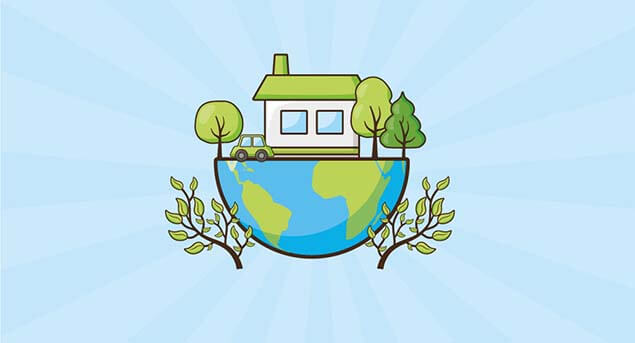 After a slight delay, the UN climate change conference (COP 26) will be going ahead this year and is to be held in our own backyard, Glasgow. To celebrate, we will be producing a series of articles in the lead up to the event itself, that cover a range of topics related to climate change. The first article explores the role of energy efficiency within the property market and the key role it provides in meeting Net Zero 2050 commitments.
Since 2015, global improvements in energy efficiency have been falling. This is problematic because of the vital role it plays in the transition to a cleaner and more secure energy future. In 2020, efficiency improvements measured by energy intensity were at half the rate of 2018 and 2019 levels and a quarter of the rate required to achieve long term climate and sustainability goals.[1] The property sector in particular is an area where there is room for improvement. The UK has the least energy efficient housing stock in Western Europe and housing is directly responsible for 19% of the UK's emissions.[2] These inefficiencies not only hurt the wallets of homeowners through larger energy bills, the suboptimal temperatures associated have negative health connotations (costing the NHS) and reduce employee productivity (especially given prominence of home-working following Covid).[3]
Commercial property would also benefit from energy efficiency upgrades. Even in the current Covid climate with many offices closed, energy usage does not necessarily fall to zero. Offices still require heating and power to run servers and other electrical devices. Finding the balance between heating and adequate ventilation will be a significant challenge when people return to office life. Energy efficiency measures should help to minimise firms' costs in the long run and reduce emissions, moving the UK closer to our net zero 2050 commitments. The International Energy Agency believes energy efficiency should be recognised as the 'first fuel' of economic development offering a 'win, win, win' in terms of lower energy bills, lower emissions and improved energy security.[4]
There are numerous international standards that rank properties either entirely on their energy efficiency credentials or incorporate these into their wider assessment criteria.
BREEAM (Building Research Establishment Environmental Assessment Method) is an international independent 3rd party certification of the sustainability performance of buildings and infrastructure projects. Energy efficiency is one of the ten assessment criteria, that also include pollution, water and waste, all of which have their own individual targets.
GRESB (Global Real Estate Sustainability Benchmark) measures the ESG performance of property companies and real estate funds. Energy efficiency is a key contributing factor to overall GRESB scores.
EPCs (Energy Performance Certificates) are an EU-wide independent measurement of household/building energy efficiency performance. They measure the amount of energy used per m² and the level of CO2 emissions and provide recommendations on how to lower these.
Here at Castlefield we operate a well-diversified approach to property both across client portfolios and within our funds and have identified a few star performers on this issue. We hold Tritax Big Box REIT in the Castlefield Real Return Fund. It's the UK's leading investment company focused on large-scale logistic properties, such as warehouses.[5] Since 2019, Tritax look for new acquisitions and developments to adhere to BREEAM and EPC standards. The London-centred property owner British Land has performed excellently, achieving high GRESB scores and being awarded the Green Star for its eleventh consecutive year. In the Castlefield European fund we hold Belimo; an innovative Swiss company that is a world leader in the regulation and control of HVAC (heating ventilation and air conditioning) systems. Given the need for adequate ventilation in the post-Covid office climate, the technology Belimo provides is vital for the transition to a safer and more energy efficient work environment.
written by Barney Timson
Sources
[1] https://www.iea.org/reports/energy-efficiency-2020
[2] https://www.greenpeace.org.uk/wp-content/uploads/2020/06/A-green-recovery-how-we-get-there-Greenpeace-UK.pdf
[3] Ibid
[4] Energiesprong 2020 https://vimeo.com/451809203
[5] https://www.tritaxbigbox.co.uk
Please note that this article is intended for information purposes only and it does not constitute a personal recommendation or inducement to invest. In particular you should not consider this a recommendation to invest directly in any of the assets discussed in this article, as they may not be appropriate for your circumstances. This article is based on information that we believe to be correct at the time of writing but the accuracy of which we cannot warrant and may be subject to change. You should always seek independent financial advice first if you have any doubt that an investment product is suitable for you.
TNRECCBT/230221.