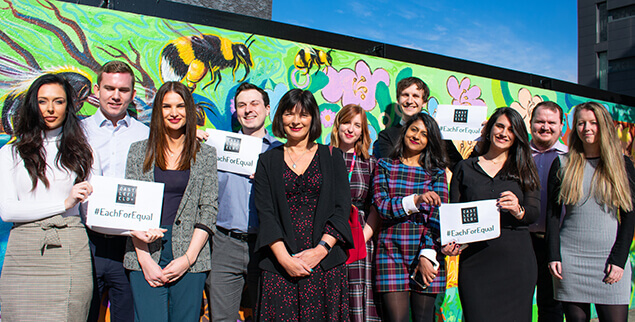 #EachForEqual
International Women's Day has a rich history dating back to 1908 with the first National Women's Day observed in the US in 1909. The movement spread throughout the globe and International Women's Day is now an official holiday in over 27 countries. Originally, the day was celebrated on the last Sunday of February, however, in 1913 this moved to the 8th March, which it remains to this day. The day was officially recognised by the United Nations in 1975, and it was in 1996 that the annual theme begun, the first of which was "Celebrating the Past, Planning for the Future". This year's theme is #EachForEqual. [1]
Whilst important inroads have been made since its beginning, such as women gaining the right to vote in the UK in 1918[2] and more fully in 1928[3], progress is still to be had. Equal rights in the workplace is one such example. Women remain underrepresented at Board level and, as investors, we have the ability to influence change through proxy voting and engaging with our investee companies. Castlefield is a signatory to the 30% Club, a collaborative engagement effort comprised of Asset Managers, Owners and Charities with the aim of engaging with FTSE 350 companies on the topic of gender diversity. This further strengthens our position through a collective investor voice.
However, we feel that it's important to recognise where there is work needed in our own organisation. At Castlefield, we have been signatories to the HM Treasury (HMT) sponsored Women in Finance Charter initiative since October 2017. Its objective is to encourage greater numbers of women at senior levels of the finance industry. As part of the pledge, we were required to set internal targets for gender diversity in our senior management. We committed ourselves to maintaining gender parity at a senior management level (which we defined as anyone with line manager responsibilities, as we felt these were the people that had the biggest influence over recruitment and retention). In the 2018 report, there were 330 signatories to the charter, and, of the 123 analysed in the report, only 55 met their targets. This equates to just 17% of the total signatories, and 45% of those analysed![4] 2019 was the first year where we were required to report on our progress, and we are pleased to say that we have met our targets.
Becoming a signatory to the Women in Finance Charter is not about box ticking or purely meeting targets. Whilst we are doing well in this respect, we wanted to make sure that we don't get complacent. Therefore, at the beginning of this year we officially created a Women in Finance Working Group consisting of members from different areas across Castlefield. The purpose of our working group is to instigate and drive forward initiatives that make Castlefield the employer of choice for all.
This week we are celebrating women at Castlefield through a series of events, from breaking gender stereotypes with a bake sale made especially by our male colleagues, to the screening of talks celebrating female empowerment. We are also collecting women's sanitary products all week to donate to Every Month, a Manchester based registered charity providing free access to menstrual products.[5]
As we celebrate International Women's Day and this year's #EachForEqual campaign, we must remember that recognising and championing women's rights should not only happen for just a day or a week. With the work that our Women in Finance Working Group has planned, and the support of co-owners in the Castlefield group, we will continue to strive to do more for the future of women.
[1] https://www.internationalwomensday.com/About
[2] Representation of the People Act 1918
[3] Equal Franchise Act 1928
[4] https://assets.publishing.service.gov.uk/government/uploads/system/uploads/attachment_
data/file/786164/2019.03.14_WIFC__FINAL_online_high_res.pdf