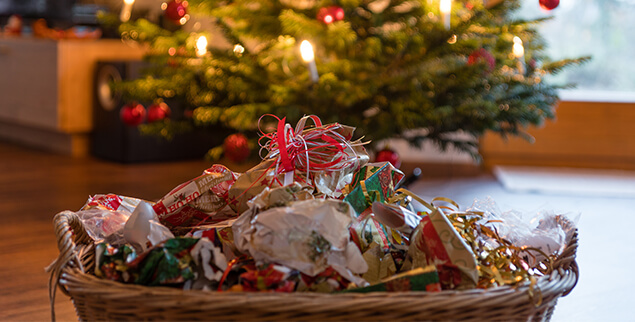 Christmas is a wonderful time of year, full of cheer and giving, but many of us are left feeling guilty by the amount of waste created over this period.  
Waste management company, Biffa, has stated that '41% of us will feel guilty about the waste we produce this Christmas'[1], and the facts say we should be! According to the BBC, 'every hour the UK throws away enough waste to fill the Albert Hall'[2], so imagine how much more must be produced at Christmas.
Added to this, waste reduction has proven nigh-impossible this year, as government restrictions to prevent the spread of COVID-19 have made local and in-store shopping difficult in the lead up to Christmas. Many of us have been forced to rely on online shopping – one of the biggest waste producers. According to The Guardian, 'nearly a third of solid waste in the US comes from e-commerce packaging'[3].
How therefore, in these unprecedented times, can we cut down on this waste and keep that festive feeling going without the added guilt?
Presents
Try to avoid buying presents just for the sake of it. Don't buy things that you know won't get used, or will just be thrown away. Ask yourself, 'do you really need to buy this present?' and, rather than buy a present for all of your friends or family, you could agree to do 'Secret Santa' instead, therefore cutting down several presents to just one and saving yourself money in the process. If you still feel you need to buy a gift, you could donate to charity, sponsor a good cause on their behalf, or buy an experience day. These are good waste free options that also make great last-minute gift ideas!
Inevitably, we all get gifts that aren't really 'us', or you might have already! Don't just throw these away. Despite being a 'frowned upon practice', you could re-gift these presents to others who you know will take enjoyment from them. Failing that, you can donate them to your chosen charity. Those unwanted gifts could go towards helping someone truly in need.
Wrapping Paper
gov.uk states that 'The amount of wrapping paper thrown away at Christmas in the UK alone would stretch to the moon'[4]! Though a lot of this can be recycled, any paper with glitter or embellishments cannot be. A good test of recyclability is the "scrunch test". Simply scrunch up the paper and if it unfolds it is not recyclable.[5] Another good solution is to give gifts in gift bags or boxes rather than wrapping paper – this way they can be reused again and again.
If you do choose to use paper, then try to opt for a recyclable one with non-toxic ink. If you have the time, you can even use origami techniques to wrap presents without sticky tape (which can't be recycled).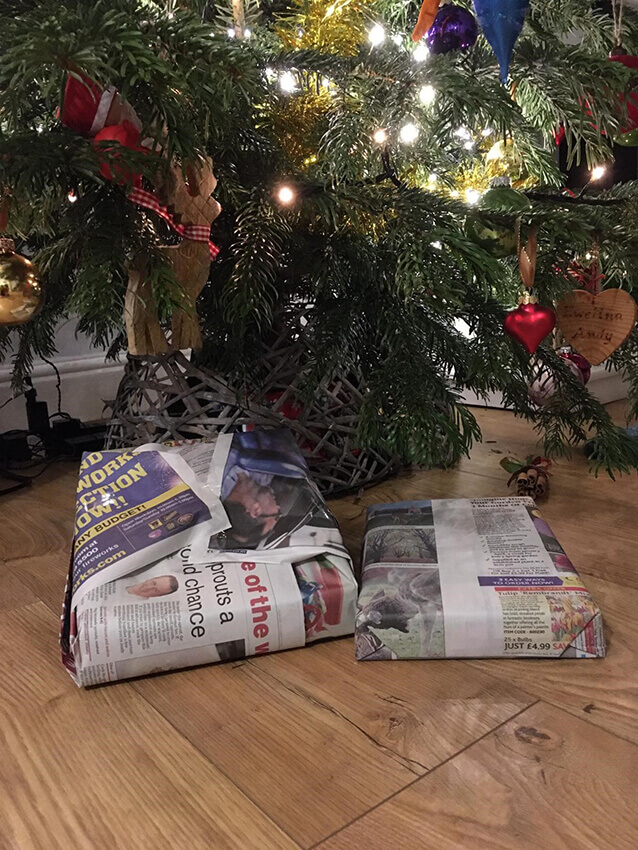 Ewelina has wrapped her presents in newspaper this year
Cards
Instead of Christmas cards, why not have a group e-conference instead, or send e-cards. By doing this you can reduce your waste as well as your carbon footprint. You could also donate to charity in the place of sending cards – some online platforms, like www.dontsendmeacard.com, let you donate to your chosen charity and in return you receive a certain amount of e-cards to send.
If you don't intend to keep the cards you receive, why not reuse them? Cutting them up into gift tags, for scrap booking or for making handmade cards is a great activity for the family.
Trees
What type of Christmas tree you choose (real or fake), and how you dispose of it, can also have an impact on waste production. An artificial tree is a good option if you intend to keep it for a long time, but they can't be recycled as they're made of various different materials such as plastic and metal. In comparison, real trees can be re-purposed easily. Many councils or companies will be able to collect a real tree from you for a fee, which they will tend to shred and use as chippings. Additionally, according to the Carbon Trust, a real tree that is disposed of properly (via chipping or burning), has a 'significantly lower carbon footprint than an artificial tree'.[6] Better yet, are living trees, a true no-waste option. You can keep a living tree in a pot outside and bring it in for Christmas. Your living tree will not decay and therefore won't produce carbon dioxide in the process, and of course, it will suck up carbon dioxide from the atmosphere and create oxygen.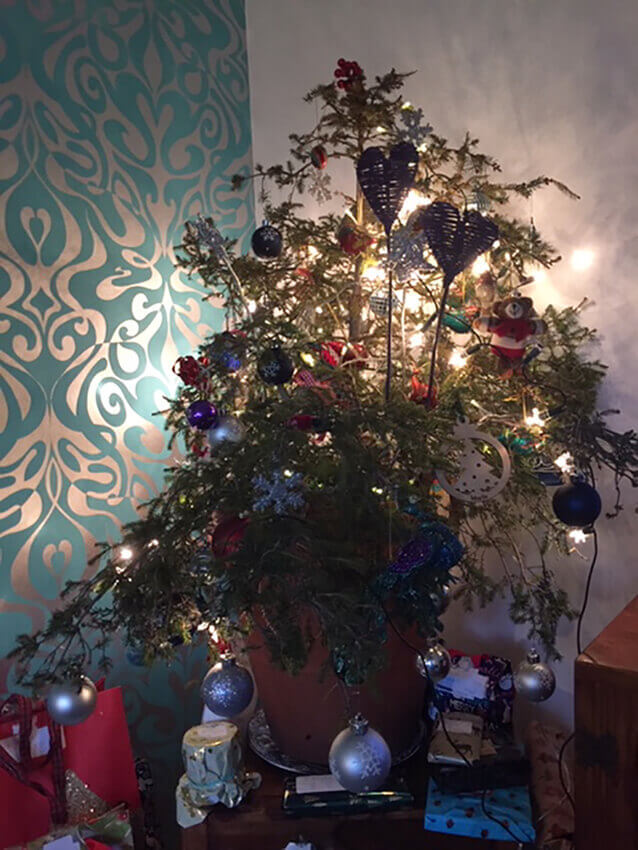 See Olivia's charming living tree adorned with baubles.
Decorations
Most shop bought Christmas decorations will be made of a mix of materials and are likely not recyclable. Why not create your own decorations instead? Ethical Consumer magazine suggests baking gingerbread people for your tree, drying orange slices and creating popcorn garlands. You can also turn old scraps of paper into paper garlands or paper snowflakes![7] All these options can either be eaten, composted or recycled!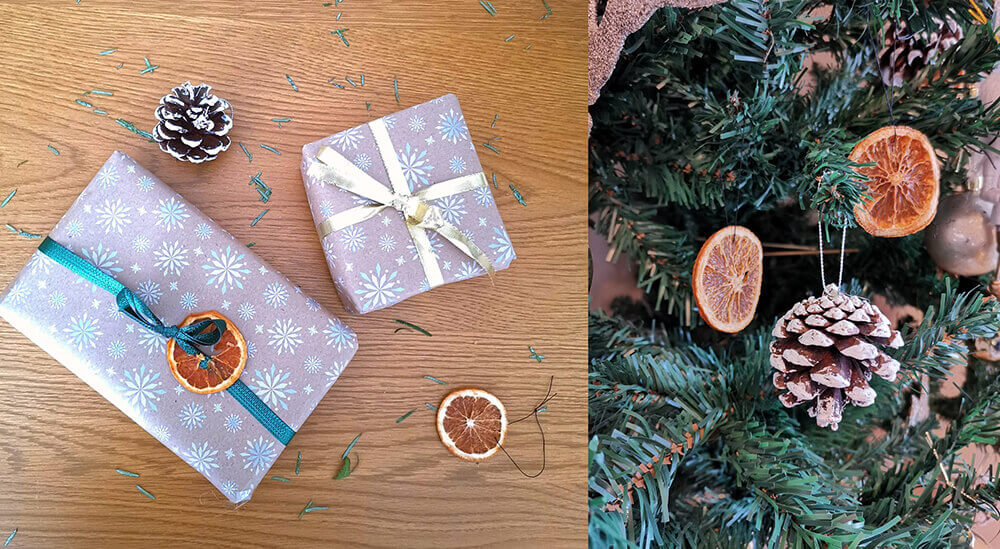 Tara has made her own decorations this year, and they look beautiful.
If you use traditional decorations, keep them and don't throw them away. Stick with one colour theme for all your Christmases, rather than buy new decorations every year. They can even be really nice things to pass down in the family.
Food
Firstly, try to reduce food packaging waste. There are now a number of zero waste shops emerging, or if you have a local grocery shop, they often provide veg without packaging or in veg boxes. It is however more difficult to buy meat or meat substitutes without plastic waste – gone are the days of wrapping meat in brown paper. If you're up to the task, you can even grow your own veg for next year.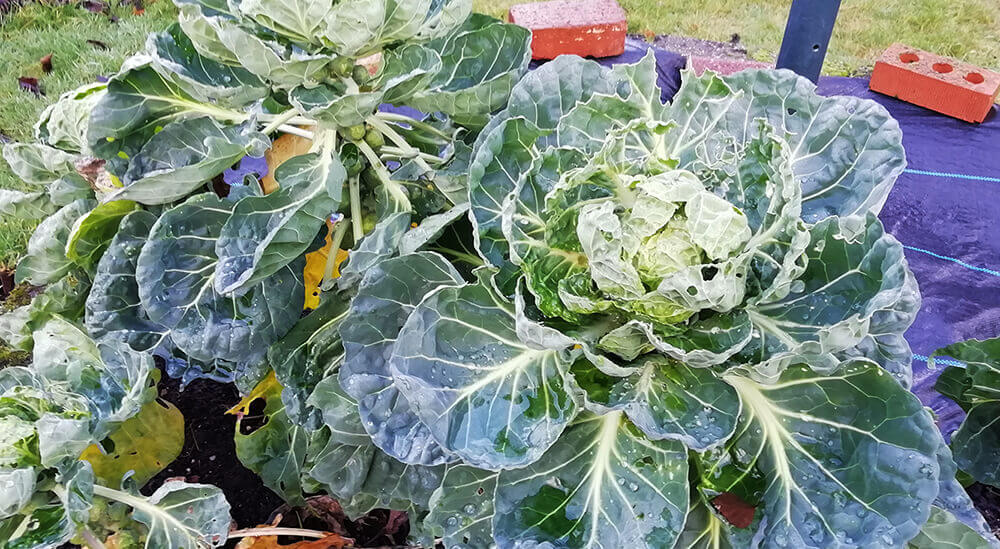 My homegrown organic sprouts ready for Christmas dinner
If you've bought more food than you can eat, store any leftovers in food storage containers rather than in clingfilm or foil. If possible and safe, freeze any food you know you won't eat in the near future, and, rather than making countless turkey sandwiches, why not experiment and try out a few different ideas, like 'Turkey tikka masala'? BBC good food has a range of recipes for your leftovers. https://www.bbcgoodfood.com/recipes/collection/christmas-leftovers-recipes
Finally, any vegetable waste, like peelings, can be added to the compost or in your green food waste bins. (please check your local council website)
Though we know these steps will not wholly eradicate Christmas waste or our waste guilt, they are simple actions that we can all take to do our bit. From Castlefield, we wish you a merry low-waste Christmas and a happy New Year!
[1] https://www.biffa.co.uk/biffablog/2020/december/biffas-simple-guide-for-recycling-at-christmas
[2] https://www.bbc.co.uk/newsround/16200667
[3] https://www.theguardian.com/news/shortcuts/2020/feb/17/hidden-costs-of-online-delivery-environment
[4] https://www.gov.uk/government/news/dont-increase-your-christmas-waste-line
[5] https://www.housebeautiful.com/uk/lifestyle/eco/a1158/recycle-christmas-waste/
[6] https://www.carbontrust.com/news-and-events/news/the-carbon-trusts-top-christmas-tips
[7] https://www.ethicalconsumer.org/ethical-christmas/tips-plastic-free-christmas