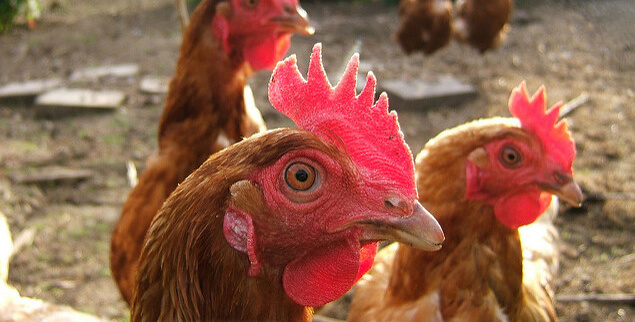 Image by Peter Cooper, see footnote
Global food companies are paying more attention than ever to the issue of farm animal welfare. Investor concerns about how food companies are managing the welfare of production animals play an important role in how businesses approach dealing with this and other risks in their supply chains. Food scandals, tightening regulatory requirements on animal welfare and on food safety and quality are just a few of the many risks that food companies face. Customer and client demand are also important influences on companies' approach to farm animal welfare. This emphasises that appropriate consideration of welfare is not only the compassionate choice but also the financially prudent one.
Prophylactic antibiotic usage is an issue which has garnered a lot of press attention in recent months. This links animal welfare and human well-being. In America, antibiotics are used more heavily in farm animals than in people. This may be the largest source of antibiotic-resistant bacteria. Drug-resistance genes spread more widely and rapidly on farms than previously thought and researchers say companies who are over using these antibiotics are endangering public health[1]. If animals were not kept in filthy, overcrowded conditions where disease is rife then there would be less of a need to administer the antibiotics that are leading to the evolution of resistant bacteria.
With more and more people demanding options like free range eggs this has forced companies to take action. All the major retailers in the UK are now either already cage-free on their whole eggs, or have committed to be so by 2025[2]. Consumers are using their purchasing power to force businesses to make more moral choices. Investors also have an important role to play in encouraging companies to achieve and maintain leadership on farm animal welfare. By holding the companies in their portfolios to account and pushing them to do better business investors can encourage company boards to create policies that are beneficial for the company, shareholders, society and the environment.
What is good welfare?
Welfare is a rather ambiguous term and is difficult to define but the commonly accepted measure of "good welfare" is provision of the five freedoms [3]. These are:
1. Freedom from thirst, hunger and malnutrition
2. Freedom from discomfort
3. Freedom from pain and disease
4. Freedom to express normal behaviour
5. Freedom from fear and distress
When animals have these five freedoms we can reasonably assume that they lead comfortable lives where they are able to exhibit natural behaviours.
Due to the importance we at Castlefield place on the issue of good welfare for animals, we have decided to become signatories to the investor statement from Business Benchmark on Farm Animal Welfare (BBFAW). BBFAW is the leading global measure of company performance on farm animal welfare. The Benchmark is backed by leading animal welfare organisations Compassion in World Farming and World Animal Protection, who have a track record of working with food companies. The aim of the benchmark is to provide investors with the information they need to understand the business implications of farm animal welfare for the companies in which they are invested; to provide investors, governments, academics, NGOs, consumers and other stakeholders with an independent, impartial and reliable assessment of individual company efforts to adopt higher farm animal welfare standards and practices; and to provide guidance to companies interested in improving their management of and reporting on farm animal welfare issues[4]. By signing the BBFAW investor statement we at Castlefield hope to show that we believe that farm animal welfare is potentially material to long-term investment value creation in the food sector and are committed to taking account of farm animal welfare when analysing food companies and to encouraging high standards across the food industry. We also commit to using BBFAW as a framework to analyse companies in the food industry.
We have also agreed to join the BBFAW investor collaborative engagement initiative. This is a project run by BBFAW to allow investors to lend their backing to engagement with companies. Through opening a dialogue with companies, investors can encourage them to consider not only the important risk management that comes with promoting good welfare in their farm animals but also business benefits and opportunities this brings. Ultimately this serves to benefit businesses and shareholders as well as animals.
Sources
[1] Melinda Wenner Moyer, Scientific American (2016)
[2] Compassion in World Farming
[4] BBFAW (2016)
Image by Peter Cooper, can be found here. Click here for License terms. The image has been cropped. 
MEAWBKH/110117
This is not an offer or a solicitation to make an investment. It does not constitute a personal recommendation and recipients must satisfy themselves that any investment is appropriate in the light of their own understanding, appraisal of risk and reward, objectives, experience and financial and operational resources. It has not been prepared in accordance with legal requirements designed to promote the independence of investment research. Non independent research is not subject under the Markets in Financial Instruments Directive ("MiFID") to any prohibition on dealing ahead of the dissemination of investment research.