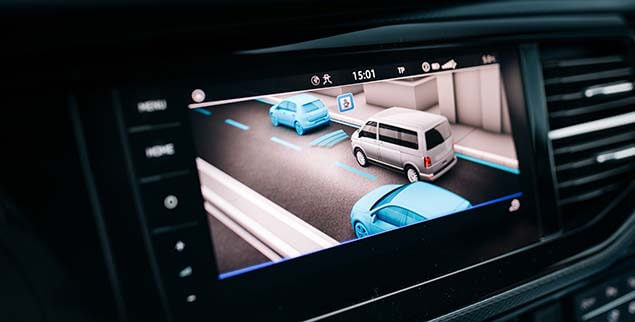 Forty years ago, the idea that we would be using sensors for almost everything in our comfort driven lives, would have been strange and futuristic. We aren't quite at the stage of Ridley Scott's 1982 classic Blade Runner, but we're not a million miles from it either. Everything in our lives seems to use a sensor, whether it's to 'wake' our phone or tablet on movement, to mow the lawn with some extraordinary Swedish-made robot, or to dynamically fluctuate our cruise control speed on the motorway or shift the dazzle from oncoming traffic at night. We need not sweat up and down the lawn with wobbly stripes or get an angry toot for blinding the midnight driver in the opposite lane. Sensors have made our life easy, lazy even. And their use seems to be ever increasing.
The obvious destination for a sensor is a car, and this is where the expertise of September's stock story Melexis lies. A Belgian company with 30 years of technological knowhow, Melexis (www.melexis.com) is a microelectronics engineering company that designs, develops and sells integrated circuits (IC's) for a wide variety of sensing requirements including temperature, speed, pressure, current and magnetic fields. The vast majority of sales is made into the auto industry, where Melexis states there are 13 sensors in every new build car[1], a number that is only growing with time. The interesting angle for us is the opportunity outside the auto industry, where application sectors such as medical, IoT, smart appliances, home automation and industry will all benefit from the ability to use sensor technology.
Melexis is far from the only company who is making these IC's and the market is competitive and fast moving. There is a semiconductor shortage at the moment which is impacting the car industry (as well as others) and the semiconductor business is one which is very cyclical. We see a number of reasons why Melexis fits well with our sustainable approach to investing. Melexis declares that the firm is dedicated to positively impact on an economic, environmental and social level. representing engineering to enable a safe, clean, comfortable and healthy future. Melexis products reduce energy consumption, optimize battery usage and reduce the number of needed components. As alternative energy sources increase in usage, Melexis solutions will facilitate current measurement, power monitoring and surge detection.
We have engaged with the company several times to try to understand its stance on various issues such as water consumption (the semiconductor industry is a big consumer) its supply chain and its stance on executive remuneration. Many companies benchmark themselves against the United Nations Sustainable Development Goals (SDG's) to demonstrate their commitment. One area of strength for Melexis is its attitude to responsible consumption and production. These include a responsible supply chain, energy use, business ethics, product quality and safety, product lifecycle and conflict minerals. Melexis operates various initiatives to safeguard all of these issues during the development and production of their products. In Germany they have had great success in lowering their energy consumption at one particular site. This success can be rolled out across the group. Their environmental impact is important, and the company eschews chemicals and hazardous substances, avoiding products that contain mercury, lead and cadmium. Although not required to, Melexis aims to adhere to regulations on the registration and authorisation of chemicals under REACH[2], and have their own inhouse test externally audited by an independent body.
Melexis collects its environmental impact data and publishes it each year. This allows analysis of Melexis material usage by Melexis and its suppliers, energy and water use, CO2 emissions and waste disposal. We are impressed with the evidence that raw material usage fell between 2018 and 2020, whilst production volumes rose. As we move towards more transparency of corporate reporting, with companies moving inexorably to improved increased circularity and lowering gross emissions to achieve a net zero impact, we need to see more organisations showcasing their abilities and sharing best practise. Corporates are waking up to the idea of the need to hold a social license to operate, which goes far beyond any Keynesian theories, or the Friedman doctrine for the maximisation of profit. The consumers of today and tomorrow are much more interested in the provenance of what they buy and its impact on the wider world. Ridley Scott's film depicts a permanent night-time urban landscape with almost incessant rain. It is a bleak outlook and one that filled me with fear at the time. One thing he was right about was the autonomous driving cars. As to whether they will fly or not, that might be for another stock story.
Written by Rory Hammerson
[1] https://media.melexis.com/-/media/files/documents/investor-relations/2021/en/en-20210728-q22021.pdf?_ga=2.136089073.1384090240.1630494812-1879729476.1593090516
[2] https://echa.europa.eu/regulations/reach/legislation
This article is for information purposes only and is not intended to constitute a personal recommendation or inducement to invest. The financial products or investment strategies discussed in this article may not be appropriate for all investors. All information quoted is obtained from sources which we believe to be accurate at the time of publication, but may be subject to change. We therefore cannot be held responsible for the implications of relying on this information. The officers, employees and agents of CIP may have positions in any securities mentioned herein.