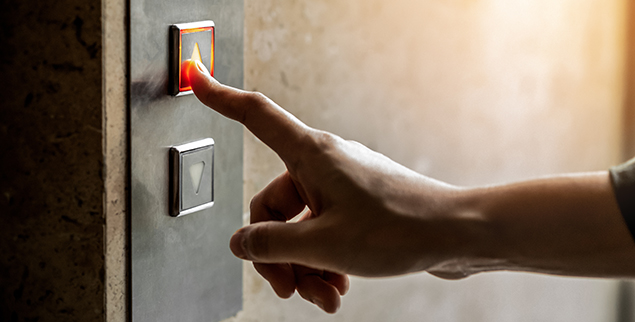 For image license details, please see footnotes
October Stock Commentary - Castlefield B.E.S.T Sustainable European Fund - Kone
As global populations gravitate towards urban living, architects must build up and up to house ever more incomers. Elevators or lifts, as we Brits call them, are not a modern concept. Primitive versions are documented as early as the third century B.C. operated by humans, animal and sometimes water wheels: the concept is simple. The early modern prototype, equipped with counter-weights, was built in 1743 for French king Louis XV to provide access from the royal apartment to that of the king's 'particular favourite', Mme Chateauroux. These days safety is the watchword, where doors do not open into the lift shaft, actuators damper the bump on arrival and passengers whizz up and down hundreds of floors without feeling the merest lurch in our midriffs. Sensors are now monitoring wear and tear to anticipate service needs.
Finland-based Kone (www.kone.com) is a global leader in elevators and escalators. They have an extraordinary level of technical expertise based on nearly 110 years of research and development. Their real niche lies in the low-inertia technology needed to transport thousands of people safely, quickly, and efficiently. This has helped Kone to dominate fast-growing markets like China where it has captured around a fifth of the market, as of 2017[1]. China's population density makes the market very interesting. Not only is there a strong stream of installations and service contracts, but the market is also now starting to need modernisation.
Modernisation is a real driver from an environmental point of view. It's a widely known fact that buildings generate well over a third of carbon dioxide into the atmosphere[2], and any form of efficiency is being focussed upon to lower this figure. Green buildings work towards this by changing the way communities and facilities are designed and operated. Kone is a pioneer in the development of eco-efficient solutions in elevators and escalators. Their new elevator is up to 90% more energy efficient[3] than Kone's products from the 1990's. The number of European elevators over twenty years old is expected to increase by around a third by 2020 to reach over 3 million units. This represents around 60% of the installed European base. A recent study supported by the European Commission concluded that the modernisation of elevators installed pre-1985 would achieve energy savings of 63%[3].
Kone is a global business with a thriving level of product demand, driven by energy efficiency and safety. It has a responsible sourcing policy for its materials and can recycle 90% of all metals used in the product manufacture3. It has operations in 60 countries and distributors and agents in over 100 countries3 It takes its responsibilities seriously, and its Supplier Code of Conduct requires its suppliers to protect the health and safety of their own workforces. It reports very clearly on the social aspects of its performance and shares the results of its corporate survey. ESG is at the heart of the business in a way that makes it stand out from the crowd. Far from immune from the risks of a global business model, Kone found itself, as well as several other large elevator manufacturers, on the wrong side of a price-fixing investigation during the mid-noughties. Lessons were learned, and governance structures were tightened up in the industry as a whole. Like many examples of progress, advances often occur in the aftermath of historical mistakes and Kone's is a great story for sustainability on many fronts. Next time you're in a lift – check out the name of the manufacturer!
Information is accurate as at 01.10.2019. Opinions constitute the fund manager's judgement as of this date and are subject to change without warning. The officers, employees and agents of CIP may have positions in any securities mentioned herein. This material may not be distributed, published or reproduced in whole or in part. With investment capital is at risk.
RGEBP/021019
[1]https://www.kone.com/en/Images/KONE_CMD_2018_China_tcm17-76421.pdf
[2]https://www.worldgbc.org/sites/default/files/UNEP%20188_GABC_en%20(web).pdf
[3]https://www.kone.com/en/Images/pdf_sustainability_report_2018_tcm17-82581.pdf
Header image: Jaboo_foto / stock.adobe.com