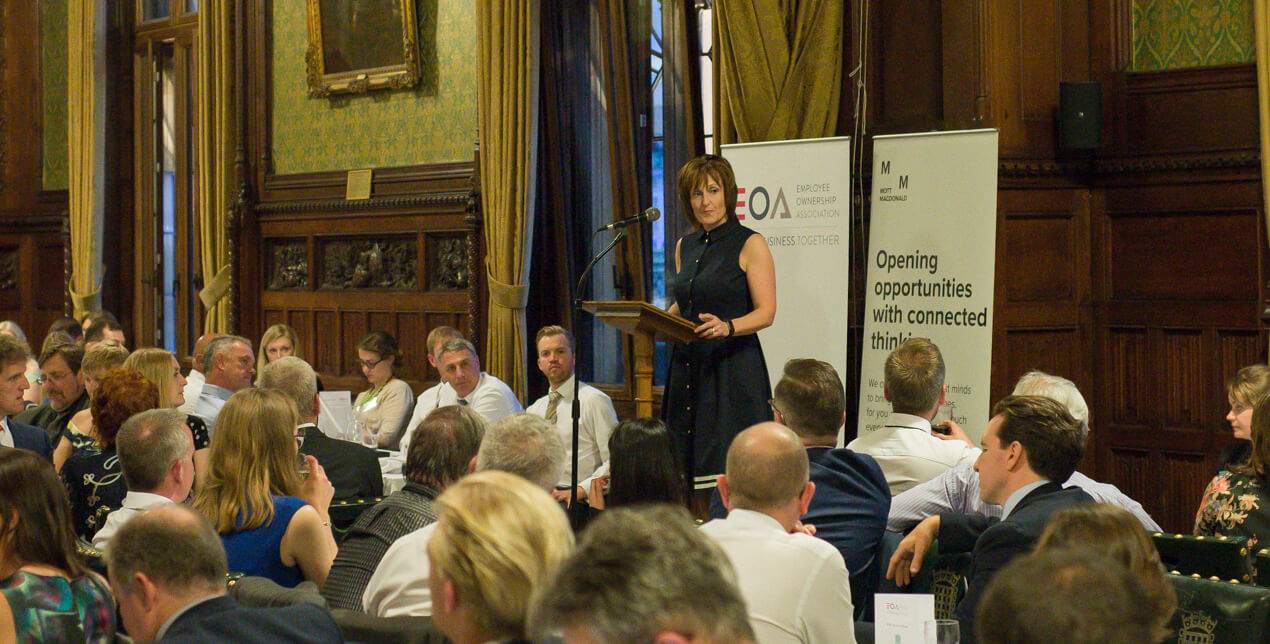 We were delighted to be invited to attend the Employee Ownership Association (EOA) dinner at The House of Commons in June. Nearer the time, it transpired that the date of the dinner was to be the same as the snap General Election. As we arrived, we could see the Press camping out in the drizzle, preparing for a busy night ahead.  Perhaps surprisingly, Westminster itself was deserted, which made the airport-style security manageable, and meant we could enjoy the stunning architecture without any crowds.  Holding the event in the seat of power helps to raise the profile of the EOA with policymakers – and Employee Ownership is certainly a business model that government should be getting behind, as was made clear during the presentations made that evening.
Castlefield's presence of five attendees, whilst coincidental to the age of the event, was a further sign of the increasing size of the membership to the Employee Ownership Association and our company's continued importance within it. The speaker from Mott McDonald, an international Management Consultancy firm, made reference to Employee Ownership as being akin to being a custodian for his company, for the benefit of all employees within the business. This sentiment resonated through with the conversations that we were all engaged with.
To illustrate the diversity of membership, we were able to converse with a variety of individuals from differing backgrounds ranging from retail, law, management consultancy, engineering through to offering bespoke pharmaceutical solutions. A chat with the Strategic Head of a well-known retail partnership would be quickly followed by a conversation on how a company was working with clients around the globe to effectively deliver bespoke drug delivery solutions… All of which had a common thread, they were all co-owners of their respective companies, and were enthused by the opportunity to influence the direction of their companies that Employee Ownership uniquely presents to them.
As stakeholders we were all able to interact on an equal footing, irrespective of background, when exchanging differing experiences on what an 'EO' corporate structure meant to them, and how it had affected their overall employee experience. Similar to ourselves, many were relatively new to embracing the 'EO' structure and faced challenges on how to make the change tangible to colleagues on an individual level. As the evening and conversations developed it became evident that the grand, and almost surreal, setting we were within was wholly appropriate to house a meeting of the EOA, as a movement that has gained significant traction within the chambers of legislative power and continues to do so across a swathe of diverse businesses.
This impressive setting also influenced the speech from the Association's Chief Executive, Deb Oxley. Deb asked us all to imagine what a manifesto from a hypothetical "Employee Ownership Party" might include if such a party was convened with a remit to deliver "Better Business" for the country. "Better Corporate Behaviour" was first on the list, echoing a perennial concern about the real social and business problems created where corporate behaviour is driven by a few self-interested parties. Accountability to employees can also deliver "More Profitable and Resilient Businesses". Strategic missteps and poor business practices can be more common where management are divorced from the day-to-day running of a business. "Do Good Whilst also Doing Well" can be a way for EOB's to differentiate themselves, both with prospective customers and employees alike. Bringing all of this together, Deb concluded that "Engaging Everyone" and thus retaining the best talent that we are able to recruit, improving the fortunes of our businesses and communities can be the real long-term gain for society.
Baroness Bowles was the keynote speaker, an impressive lady who understands that corporate governance and Employee Ownership are very much complementary.  Excitingly, she announced the launch of The Ownership Effect Inquiry in partnership with The John Lewis Partnership and the eaga Trust.  She explained:
 The Inquiry will dig out evidence of when, where and under what circumstances Employee Ownership works well. Where can it play a greater role as an economic and social enabler, delivering greater productivity and better corporate behaviour? It will also engage with national and local media to share what is learnt.
A link to her full speech can be found here: http://employeeownership.co.uk/wp-content/uploads/Summer-Dinner-2017-Baroness-Bowles-Speech.pdf