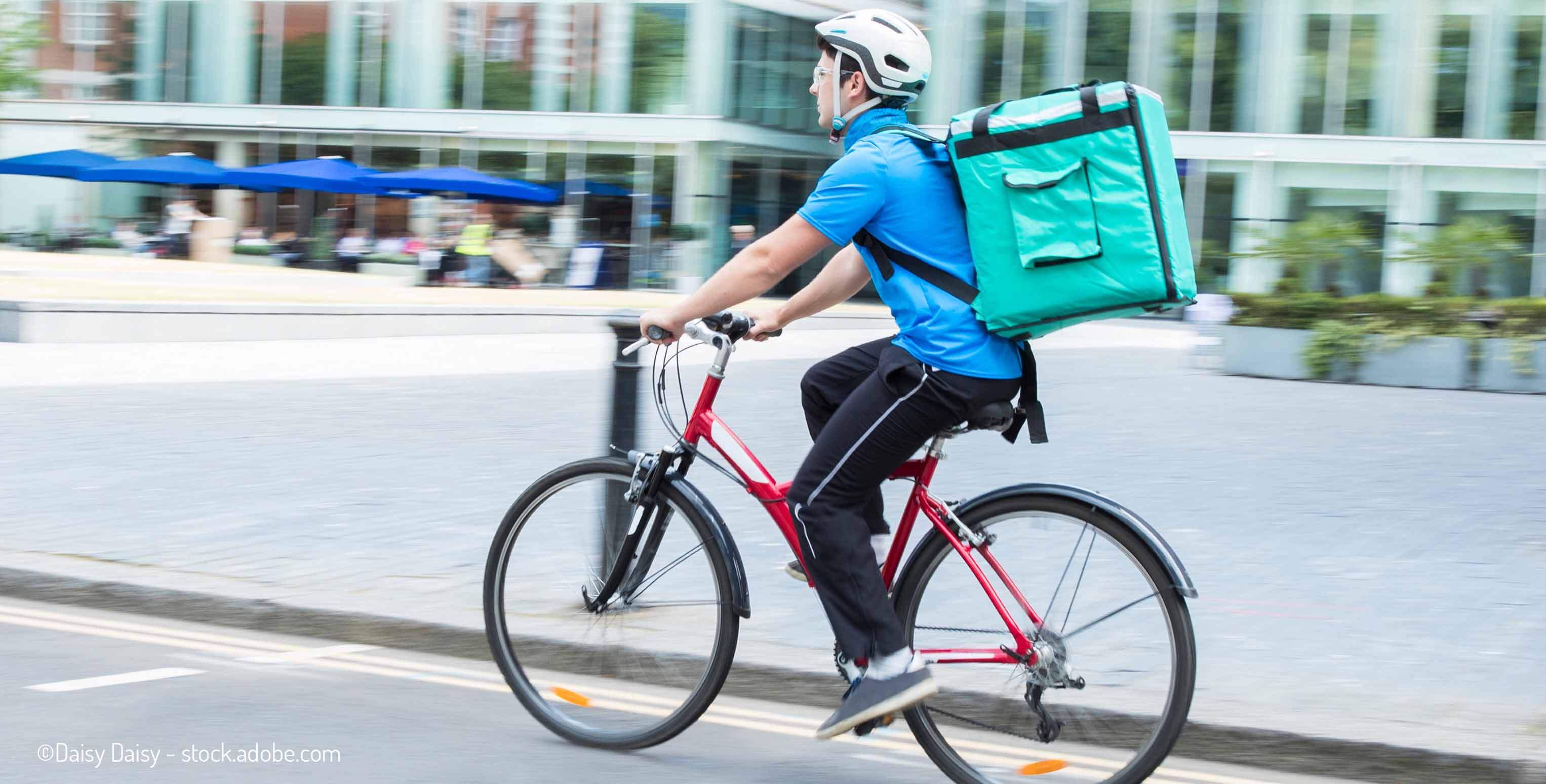 Despite Deliveroo being a well-known and popular brand used by many people globally, the notable Environmental, Social and Governance (ESG) issues within the company have created concerns for many investors. The most notable issues stem from the company's substandard attitudes to workers' rights and poor corporate governance. Public concerns around Deliveroo's ESG related issues have been linked to its recent loss of value on the stock market. Deliveroo lost more than a quarter of its value on its first day of trading, making it "the worst IPO in London's history".[1] For its compromising company values, many potential investors do not see Deliveroo as a company fit for portfolio inclusion. This piece will outline some of Deliveroo's ESG failings and directly contrast them to what we believe is best practice for high value companies and attractive investments.
Poor workers' rights are one of the most prominent issues within the company at large. It has been reported that Deliveroo riders fall in to the 'self-employed' category which means that they do not receive minimum wage from the company, holiday or sick pay.[2] The purpose of minimum wage laws is to prevent employers from exploiting their workers. The minimum wage should provide enough income to individuals to afford a living wage, that is the amount needed to provide individuals with enough food, clothing and housing. Deliveroo has responded to these concerns by claiming that if it was to make changes to the basis on which they engage riders, it could affect its ability to continue operating and could mean it's required to make changes to their business model.[3] This shows that Deliveroo's concerns with the operation of the company are inherently missing the mark when it comes to ESG factors. In contrast, we at Castlefield are a Living Wage Employer and see this as an integral part to all quality businesses. This means that we procure from companies who pay their employees a UK wage rate which allows employees to meet their everyday needs.[4]
Uber has a similar business model to Deliveroo and recently underwent a court case which resulted in changes to staff employment terms. The Supreme Court has ruled that Uber drivers are now entitled to a minimum wage and holiday pay.[5] Therefore, this could suggest that Deliveroo might have to undergo the same process and make legal changes to the framework of their business. In the last week, hundreds of Deliveroo riders took part in protests against their employment terms on the company's first day of open trading on the stock market. [6]
Regarding company governance, it has been reported that Deliveroo operates using a dual share class voting structure. This means that the co-founder and chief executive, Will Shu, has greater control over the company compared to the other shareholders.[7] Dual-class structures have been found to be fundamentally undermining of the power of their shareholder owners because of the discrepancy between control and economic ownership. This voting system has the potential to be problematic by reducing the accountability of economic owners of the business, entrench management and potentially skew incentives.[8] Contrastingly, we believe that the one vote system is better practice as it aims to insulate against the potential for corrupt corporate governance.
Investors today are no longer just looking at a business's economic performance when deciding where to put their money. Increasingly, environmental, social and governance issues are at the forefront of their concerns. Deliveroo has been seen to be missing the mark and not operating at a level of best practice. This has been most notable regarding the social and governance aspects of its business model. For this reason, many investors, including us at Castlefield, cannot see Deliveroo as a viable investment opportunity unless direct change is made in relation to these issues.
Written by India Harkishin
[1] Tim Bradshaw and Attracta Mooney (2021), Financial Times. Disaster strikes as Deliveroo becomes 'worst IPO in London's history', https://www.ft.com/content/bdf6ac6b-46b5-4f7a-90db-291d7fd2898d?accessToken=zwAAAXir0HZIkdO99qxrRrVPetOQ2ykdf9KJjQ.MEUCIQCSOsv7dcZ__TtgrXKspIV0-K1VynxuHgwSuRZTktnbCQIgSiYDbMCof5RaSYCszquhlLCDmvDRuaIJz4-AnT_MTvs&sharetype=gift?token=d32d225d-5056-4d65-802a-6ae10ac9dce2
[2] (2021), BBC. More big investors shun Deliveroo over workers' rights. https://www.bbc.co.uk/news/business-56515498#:~:text=Deliveroo%20riders%20are%20self%2Demployed,or%20holiday%20and%20sick%20pay.
[3] James Hansen (2021), Eater London.  Deliveroo Tacitly Admits That Its Business Model Relies on a Lack of Workers' Rights, https://london.eater.com/2021/3/24/22347981/deliveroo-delivery-uk-riders-ipo-valuation
[4] LivingWage.Org. https://www.livingwage.org.uk/what-real-living-wage
[5] Mary-Ann Russon (2021), Uber Drivers are Workers not Self Employed, Supreme Court Rules. https://www.bbc.co.uk/news/business-56123668
[6] Sarah Butler and Jasper Jolly (2021), Deliveroo Workers Protest as Shares Rise on First Day of Open Trading. https://www.theguardian.com/business/2021/apr/07/deliveroo-workers-strike-as-shares-rise-on-first-day-of-open-trading
[7] Steven Frazer (2021), Shares Magazine. 'Dual-class' Deliveroo picks London for estimated £7.5 billion IPO. https://www.sharesmagazine.co.uk/news/shares/dual-class-deliveroo-picks-london-for-estimated-7-5-billion-ipo
[8] Kosmas Papadopoulos (2021), Harvard Law School Forum on Corporate Governance. Changing Investment Stewardship Practices in a Post Covid-19 World. https://corpgov.law.harvard.edu/
This article is for information purposes only and is not intended to constitute a personal recommendation or inducement to invest. The financial products or investment strategies discussed in this article may not be appropriate for all investors.
All information quoted is obtained from sources which we believe to be accurate at the time of publication, but may be subject to change. We therefore cannot be held responsible for the implications of relying on this information.