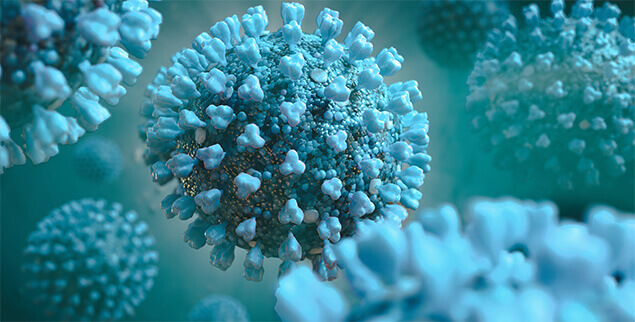 The coronavirus, now named COVID-19, is a respiratory infection first identified in Wuhan, China on 31st December 2019.[1] Coronavirus is a family of viruses causing severe respiratory infections and has been seen before during SARs in 2002/3[2] and MERs (Middle East respiratory syndrome) in 2012. Today's COVID-19 has been confirmed in over 116,000 cases, causing over 3,000 deaths, affecting 81 countries.[3] The mortality rate of COVID-19, at the time of writing, is around 3%[4] (although it is too early to say conclusively what the death toll is). There is currently no licensed vaccine, but research is ongoing.
The full extent of the economic impact is yet to be seen. China is the world's second largest economy, accounting for around 19% of global GDP in 2019 and its share is expected to rise.[5] However, with extended holidays from the scheduled Chinese New Year, shops shut, traffic limited, and cities in lockdown, it is obvious there will be an economic impact. We have seen that markets have already started to try to price this in. Until Monday 24th February, markets remained quite resilient to the news. However, trading on this day saw a global sell off in equity markets as the number of cases reported outside of China grew.
Whilst there has been a general market sell off, some sectors are impacted more than others such as Oil & Gas, as demand weakens due to travel restrictions and factory shutdowns. The Travel and Leisure sector is also feeling the impact, especially airlines and cruise liners, neither of which are held in Castlefield's BEST funds as it would not meet their sustainability mandate. Some of Castlefield's funds have limited exposure to hotels (PPHE and Whitbread) and our investment management team are therefore closely monitoring the situation with this in mind. We are comforted by observing the steps that the management teams of these companies have taken to mitigate any impact of the virus, including strengthening their business continuity and crisis plans. Furthermore, these chains do not have exposure to hotels in Asia. Although we would never make light of the situation, Castlefield funds do have exposure to some companies that will be beneficiaries of the recent virus outbreak (for example infection control company Tristel, which makes high-level disinfectants that are used by the NHS and others to wipe surfaces in hospitals and to clean medical instruments).
The honest answer is that no one knows what lies ahead for both COVID-19 and its impact on the economy. In a globally synchronised world with interconnected supply chains, it is inevitable that there will be disruption for some time to come; we saw the effect of this during the recent US-China trade war. Whilst markets are currently trying to understand the impact, the true effect is unknown, and markets could have further to fall. However, a counter argument could be that where supply outstrip demand the resultant fall in prices could present a buying opportunity. It is impossible to foresee the psychology of the market and our investment strategy is not based on trying to predict the markets in this way. Instead we look for companies with sound business models, in sustainable industries, with strong cash flows and balance sheets run by experienced management teams. In short, we invest for the long-term.
Cash within our Castlefield funds is generally also at elevated levels[6] compared to historic levels, which gives us the flexibility to deploy it should we see fit or alternatively provides a buffer if markets continue to decline.
Our discretionary client's portfolios are currently underweight on equities and the balance is held in the Castlefield Real Return fund, therefore in a global equity sell off our client portfolios are also designed to be less exposed to market volatility.
Past performance is not a guide to future performance. Returns are not guaranteed. The value of your investments can fall as well as rise and you may not get back the full amount that you invested.
You can view more information on the performance of our Castlefield funds on their respective factsheets here:
Castlefield B.E.S.T. Sustainable Income Fund
Castlefield B.E.S.T. Sustainable UK Opportunities Fund
Castlefield B.E.S.T. Sustainable UK Smaller Companies Fund
Castlefield B.E.S.T. Sustainable European Fund
Information is accurate as at 09.03.2020. Opinions constitute the investment management team's judgement as of this date and are subject to change without warning. The officers, employees and agents of CIP may have positions in any securities mentioned herein. This material may not be distributed, published or reproduced in whole or in part.
[1] https://www.who.int/emergencies/diseases/novel-coronavirus-2019
[2] https://www.cdc.gov/about/history/sars/timeline.htm
[3] https://www.worldometers.info/coronavirus/ as at 10.03.2020
[4] https://www.who.int/dg/speeches/detail/who-director-general-s-opening-remarks-at-the-media-briefing-on-covid-19---3-march-2020 as at 03.03.2020
[5] https://www.imf.org/external/pubs/ft/weo/2019/01/weodata/weorept.aspx?sy=2017&ey=2024&scsm=1&ssd=1&sort=country&ds=.&br=1&c=924&s=NGDP_R%2CNGDP_RPCH%2CPPPSH&grp=0&a=&pr1.x=67&pr1.y=9
[6] Correct as at 10.03.2020
STCOBLOGCS/10032020