Co-owners take part in Yorkshire Three Peaks Challenge
On Saturday 10th September, a small group of Castlefield co-owners boarded a minibus around dawn headed out to the Yorkshire Dales to attempt the Yorkshire Three Peaks route to fundraise for our two charities – Burdens Charitable Foundation and Royal Manchester Children's Hospital. The total walking distance of the route is 24.5 miles, comprised of a circular walk which includes 5,200 feet of ascent.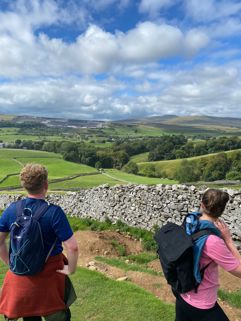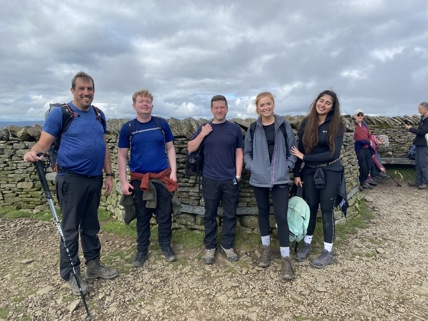 With bags full of supplies, including water, snacks, spare socks and plasters, we settled in for the journey and arrived at the foot of the first peak around 8am.
We tackled Ingleborough first (723m), with the ascent being the steepest of the day via 'the staircase'. The sun had yet to make an appearance, so we didn't quite get the view from the top we were hoping for. Instead, we had low visibility in the morning mist and after being buffeted by the wind during a quick stop to get our bearings, were keen to begin the descent.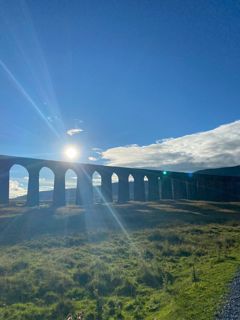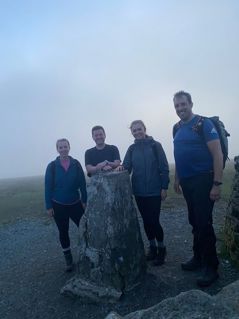 Spirits were high and patches of blue sky began to emerge as we made our way through Horton-in Ribblesdale towards the second peak, Pen y Ghent (694m). This peak had a longer ascent, with a final scramble to reach the summit. It was after we'd made the descent, faced with the prospect of the longest stretch of the route to reach the final peak, one of our team took an alternative path to head back to the nearest village to allow the rest of the group to keep the pace required to finish the route before our scheduled pick-up time.
Many miles, and indeed hours, later we eventually approached the foot of Whernside, the tallest of the peaks at 736m. It was here that we lost another member of the team, who succumbed to blisters and made his way back to the pub which was our original starting point for a well-earned pint of Guinness. The final four members of the team made their way up to the summit as the sun dipped below the horizon and navigated a treacherous descent by the light of a head torch to finish up the route.
There's still time to show your support too! If you'd like to donate to our pot please visit: https://www.collectionpot.com/pot/1717925/