Castlefield supports school for the blind in Burkina Faso
Castlefield is proud of its unique ownership structure.  Not only an employee-owned business, we also share ownership with Burden's Charitable Foundation (BCF).  A true entrepreneur, on creating Castlefield in 2002 John Eckersley asked BCF whether they'd be interested in putting up capital to help seed fund our business on as close to a risk-free basis as possible, without diluting the hoped-for financial upside.  In return, our profits would help to fund BCF's charitable work.  So, the Foundation has been an investor in Castlefield since inception and counts its stake in the business as amongst its most successful financial decisions to date.
The trustees were originally attracted by the focus of our business on charity clients and by their belief in the aspirations and commitment of our management team. You can read more here: https://www.castlefield.com/news-media/charity-work/burdens-charitable-foundation/
Since then, BCF have continued to focus on their principle project which is a partnership with La Renaissance primary school in Burkina Faso, which educates the blind alongside sighted children - http://larenaissance.org.uk/
For context, we provide the annual cost (in GBP) of sending a child to BCF's school in Burkina Faso - the national currency of Burkina Faso is West African CFA franc, and we use the exchange rate as at end 2020:
| | | |
| --- | --- | --- |
|   | Visually impaired child | A sponsored child, either an orphan or from a poor background |
| School Fee | 53000 | 53000 |
| Uniform | 12000 | 12000 |
| Lunch | 50000 | 50000 |
| Braille / school materials | 70000 | 25000 |
| Health cover | 30000 | - |
| Foster care | 135000 | - |
|   | 350000 CFA = £475 per year | 140,000  CFA= £195 per year |
As a result of our special relationship, some of our clients have supported the work of BCF directly. One, who prefers to remain anonymous, pledged £30,000 to enable BCF and their partners in Burkina Faso to build a Secondary school.  The BCF Trustees were concerned that although so much effort was going into co-educating blind and disabled primary school aged children, with great success, they then didn't have a way to continue their education.  
As with many ground-breaking projects, progress has been slow, as additional funds have had to be found, and the budgeting and project plan ironed out. There are a few involved parties, including the local the Burkinese Association for the Blind (ABPAM), the TicTac foundation in Belgium together with ABPAM in Belgium, and of course the Burkina Faso Government. 
However, we are delighted to report that as of May 2021, building work has begun! Mathieu Compaore, BCF's 'man in Ouagadougou', takes part in weekly site meetings and controls the passing on of BCF's funds.
After the first year the school is planned to break even due to fees paid by the pupils, although donations are required each time a new cohort of pupils is admitted. BCF intends to pay scholarships for all the visually impaired pupils from La Renaissance primary school and hopefully all other blind pupils. The relevant government department in Burkina Faso will provide teachers from day one.
We provide some pictures showing the progress so far…
It's dreadfully hot in Ouagadougou in the transition from the dry season to the rainy season and the foundations are being dug by hand: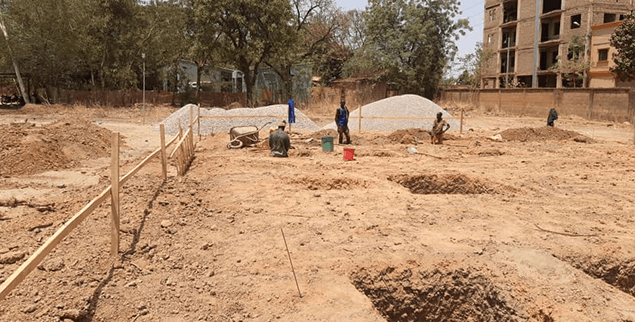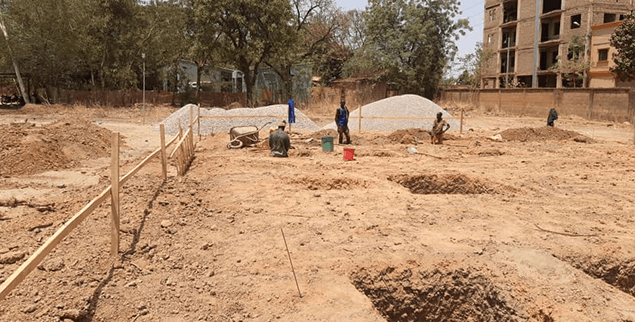 Bricks are being made on site: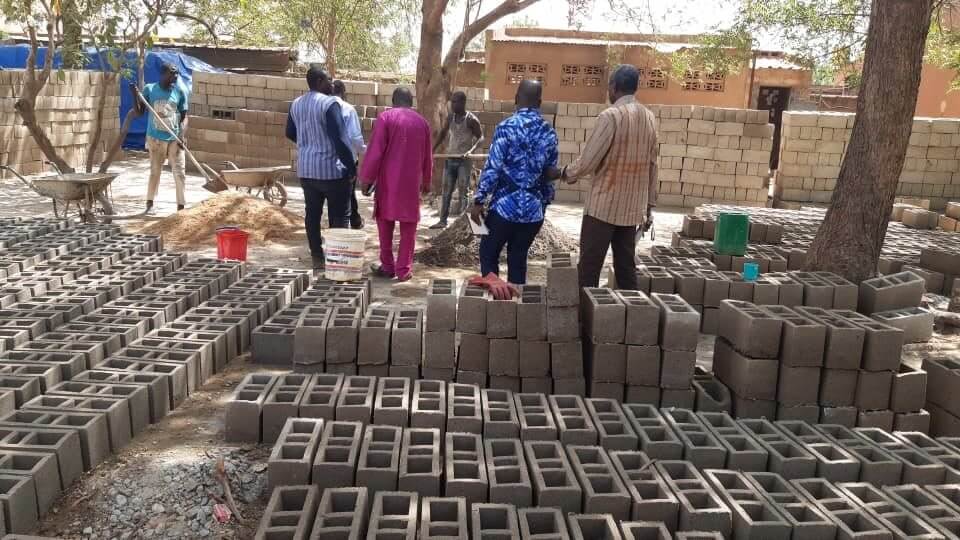 The chairman of ABPAM, Mr Christophe Oulé, lays the first brick on the foundation of the new inclusive secondary school in Ouagadougou, Burkina Faso: