Castlefield Charity Champion - Ewelina Niziolek-Wilson
As part of our Charity Champion series, we asked Ewelina (head of people and training at Castlefield) to describe her recent experience volunteering for the weekend at the Ukrainian Centre in Szczecin, Poland. 
Ewelina explains how she felt compelled to help towards the Ukrainian crisis and demonstrates how invaluable volunteering can be in situations like this. 
When Russia invaded Ukraine on 24th February, we were all in shock, felt scared, but also desperate to help and helpless at the same time. It's amazing how quickly people can organize themselves and create opportunities to help. This included the DEC Ukraine Humanitarian Appeal, local initiatives and collections of goods destined for Ukraine or Ukrainian refugees.  
Donating goods here in the UK felt somehow counterintuitive for me. I felt that the cost of transport, delays, Brexit etc. would impact the smoothness of getting those goods in a timely manner to those in need. I donated money but wanted to do more.  
On the first Saturday in March, I noticed two ladies in Sale town centre selling cakes and collecting money for the Ukrainian crisis. They inspired me to sign up with the British Red Cross to partake in bucket shaking! 
In the meantime, I felt conflicted thinking about my tickets to Poland I had booked months ago. It was only for a weekend and I was meant to meet up with my friend from University who now lives in Norway. We had plans to meet in Szczecin – a city we studied in 20 years ago, visit restaurants, cafes, and bars, and spend some time together. But it didn't feel right.  
My friend came across the Ukrainian Centre in Szczecin's social media account which was looking for volunteers that weekend to help sort out donated goods. We both signed up. Unfortunately, only for a day, but it was enough to justify the weekend we had planned in Poland.  
I arrived in Szczecin on Friday afternoon. Support for the situation in Ukraine was visible from the first moment – shops, cafes, libraries, schools, buses etc. had blue and yellow flags displayed, posters directing people to legal support centers, advise on how to enroll children to school and how to access medial help were written in Ukrainian. It became a lot more real for me.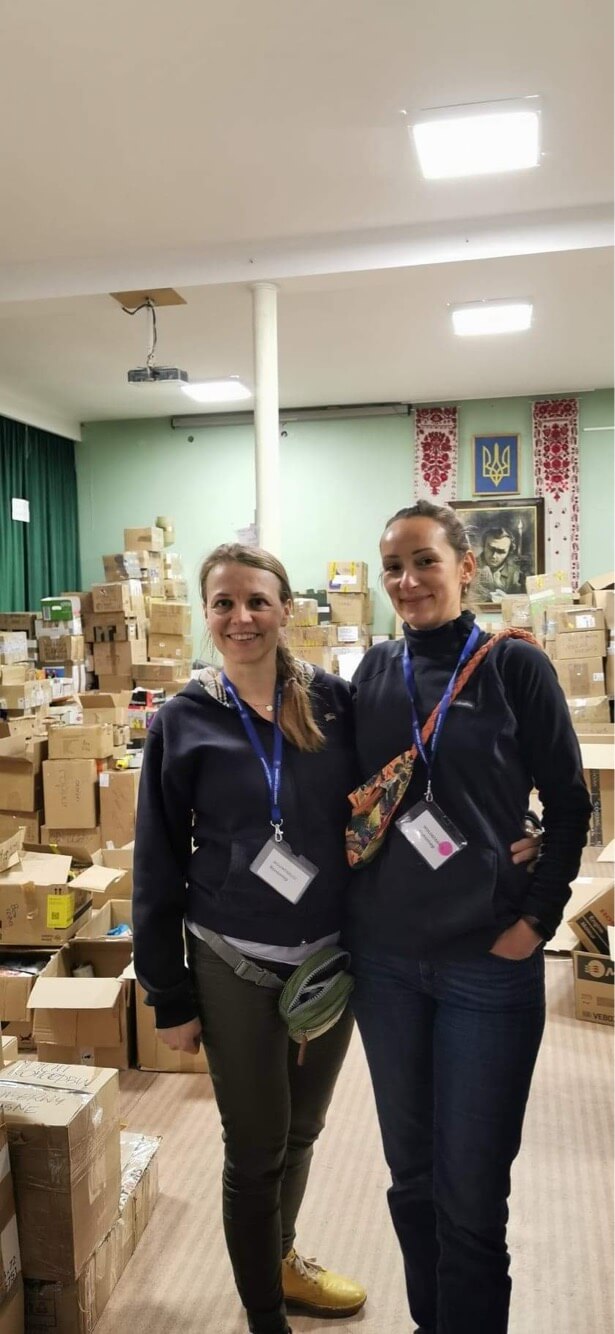 The Ukrainian Centre in Szczecin was busy from the morning on Saturday. Inside and outside the building were dedicated stations with health and beauty products, food and milk for children, nappies, batteries, power banks, sleeping bags, new clothes, and other food items. There was also a separate station for medicine and first aid items staffed by medical students from the Medical Academy in Szczecin. There were around 30 people helping out – students, friends, mums and dads with teenagers, Polish and a few Ukrainians.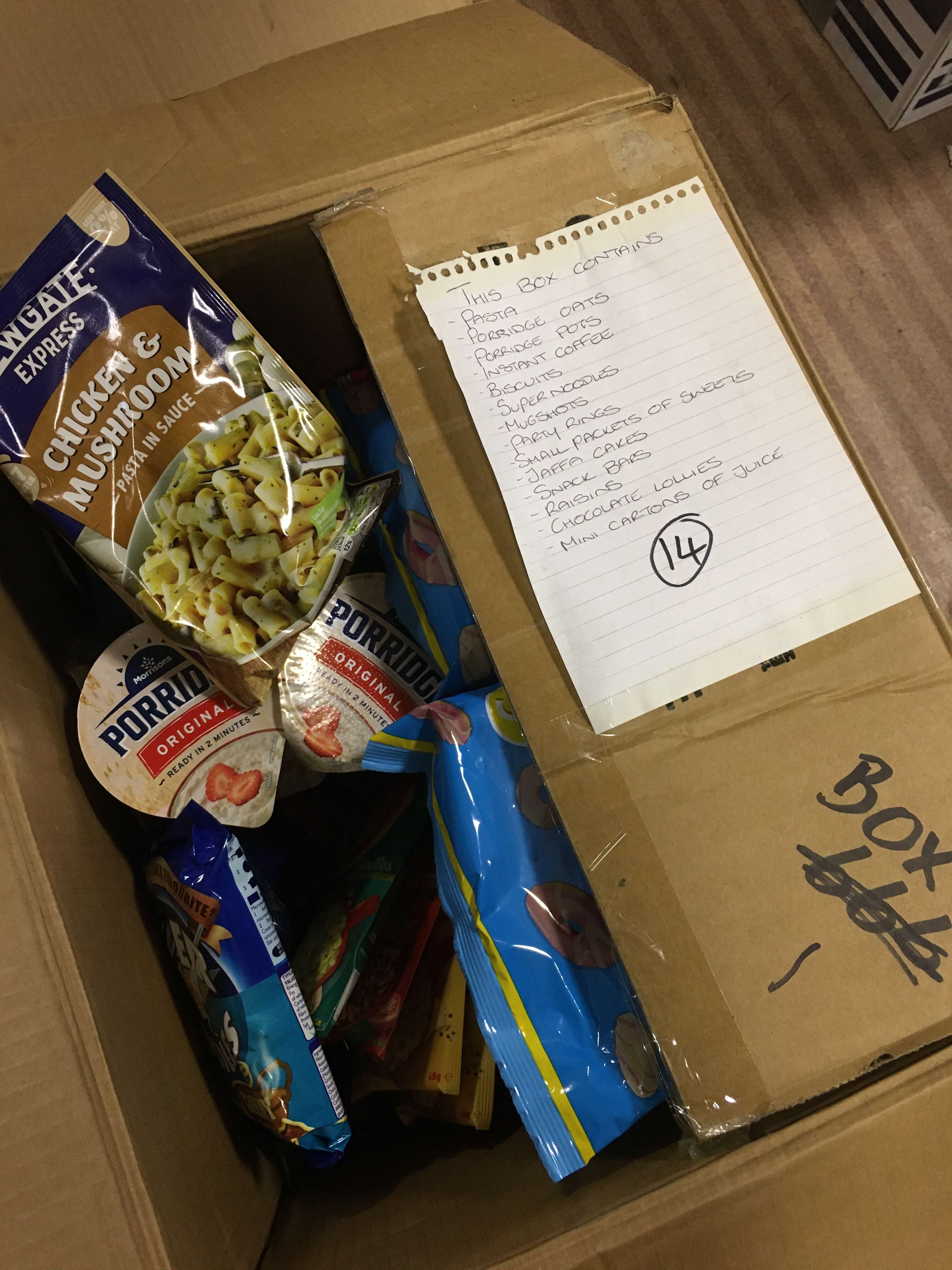 My friend and I were assigned to help on the food station – we had to unpack all the parcels and sort the goods into correct categories. We separated packets of pasta, instant dishes, various tins etc. and packed it all into small manageable boxes and labeled them both in Polish and Ukrainian. There were parcels from individuals, but also deliveries from Sweden, Germany and the UK! My knowledge of English products like baked beans and rice pudding came in useful!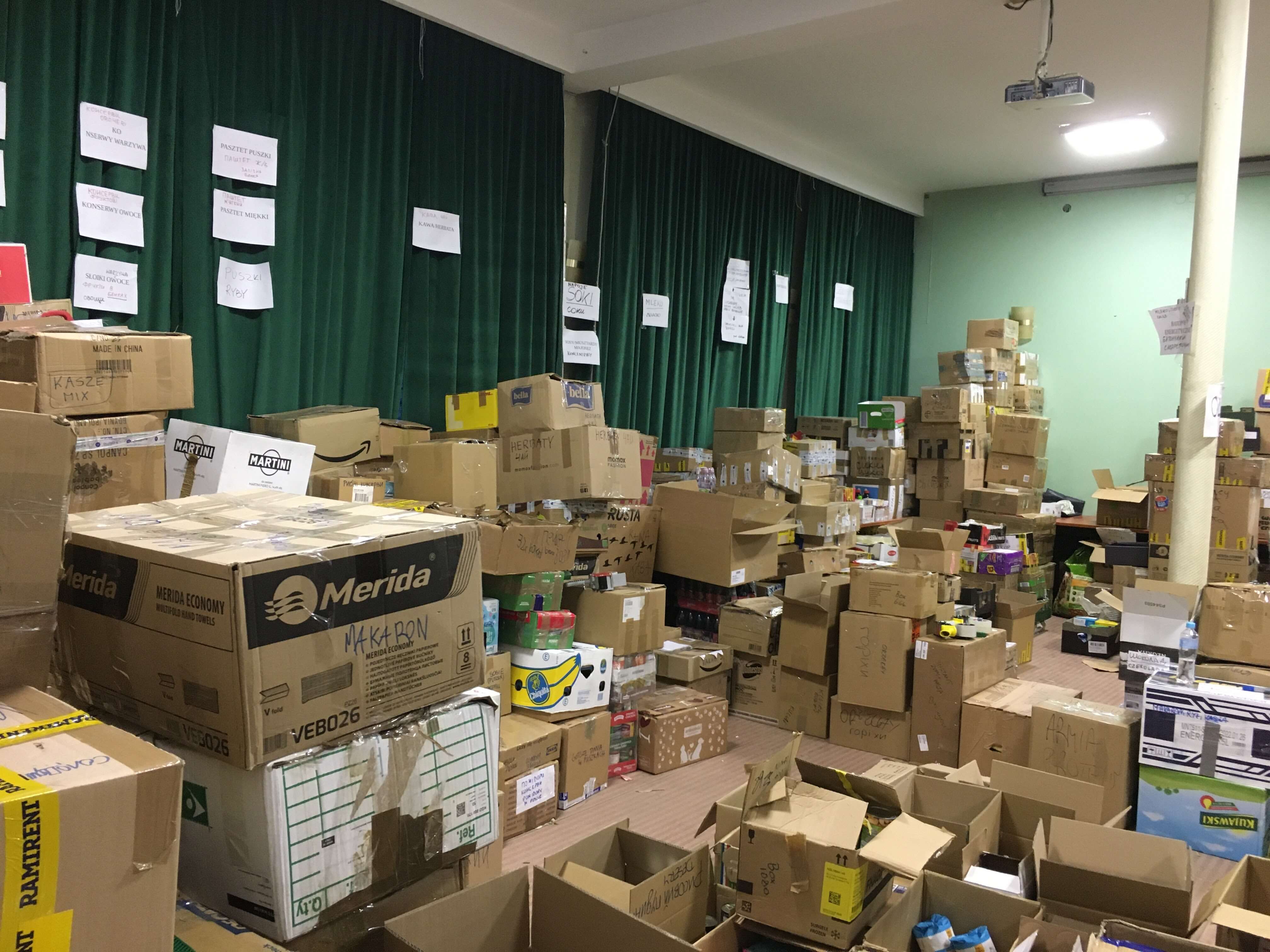 The day went by very quickly. We were busy and the atmosphere in the room was that of friendly togetherness. I realised a few things from this experience which I will be taking away with me:  
To be mindful when donating – bamboo shoots and coconut milk are probably less useful than a ready meal in a can 
Preparing parcels doesn't mean an opportunity to empty the wardrobe! On the day we had a donation of Halloween costume, diving mask and high heels.  
In emergency situations like the one in Ukraine, it's more helpful to donate a box containing one necessary item than a box filled with lots of miscellaneous items mixed together.  
Do not donate random items – check with donation organisers what items are needed the most. As we were leaving, the food items most sought after were long-life cupboard essentials like pasta, rice, grains; ready meals and tins, instant packet meals, UHT milk, and baby food.  
Towards the end of the day, we were told a lorry would be coming on Sunday morning to collect the donations and take it straight to Ukraine. This was a moment of ultimate mobilization of all volunteers. We quickly prepared 30 pallets of pasta, canned meat, baby milk, instant dishes ready to be loaded onto the truck. Separately, there was also a pallet destined for Ukrainian army – with torches, energy drinks, dried fruit and nuts and energy bars.  
I was there only for one day and it was hard physical work. I wish I could have stayed for longer or could do it again soon. Being able to help gives me the motivation and drive to do more. But most importantly, it gives me hope that we can make the world a better place.  
Written by Ewelina Niziolek-Wilson
If you'd like to read about the charitable endeavours of some of our other co-owners or read about how our company 'Give Back Group' is organising activities to raise funds this year for our two charities, Burdens' Charitable Foundation (BCF) and the Royal Manchester Children's Hospital (RMCH), please see our charity media page.