Castlefield attends charity supporters' event
On the evening of Wednesday 8th June, as a representative of Castlefield's Give Back Group (GBG), I was invited to attend an event held to thank supporters of our chosen charity –Royal Manchester Children's Hospital (RMCH). The event was hosted by Charity Patron, actor John Thomson along with special talks from Trust chairman, Kathy Cowell OBE DL, and hospital and charity staff who all gave an insight into the impact fundraising has made so far this year.
I found the presentations both engaging and inspiring, and a particular highlight of the evening was a presentation given by two boys from Burnley, Hughie and Freddie, which proved to be a real tearjerker. If you aren't already aware of the pair's story which has recently been doing the rounds on national television, Hughie Higginson was first diagnosed with cancer in 2020 and began urgent treatment at Royal Manchester Children's Hospital. Freddie Xavi upon hearing the news of his best friend's condition became determined to do something to help and set himself a fundraising challenge of running 2km every day for 50 days– finishing his challenge live on BBC Breakfast on Christmas Day morning.
Since then, the duo has received a number of awards, including the prestigious Pride of Britain award, capturing the hearts of many – helping to bring their fundraising total to an astonishing amount of more than £250,000 (at the time of writing) for Royal Manchester Children's Hospital Charity.[1] Find out more about their amazing story here or watch the BBC news report here.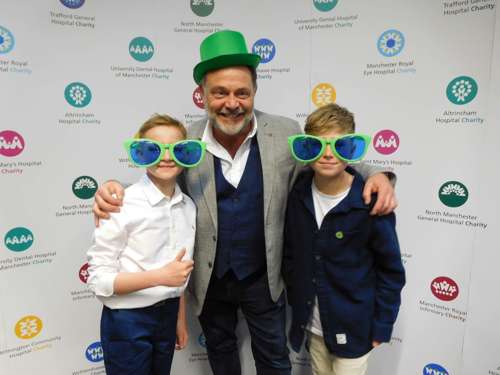 Hearing success stories such as this and from the many other supporters certainly motivated us to continue our own fundraising efforts with increased vigour. The GBG met again this week and we now have added even more events to our fundraising calendar, these include a board game social, a bake sale and a hiking challenge to name a few.
So far, we are halfway through the year, and we've already managed to raise double the amount of what we raised last year, but we're not stopping there. The final leg of the fundraising year is shaping up to be the most exciting leg so watch this space for continued updates!
Special thanks to the Charity for hosting a spectacular event (side nod to whoever baked and provided the yummiest brownies!). We look forward to the months ahead and are so pleased to be supporting such a wonderful and impactful charity.
If you would like to show your support for this year's Castlefield fundraising efforts for Royal Manchester Children's Hospital Charity and our other partnered charity – Burdens' Charitable Foundation, please follow this link to donate to our pot.
[1] https://mftcharity.org.uk/hughie-freddie-the-100km-challenge/
 Written by Tara Lawford