Will 2018 be the year of impact investing?
See footer for image license terms.
From red carpets to green bonds, the momentum behind 'impact investment' in the UK could break it into the mainstream this year.
Every investment has an impact. A very large proportion of all savings and investments are ultimately tied to companies that either damage or improve the health of our environment or wealth of wider society, and it's down to each individual how much they want to align their investments with their personal values.
For those who want to see their investments do as much social and environmental good as possible the growth of 'impact investment' has been a significant development. Impact investments go further than other types of responsible or ethical investment because they explicitly invest in companies or entities that generate and measure positive social and environmental impacts alongside a financial return. At Castlefield we often consider this as part of a Thoughtful Investment approach, as it helps individuals and organisations better understand how their investments relate to their personal or organisational values (Thoughtful Investing).
From emissions to education, affordable housing to animal welfare, biodiversity to board diversity, impact investment is making a real difference in the world, but with around £87bn[1] invested in the UK retail social impact market it remains a relatively niche part of the investment universe.
Yet 2018 may be the year that changes.
One person likely to agree with that view is Robert Devereux, the former Chairman of Soho House, who is now set to open a similar exclusive networking club especially for Impact Investors next summer. The new central London club, called The Conduit, will no doubt see champagne flowing, celebrities gathering and big deals made. But beyond the red carpet of The Conduit (I'm still awaiting my membership card!) there are three other big reasons driving impact investment forward next year.
Government attention: Last year a Government-commissioned review of the social impact investing market in the UK found it was underdeveloped and called for action to make it easier for people to invest in 'impact' funds. The government has undertaken to keep the UK at the forefront of the social impact investing market and is committing clear political support to the market in 2018.

Traction with big investors: Amajor conference on impact investment in Central London in December heard how many of the world's largest asset management and investment business are now working to develop sustainable investing "solutions" and products; this includes firms such as Goldman Sachs[2], BlackRock[3] and Vanguard[4]. For example, BlackRock, the world's biggest investor, has a team dedicated to impact investments that manages over $200 billion in a wide range of funds[5].

UK expertise and know-how: Underpinning all of this is a community of smart, boutique investors in the UK, such as WHEB and Impax, who for years have been demonstrating that impact investors can truly measure social and environmental impact and deliver sound financial returns. For example, WHEB's last impact report showed that if you invest £100,000 in the FP WHEB Sustainability Fund your money helped divert 14 tonnes of waste from landfill and avoids 160 tonnes of CO2 emissions - equivalent to taking 33 cars off the road. The fund has performed financially too, delivering returns of over 50% over three years[6].
Impact first
As shown in the useful graphic[7] below, produced by Bridges Fund Management (a leading UK sustainable and impact investor), impact investment is just one way we can all use our assets to both make money and make a difference, and is an ideal tool for those wanting to put emphasis on measurable social or environmental benefits. It generates positive financial returns as-well, and it is that 'win-win' nature that means the sky is the limit for the impact investment sector in 2018.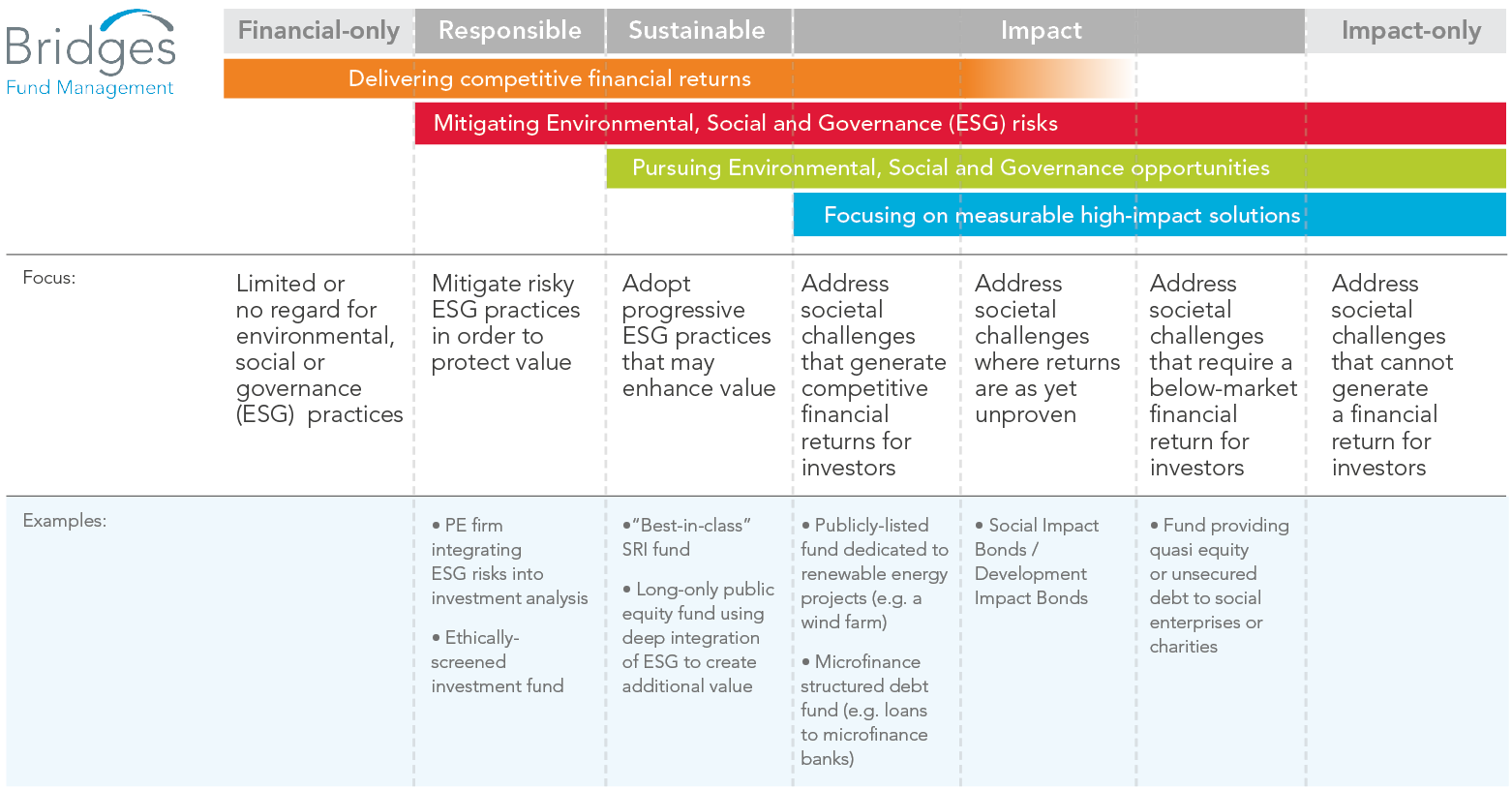 The 'Spectrum of Capital' graphic by Bridges Fund Management [7]
[1] https://www.ftadviser.com/investments/2017/11/14/government-tells-ifa-to-increase-social-impact-investing/
[2] http://www.goldmansachs.com/our-thinking/podcasts/episodes/11-07-2017-hugh-lawson.html?mediaIndex=1&autoPlay=true&cid=sch-pd-google-lawsonpodcast-searchad-201711--&mkwid=CwCEJO3m
[3] https://www.blackrock.com/investing/investment-ideas/sustainable-investing
[4] https://www.vanguard.co.uk/documents/portal/literature/vanguard-socially-responsible-investing-funds-retail.pdf
[5] http://uk.businessinsider.com/meet-blackrocks-impact-investing-team-2016-6
[6] http://www.castlefield.com/news-media/blog/winners-spinners-castlefield-reveals-who-is-giving-ethical-investing-a-bad-name/
[7] Source Bridges Fund Management
Image use
The header image is created by, and the copyright is held by, Wikcommons user: Escalhuda. No changes were made to this image. The image is available from:https://commons.wikimedia.org/wiki/File:Estes_pequenos_blocos_s%C3%A3o_%22Dominos_tricks%22-_-Servem_para_construir_e_destruir,_s%C3%A3o_muito_divertidos!_2014-03-01_16-25.jpg
The use of this image is not endorsed by the license holder. The image is available for use under a creative commons Attribution-Share Alike 3.0 Unported license.