Our visit to Mustard Tree, Ancoats, Manchester
Combating Poverty & Helping Homelessness
by Helen Tandy & Chloe Smith
 Chloe and I are back from our recent visit to Mustard Tree's main office in Ancoats. This is the first of their three locations in Greater Manchester. The remaining are in Eccles and Worsley.
Mustard Tree started in 1994. It was named by its founder Dave Smith. The charity aims to transform the lives of those in Greater Manchester who are trapped in poverty or homelessness, by enabling them to gain the skills and self-confidence they need to reach their full potential.
The organisation is run by 20 staff members. Pascale, who showed us around, joined because he admired the charity's ethos of helping people to gain the valuable skills needed to contribute to society. It currently has around 70 participants volunteering at least 2 ½ days each week along with an extra 100 volunteers.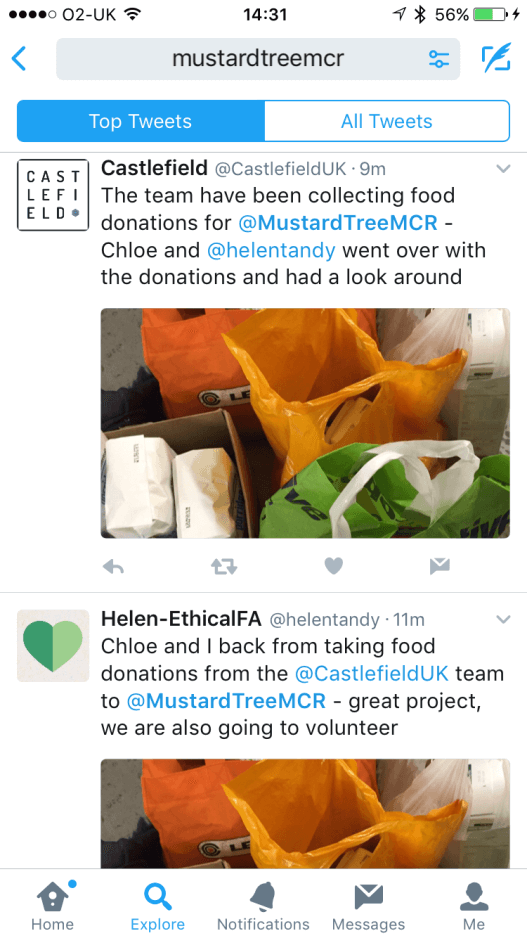 Chloe and Helen took food donations to Mustard Tree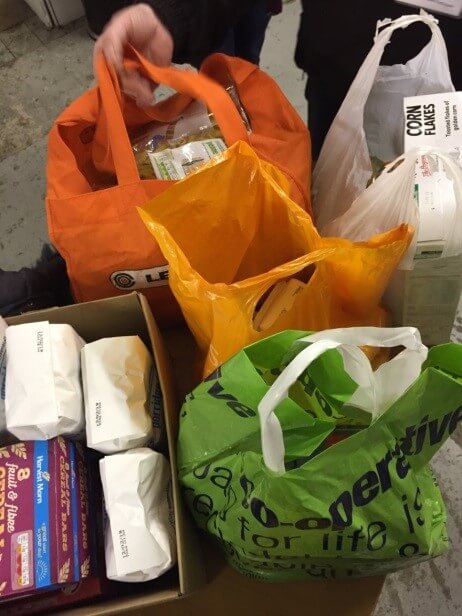 Food donations taken to Mustard Tree

The Ancoats building houses a second hand shop, selling clothes and furniture. In addition, they have a computer area, where they teach CV writing and IT skills, along with a lounge area, kitchen and dining room.
Many of the people who were eating there during our visit are part of the Freedom Project. The Freedom Project is aimed at those who have additional barriers in both work and life. These include homelessness, mental health troubles, addiction issues and criminal records. The project runs for 20 weeks, in which participants gain work skills and experience within the six main areas: warehousing & deliveries, catering, customer services, facilities management, office admin and waste recycling.
Freedom Project participants can access a number of other services alongside their work experience. Some of these are support-related such as counselling and mentoring. Others are creative like the art class, drama group and music studio. They also offer practical courses, such as in ESOL and computer skills. Participants can also take advantage of employability-based services such the 'Ready for Work' club and work placements with local businesses.
The Ancoats building is currently going through a renovation project, partly due to the tin roof which makes the building cold in the winter and hot in the summer. They have managed to raise around half the costs of the work so far. The work is being undertaken by StandFirm, a Community Interest Company (CIC), set up by the founder of Mustard Tree. StandFirm provides skills training, work placements and employment opportunities for those facing significant barriers to employment in the Manchester area.
A key aim of StandFirm is to utilise, recycle or upcycle any furniture, metal, white goods and electrical equipment. These items are gathered from a range of sources including house clearances. They also aim to offer such items back into the same communities through Mustard Tree's furniture retail outlets. It is a vital part of the ethos of StandFirm that the communities in which it operates benefit directly from its work through employment opportunities and the creation of affordable recycled furniture & household goods.
For more information on donations click here.
See our previous blog - How do people live on the breadline and how can we all help those who are homeless
Image by JMSuarez found here. License terms found here. The image has been cropped.