I'm dreaming of a waste-free Christmas
Christmas is a wonderful time of year for many people, full of cheer and giving, but unfortunately it can also be a period of excess waste. In this blog, we've looked at a few ways to help reduce the amount of waste whilst keeping that festive feeling going.   
According to gov.uk, around 30% more waste is created at this time of year.[1] Additionally, Mike Berners-Lee, author of 'How Bad are Bananas?' reports that the 'Christmas excess' of the average adult in the UK equates to 280Kg CO2e.[2] This is more than the annual footprint of the average Malawian (at 0.2 tonnes of CO2e).[3] Berners-Lee defines the 'carbon dioxide equivalent' (CO2e) as meaning "the total climate change impact of all the greenhouse gases caused by an item or activity expressed in terms of the amount of carbon dioxide that would have the same impact over a 100 year period."[4]
How therefore, can we cut down on this waste whilst keeping that festive feeling going? Here are a few tips to help.
Presents
Berners-Lee states that the "average adult spends a massive £600 on presents, of which 20 percent will be totally unwanted."[5] Therefore, it may be worth asking yourself whether a present is really needed or wanted.
To reduce this waste, you could agree to do 'secret santa', whereby everyone only needs to buy a single present for one person (usually randomly assigned in secret to everyone participating), instead of buying a present for all of your friends or family. Donating to charity, sponsoring a good cause, or buying an experience day are also thoughtful no-waste options. You can also take a look at our guide to 'green gifting' for more ideas.
Inevitably, we all receive gifts that aren't really 'us', or you might have already! Don't be ashamed of regifting these or donating them to charity. Those unwanted gifts could find their perfect owner.
A couple of Castlefield Co-owners are taking steps to reduce their gifting waste. Ewelina Niziolek-Wilson, Castlefield Partner, shared that this year she will be buying less, or no, 'stuff' and instead gifting experiences like theatre tickets and days out. Anita Mistry, Executive at Castlefield, has an agreement with her friends that they all go out for a nice meal together instead of giving gifts.
Wrapping Paper
Gov.uk states that "It's estimated by the Department for Environment Food & Rural Affairs, that around 50,000 trees are cut down each year to make enough paper to wrap presents."[6] Further to this, according to Giki, the production of Christmas wrapping paper emits 11.8million kilos of carbon emissions each year.[7] One final, astounding fact, is that if all the wrapping paper we used at Christmas were laid flat, it would reach the moon![8]
Though a lot of this can be recycled, any paper with glitter or other embellishments cannot be. Some are also made with plastic rather than paper and therefore can't be recycled. A good test to know whether you can recycle your used gift wrapping is the "scrunch test". Simply scrunch up the paper and if it unfolds then it is plastic.[9] 
If you choose to use paper, then try to opt for a recyclable option. Another good solution is to give gifts in gift bags or boxes rather than wrapping paper – this way they can be reused again and again.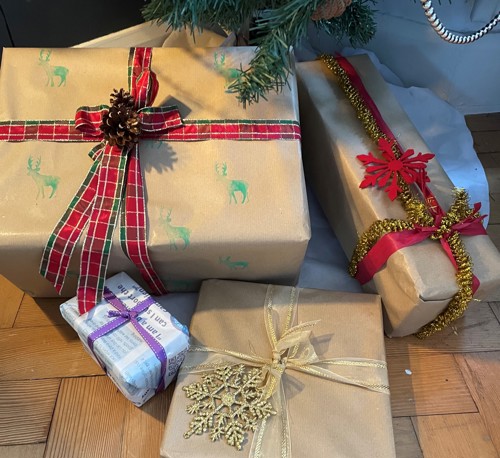 Rupert Lovesy, also a Partner at Castlefield, likes to use Furoshiki where possible. This is a traditional Japanese wrapping technique, which involves using cloth, often decorative, to wrap the object. The fabric can be re-used year after year.
Cards
According to Good With Money, in the UK around 1.5 billion cards are thrown away annually.[10] Therefore, instead of Christmas cards, why not have a group e-conference instead, or send e-cards. We use Group Greeting at Castlefield to send cards for our Co-owner's birthdays and other special occasions (other providers are available!). By doing this you can reduce your waste as well as your carbon footprint. You could also donate to charity in the place of sending cards.
If you don't intend to keep the cards you receive, why not reuse them if you can't recycle them? Some ideas include, cutting them up into gift tags, using them in scrap booking or for making handmade cards.
Rupert Lovesy also opts to send very few physical Christmas cards and instead sends out a message electronically. He then donates any money he would have spent to a charity of his choice.  
Trees
What type of Christmas tree you choose (real or fake), and how you dispose of it, can also have an impact on waste production and your carbon footprint. The Carbon Trust say that "An artificial tree used over multiple years (7-20 times depending on the weight and different materials in the tree) is better for the environment than buying a new, commercially grown tree every year." – although it depends on your circumstances such as the specific tree, plans for reuse and ultimately how you dispose of it. They have some advice about which choice might be right for you here: The Carbon Trust's tips for a more sustainable Christmas | The Carbon Trust.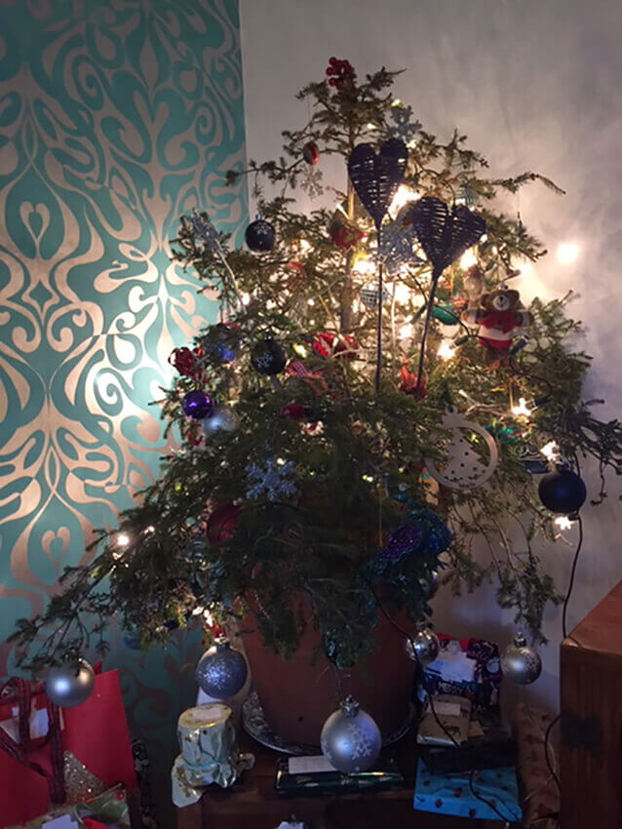 Decorations
Most shop bought Christmas decorations will be made of a mix of materials and are likely not recyclable. If you need more decorations, why not create your own? Ethical Consumer magazine suggests sticking with the decorations you have or asking around if you need some more.[11]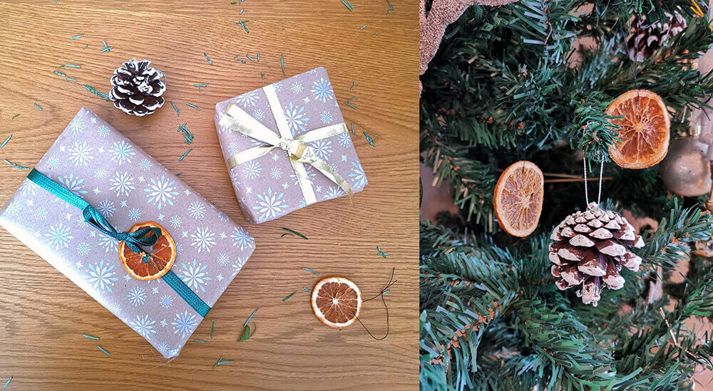 Food
We have created an article all about how to reduce the food waste and carbon footprint created from your Christmas dinner. Ultimately, to reduce waste, it is important to cook the right amount of food for you. This guide by BBC Good Food helps you buy the right amount of food for the dinner table.
Though we know these steps will not wholly eradicate Christmas waste, they are simple actions that we can all take to do our bit. From Castlefield, we wish you a merry low-waste Christmas and a happy New Year!
All information quoted is obtained from sources which we believe to be accurate at the time of publication, but may be subject to change. We therefore cannot be held responsible for the implications of relying on this information.
[1] 24 ways to waste not this Christmas - GOV.UK (www.gov.uk)
[2] 'How Bad are Bananas?' Mike Berners-Lee, pg122
[3] 'How Bad are Bananas?' Mike Berners-Lee, pg148
[4] 'How Bad are Bananas?' Mike Berners-Lee, pg8
[5] 'How Bad are Bananas?' Mike Berners-Lee, pg122
[6] 24 ways to waste not this Christmas - GOV.UK (www.gov.uk)
[7] Giki, 2022
[8] https://zero.giki.earth/actions/sustainable-wrapping
[9] Recycling Christmas Cards, Christmas Trees, Wrapping Paper (housebeautiful.com)
[10] Top 9 tips for an eco-friendly Christmas › Good With Money (good-with-money.com)
[11] Your ultimate guide to an ethical christmas | Ethical Consumer