Don't feed exploitation - Fairtrade Fortnight
an article by Helen Tandy

Fairtrade fortnight began on Monday 27 February and, while we are sure many of our existing clients already support Fairtrade, we aim to spread the word to a wider audience.
I have organised a range of activities with the Manchester Castlefield team over the years, including bake offs, video screenings and Fairtrade lunches made by my own fair hands.  
This year the focus is on Fairtrade break times and I helped the team with this on Thursday 9th March, by supplying Fairtrade break time snacks.
Our Manchester office is registered as a Fairtrade Workplace of World Changers, we provide Fairtrade tea, coffee and sugar to staff and clients.
You can purchase many items with the Fairtrade mark. Those you might use outside your Fairtrade lunch break include items such as bananas, gold, cotton and flowers.
Bananas- Waitrose become the first UK supermarket to sell exclusively Fairtrade bananas. Waitrose invests in research and development in sourcing countries to better understand the issues surrounding sustainable agriculture and collaborate with Fairtrade producers to improve technical standards and social wellbeing.
Gold - Fairtrade gold and precious metals is a ground breaking initiative that offers a lifeline to poor and exploited small-scale miners around the world. It links consumers of jewellery with the source of their purchase. It is this link through Fairtrade standards and certification that makes Fairtrade gold the best gold in the world.
Cotton - Ninety percent of the world's cotton farmers live in developing countries, which is where Fairtrade focuses its efforts. Most Fairtrade small producer organizations are based in West Africa – namely Mali, Senegal, Cameroon and Burkina Faso. India has become another important production country, growing the most Fairtrade certified cotton globally. Products made from Fairtrade cotton include clothing, bags, and homeware items such as towels.
Flowers- flowers and plants were the first non-food product certified by Fairtrade. 55 Fairtrade hired labour organizations represent 48,500 flower workers in eight countries, according to the 2015 Fairtrade Monitoring and Impact Report. Almost all Fairtrade flowers come from East African countries, namely from Kenya, Ethiopia, Tanzania, Zimbabwe and Uganda. Ecuador, El Salvador and Sri Lanka also have Fairtrade certified flower plantations.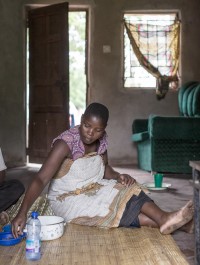 What else can you do? Fairtrade Foundation is asking for your help.
Our new International Trade Secretary Liam Fox has already started informal trade talks with over ten countries including China, Australia and the US. For Fairtrade farmers like Aubrey Chilenje  (see image above) it's a tense time. These big new trade deals have the power to destroy her livelihood. 'The system might demolish us,' she warned when we visited her in Malawi recently. 'Farmers will no longer be able to provide for their families.'
Remind Liam Fox that a 'great, global trading nation' must make sure its trade works for everyone. Please sign the Fairtrade Foundation's petition now. 
If he brokers a trade deal that favours a wealthier country, it could collapse the UK market for poorer sugar-producing countries such as Malawi, leaving farmers like Aubrey unable to compete.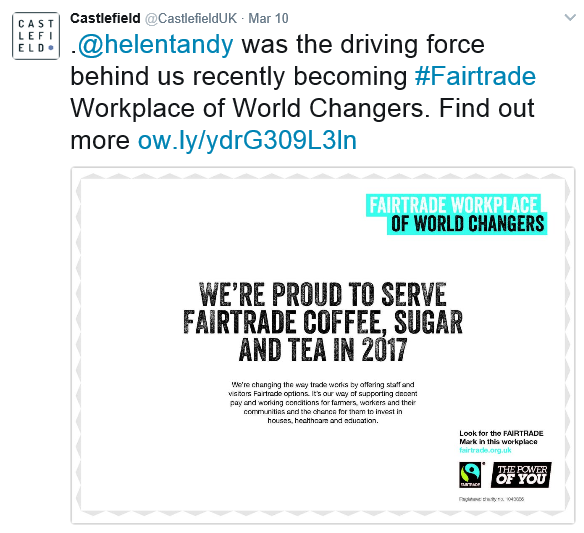 a tweet from Fairtrade Fortnight
Which tea should I choose? Rainforest Alliance vs Fairtrade
Rainforest Alliance as amark has grown quickly largely due to working with the multinational Unilever, owner of PG Tips and Lipton. This rise of Rainforest Alliance in the tea sector represents a move towards more mainstream business-friendly ethical labels, rather than the emphasis on the farmers and how products are traded.
Rainforest Alliance certification focuses on how farms are managed. This approach is very different to that of Fairtrade, where the emphasis is on minimum prices as a way to shift the terms of trade towards producers.
There is also a difference between a tea-growing area becoming certified in terms of each standard. With Rainforest Alliance a certified area can be large in scale, involving thousands of farmers and workers. An annual audit spread over a few days simply cannot verify hundreds of standards comprehensively across such vast areas.
One downside of choosing Rainforest Alliance is that as little as 30% of the product you purchase from the supermarket is guaranteed to be sourced from Rainforest Alliance-certified farms or estates. In addition, there are few Rainforest Alliance standards that you can easily grasp and objectively verify.
Organic has the strictest and detailed environmental criteria of any ethical label.

Fairtrade certification guarantees a handful of easily understood benefits, the main ones being minimum prices, premiums, and access to credit for farmers.

Rainforest Alliance, has more vague standards across the socio-economic and environmental spectrum.
While some have correctly highlighted the fact that few Fairtrade farmers can sell all (or even half) of their tea at the Fairtrade price, responsibility for this lack of demand is also closely linked to the rush to support more mainstream options by the big multinationals dominating the tea industry.
Rainforest Alliance is undoubtedly working to train farmers to improve the quality of their tea, as well as taking real steps in collaboration with the Forest Stewardship Council to make tea production more sustainable. But in order to foster real development, farmers need a basic level of income stability and security, and arguably only Fairtrade – or even better, double-certified Fairtrade-Organic – can bring this stability.