Castlefield Stock Story - Medica
One of the positive investment themes that Castlefield supports is Health and Wellbeing. Staying healthy helps us all to be more productive, have a better quality of life and live longer.
According to research published by the Royal College of Radiologists in November 2021[1], cancer and imaging services in England were already overstretched before the pandemic. However, lockdowns increased the pressure on these services, resulting in more patients  waiting longer for diagnosis and subsequent treatment. There is also a dire shortage of specialist clinicians; as of a year ago, the NHS radiologist workforce was short-staffed by 33% and needed at least another 1,939 consultants just to keep up with pre-coronavirus levels of demand[2].
Seeking to address these problems and support organisations like the NHS is Medica Group (https://medica.co.uk/). Medica, whose shares we hold in our CFP Castlefield Sustainable UK Smaller Companies Fund, is the market leader in the UK and Ireland in teleradiology. Teleradiology involves the transmission and display of radiological images, such as CT scans and X-Rays, to a different location to the clinical setting in which the image was taken. The company, which began life in 2004 as a small business above a flower shop, now has a global network of over 450 GMC-registered radiology professionals who review and report back on Plain Film X-Rays, CT scans and MRI scans to offer diagnostic support to clinicians working in around 100 NHS Trusts as well as in private healthcare facilities. Medica's mission is to support doctors and the NHS in providing better outcomes for patients.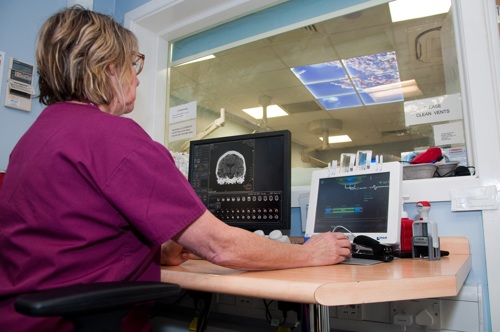 Medica's teleradiology service provides hospital radiology departments with external support to address serious capacity issues in both urgent and non-urgent diagnosis and reporting. For a patient, the way the process works is as follows; he or she has an X-Ray or other scan at the hospital and then these images are sent electronically to Medica who send them on to a suitable specialist Radiologist who is operating remotely – perhaps working from home. This expert reporter reviews the image as well as the patient's medical history and then produces a report detailing what the images show. The report is then sent back to the original clinician for diagnosis and discussion with the patient. Using Medica's emergency service, this process takes an average of 24 minutes[3].
Medica's expert reporters cover a range of specialities and examine over 1.5 million images a year. The company offers four main services;
Elective:
This service provides reporting within agreed timeframes for elective procedures and is equivalent to the reporting done in hospitals. This option also provides demand forecasting and performance reporting.
Nighthawk:
Round-the-Clock emergency reporting. Delivering diagnostic support to the Acute care environment. Reporting provided by teams of over 25 radiologists at peak times and in under 30 minutes, with dedicated pathways for Stroke and Major Trauma. Over 80% of all reports provided in under 30 mins.
Same Day:
Operating seven days a week with a four-hour turnaround for examinations. This service is designed for examinations where a report is needed more urgently than standard elective reporting but is not an emergency. It is ideal for in-patient work, especially to ease end-of-day backlogs and bed clearance.
Specialist Services:
These include Cardiac imaging, CT (computerized tomography) Colonography, prostate MRI and Cone Beam (dental X-Rays).  
Medica also provides teleradiology services to the Health Service Executive (or HSE), the Irish equivalent of the NHS. These services include diabetic retinopathy screening of about half the population of the Irish Republic. Diabetic retinopathy is a complication of diabetes, caused by high blood sugar levels damaging the retina. It can cause blindness if left undiagnosed and untreated[4].
To address new markets and develop new services, the company has acquired two overseas businesses. RadMD, based in Philadelphia, provides support for the imaging element of clinical trials including programme management, quality assurance, trial design and reading services. They process trial imaging from 20+ countries and are working with some are the largest pharmaceutical and BioTech trial sponsors. Through, Medx, based in Australia and New Zealand, they provide their clients with access to specialist radiologists across a range of time zones. MedX is a joint venture with Integral Diagnostics, one of Australia's largest imaging providers.
The company went through a challenging period during lockdowns, when access to all elective procedures was highly restricted, but it is now working extremely hard to help healthcare providers clear the backlog of X-Rays and scans and enable patients to obtain treatment. This work is expected to underpin revenues for several years to come. Also, as medical science advances, the complexity of scans and imaging will increase and Medica is ideally placed to meet these higher technical requirements. Recent acquisitions have reduced Medica's dependence on the NHS as a customer and have opened up new opportunities, such as the extremely large US healthcare market (now 12% of group revenues). In line with the wider equity market, the share price has fallen of late but we remain convinced of the investment case over the medium- to long-term.
[1] https://www.rcr.ac.uk/sites/default/files/rcr_submission_-_nhs_backlogs_and_waiting_times.pdf
[2] As above
[3] https://medica.co.uk/about-us/what-is-teleradiology/
[4] https://www.nhs.uk/conditions/diabetic-retinopathy/
Information is accurate as at 20.10.2022. Opinions constitute the fund manager's judgement as of this date and are subject to change without warning. The officers, employees and agents of CIP may have positions in any securities mentioned herein. This material may not be distributed, published or reproduced in whole or in part. With investment, capital is at risk.