Employee Ownership
We think our business is unique. From day one, the people involved in our day-to-day operations have held a majority stake in our business, alongside a major grant-making charitable foundation. It's helped us to define our values, predicated on long-term sustainable growth, independence and innovation, respect and responsibility; all designed to create an environment in which colleagues, as co-owners, can achieve their full potential.
Employee Ownership ("EO") Structure
Our culture has directly supported our success because we've embedded our values at the heart of everything we do. With significant expansion, careful recruitment is needed to make sure everyone buys into what we want to achieve. Incorporating values at every step, from recruitment onwards, has been a key part of that. Our EO status is one of four "CORE" values and is essential to recruitment, performance management and continuing development. Without our people, we wouldn't have been as successful as we have been to date and without our EO ethos, we wouldn't have had the people to make it possible.
How does it really work?
Our employees (or "co-owners" as we call them) find our model empowering: we can plan for the long-term and develop initiatives without worrying about a change in ownership. Ideas are encouraged from all sides too, with colleagues encouraged to explore projects or initiatives. Our EO structure provides stability and security, which directly influences productivity and helps us continue to grow.
This matters, as we map out clearly our ambitions and what they mean for the company and the value of our shares if achieved. This way, every co-owner can see what they are both contributing to and benefiting from over the coming years. This has and will continue to help motivate co-owners to drive Castlefield's success.
Backstage
First, we really try to avoid using the term "employees". Instead, we're all "co-owners" and that is how we describe ourselves. We've established various lines of communication from an old school noticeboard to a Co-owners' Council to develop strategic interaction between our leaders and all co-owners.
The Co-owners' Council has been founded with representatives from each department. It is a forum to assist with business accountability and gives co-owners the opportunity to ensure that the flow of information and strategic discussion between them (as shareholders) and our leaders (as managers) is transparent, via the elected Employee Share Ownership Trust (ESOT) representative who sits on the parent company Board.
We operate a Share Incentive Plan giving co-owners the opportunity to purchase shares in the company on tax advantageous terms and at a level that is economically possible for all. So, as well as the ESOT being a shareholder on behalf of all, we also have the chance to be individual shareholders.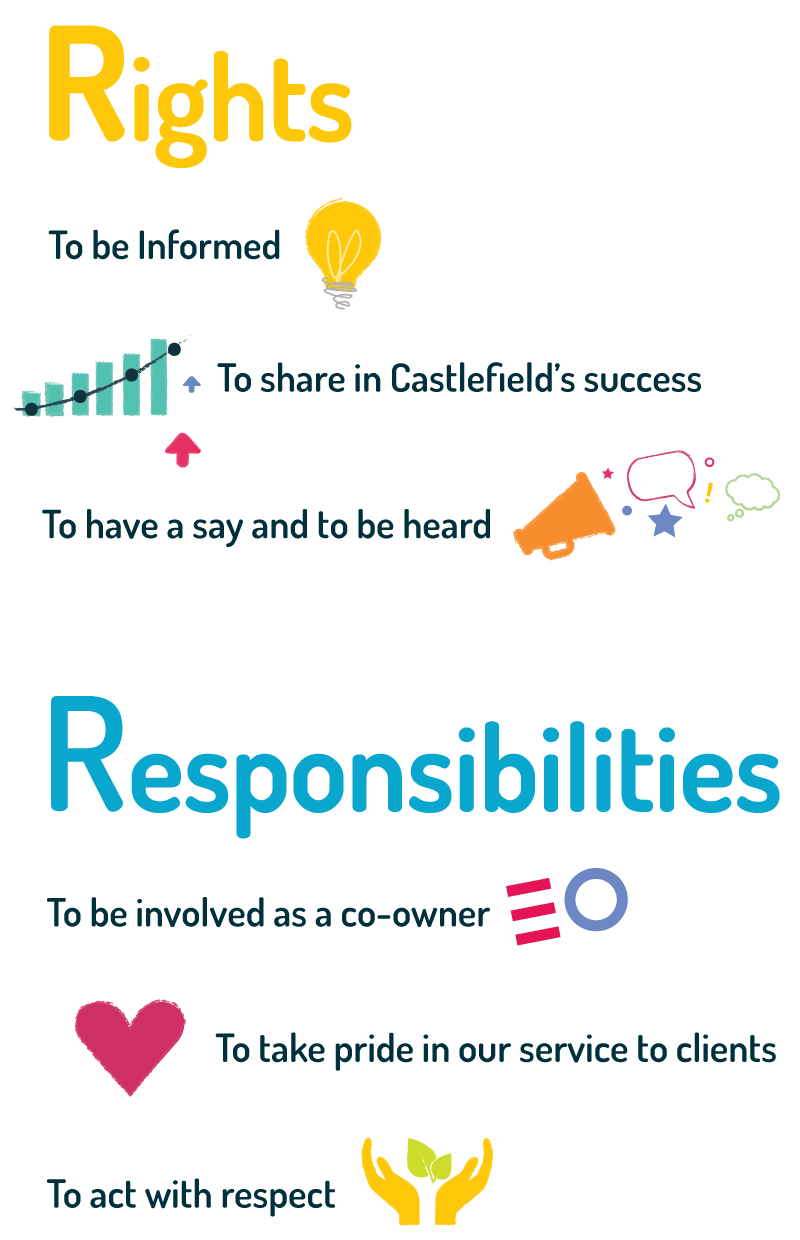 Employee ownership also places a responsibility upon the business, primarily its leaders, to make a similar commitment to us, by creating and maintaining a culture in which we're encouraged to participate as owners. During the creation of the Values and Behaviours we defined the Company's commitments. 
The Company showing its commitment to us means:
• Creating a sense of security through involvement
• Incentivising / sharing the financial benefits of ownership
• Giving everyone influence by creating an environment where all views are listened to
• Creating and maintaining a culture of fairness and equality
• Encouraging employees to ask questions, as co-owners
• Creating a climate which generates loyalty and commitment
• Attracting people who believe in employee ownership
• Giving credit for the contribution each of us makes