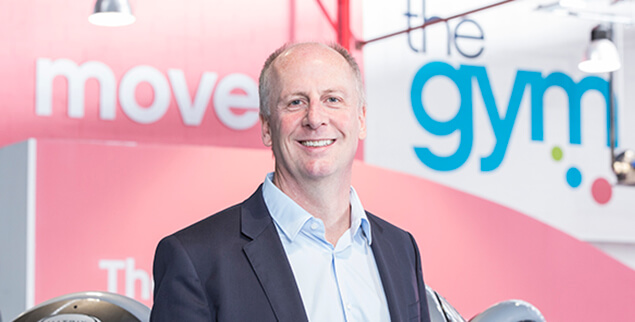 (Picture: Richard Darwin, CEO of the Gym Group)
David Beggs comments on his recent site visit to the Gym Group, held within our Castlefield B.E.S.T Sustainable UK Smaller Companies fund, Castlefield B.E.S.T Sustainable UK Income fund and Castlefield B.E.S.T Sustainable UK Opportunities fund.
Gym Group Site Visit
The Gym Group (TGG) is a leading operator of low cost, 24/7, no contract gyms in the UK. In October we went on a site visit to their Portland Street gym, located just a stone's throw away from our office in central Manchester. Our visit included a tour from the regional manager, followed by a Q&A session with the Chief Executive and Chief Financial Officer.
We were impressed by how efficiently they used the available space, the quality of equipment and the overall cleanliness of the gym. The regional manager gave us an insight into how TGG are responding to the changing habits and demands of gym users. TGG closely monitor equipment usage and consequently they have been reducing the amount of space allocated to cardiovascular equipment in order to increase the number of functional training areas, demand for which has partly been driven by social media trends. In addition, TGG are responding to the rise of high-end boutique gym classes by revamping their offering of exercise classes across the estate. Class users tend to stay as members for longer, hence there is a considerable incentive to increase the percentage of members who use classes from around 10% at the moment[1].
Management also outlined the new model for personal trainers (PTs) who operate in their gyms. We had previously engaged with the Group on the topic of the "gig economy". The PTs now work 12 hours per week for TGG as part-time employees and then separately, outside of these hours, they offer PT services directly to members on a self-employed basis. As employees the PTs qualify for a range of benefits including; holiday and sick pay, career development training, and discounts on insurance and financial advice. In addition, we were pleased to hear that the PTs will now be able to participate in the Share Incentive Plan (SIP), where for every share they purchase, the Group awards one matching share, up to a maximum value, which vest in three years subject to continued employment[2]. Management are confident that this model will help to attract the best PTs to their gyms, which is important given the contribution PTs can make to retaining members and improving the ambience of gyms.
We came away from the visit retaining our positive view on the investment case and the work the Company is doing to enable healthier lifestyles for as broad a cross-section of the population as possible. TGG offer a compelling service for those who previously found gym exercise to be unaffordable or incompatible with their work schedules. Consider that over one-third of members are shift workers and around 30% of new joiners have never previously been a gym member[3]. The benefits to members from this disruptive business model have been reflected in excellent growth in revenue and earnings whilst also achieving impressive returns on capital. We believe there is still runway for further growth which should deliver positive outcomes for both shareholders and wider society.
[1] Meeting note, October 2019
[2] https://www.tggplc.com/media/92344/Gym-Group-Annual-Report-2018.pdf
[3] https://www.tggplc.com/media/75188/Interim-Results-Presentation.pdf
Information is accurate as at 20.02.2020. Opinions constitute the fund manager's judgement as of this date and are subject to change without warning. The officers, employees and agents of CIP may have positions in any securities mentioned herein. This material may not be distributed, published or reproduced in whole or in part. With investment capital is at risk.
TNTGGBLOG/200220