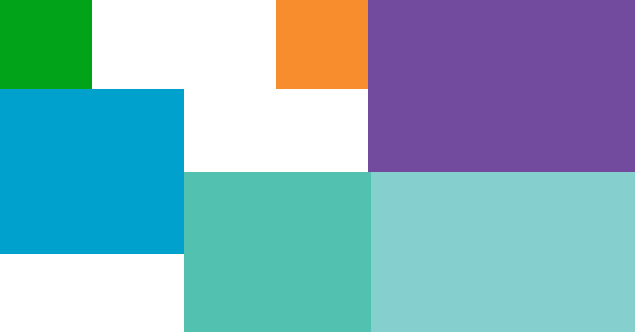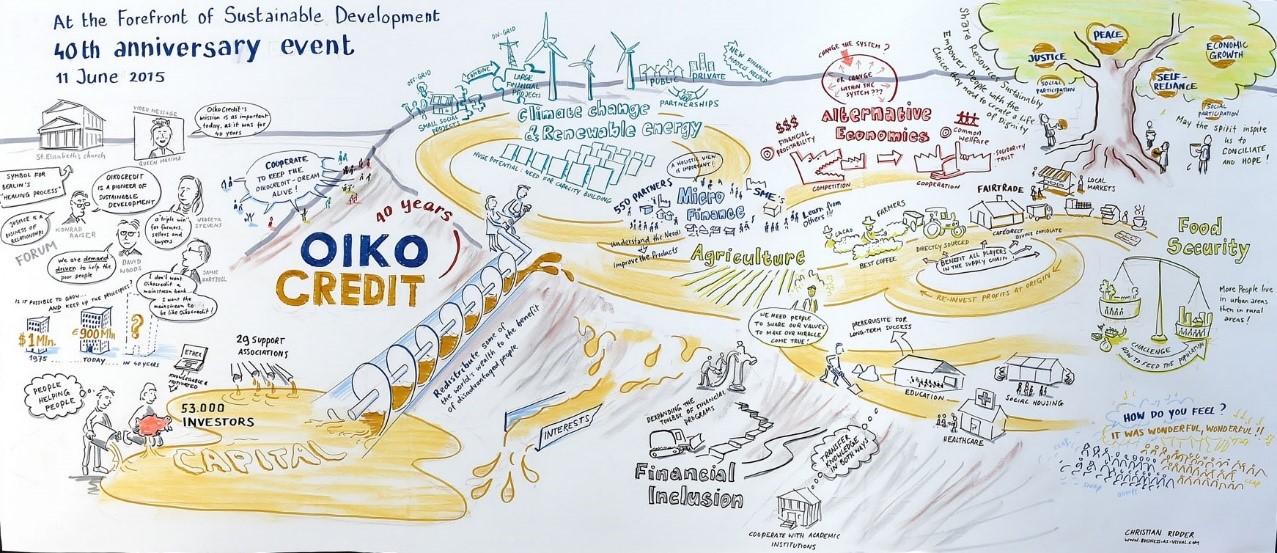 40 years of existing is reason enough to celebrate. But even more so when one's birth marked the beginning of a world-wide movement founded on the principles of justice, self-reliance and economic empowerment for all, with a mission to alleviate conditions of poverty by providing credit and resources to the most disadvantaged, financially-excluded, "unbankable" communities in the world.
Oikocredit were joined by 300 guests from over 30 countries at the St. Elizabeth's Church in Berlin-Mitte on 11 June 2015 to help reflect on its 40 years as a pioneer and world-wide leader of private social impact investing, and to discuss sustainable development over the next 40 years.
It was in Berlin in 1974 that the World Council of Churches endorsed the establishment of an international development cooperative (later Oikocredit) to plug the gap in development finance instruments at the time. With starting capital of just over USD 1 million and a small secretariat of four staff, Oikocredit was born. Dr Konrad Raiser, former general secretary of the World Council of Churches (WCC), who was instrumental in bringing about the cooperative, gave the opening speech at the event. 
He called for greater investment from all types of individuals and organisations outlining the original plea for just 2% of liquid or risk capital to be placed in social impact investments for development purposes. His rationale remains the same today as it was 40 years ago: "I believe that strengthening the independence of the poorest, most dependent members of the global community is the key to achieving greater justice, sustainability and economic growth for all" Raiser said.
His thoughts were echoed by a personal video message from Queen Máxima of the Netherlands who also serves as the United Nation's Special Advocate for Inclusive Finance for Development. Queen Máximapraised the work of Oikocredit and reiterated that "it is as important today as 40 years ago".
Academics Christian Faber from the Economy for the Common Good, and Maike Gossen from the Institute for Ecological Economy Research, led discussions on alternative economies for the future. 
Christian Faber called for a new economic system where the primary objective of all organisations/governments/economies would be 'to do good/promote wellbeing/reduce carbon footprints, poverty', with money being a means to achieve this, rather than the primary goal in itself.
Maike Gossen encouraged the need for a Sharing Economy where goods and services are redeployed during downtimes - for example, tools and equipment which are not in constant use at various points along the agricultural value chain. 
Other academics and experts joined for discussions on the salient global issues of Financial Inclusion; Food Security and Agriculture; and Climate Change and Renewable Energy – all areas in which Oikocredit deploys its investors' capital to help tackle some of the many challenges we face as a civilisation.
Solid financials for the future
In the past 40 years Oikocredit has disbursed over € 2bn in development financing through 1670 partners. In the past five years, its outstanding capital has increased by nearly a third to €900m, investing in over 60 countries through microfinance, agriculture, small trade, fair trade and renewable energy partners, with the aim of alleviating poverty and enhancing economic empowerment, particularly for women.
An ever increasing social and environmental impact
Social performance and support to partners to further strengthen their sustainability remain Oikocredit's core priority, including impact studies to assess the long-term benefits of social financing. In 2014, Oikocredit was able to reach 37 million people with financial and technical support. From data reported by 591 of Oikocredit's partner organisations in 2014, investments in low-income countries were up 16% to € 109m; borrowers reached through microfinance partners were up 32% to 37m; female borrowers were up from 81% to 86%; and 50% of those reached were living in rural areas. Of Oikocredit's partners involved in production and services (ex microfinance), 41% hold a 'green' classification. Of those production and services partners, 73% reported having an environmental policy, with 35% having at least one fair trade certification.
Oikocredit social performance and credit analysis director, Ging Ledesma, said, "In 2014, we focussed on growing our outreach in low-income countries, particularly to rural and female borrowers. Over the next two years we'd also like to see over half of all our production and services partners holding a 'green' classification".
Through capacity building as well as other initiatives, Oikocredit will support partners in their efforts to improve the lives of low income earners and their communities. "This will include improving food security for farmers by nurturing cooperative enterprises and increasing levels of productivity while being mindful of environmental impacts and the effects of climate change," Ms Ledesma added.
Throughout 2014, Oikocredit provided € 1.9m in capacity building funds, focussing on the strengthening of its social performance mentoring programme and piloting new programmes for agricultural enterprises.
The Oikocredit Investment Product
Investment is by way of depository receipts in the Oikocredit International Share Foundation and, as a non-readily realisable security with no secondary market, may be particularly appropriate to self-certified High Net Worth, Sophisticated or Restricted Investors. The above Information was provided by Oikocredit as at 2 July 2015 and does not constitute investment advice.
For more information, please contact Gaeia or Oikocredit.
Oiko40/030715