Is there a cost to sustainable investment?
The U.S. Department of Labour (DOL) may lead us to believe so. In June the DOL proposed a rule that would prevent fiduciaries of employee benefit plans subject to the Employee Retirement Income Security Act (ERISA) from pursing 'non-pecuniary' objectives, including investment in Environmental, Social and Governance (ESG) vehicles, where they understand the underlying investment strategy of the vehicle is to subordinate return or increase risk.[1] Whilst the rule is intended to provide clear guidance given the increasing popularity of ESG investing, it's hardly an incentive for plan managers to increase investment in ESG strategies.
Fortunately, there is large and growing volume of evidence pointing to a positive ESG/performance link at both firm and portfolio level. The evidence, founded in leading academic and industry research, has helped debunk the increasingly less common assumption that funds operating an investment policy incorporating ESG characteristics must suffer a performance trade-off. Pleasingly, as investors begin to understand the financial materiality of ESG factors, sustainable funds continue to achieve record inflows. According to Morningstar, investors across the globe placed $45.6 billion into funds focused on ESG in the first quarter of this year. This compared with global outflows of $384.7 billion for the overall fund universe.[2]
How do ESG characteristics positively impact financial performance?
ESG drives long-term value creation and reduces risk.
Research has highlighted improved operational efficiency of firms classified as having demonstrated stronger ESG practices.  MSCI examined how ESG information within stocks is transmitted to the equity market. In analysing the performance of MSCI World Index constituent companies, from January 2007 to May 2017, MSCI concluded that ESG factors have affected the valuation and performance of companies through lower costs of capital and higher valuations, higher profitability, and lower exposures to tail risks.[3] The rationale being that high ESG-rated companies are more competitive and can generate abnormal returns whilst they are also better at managing company-specific risks that can impact their share price. University of Oxford and Arabesque Partners, in a meta-study looking at over 200 high quality academic studies, found that 88% of the reviewed sources show that solid ESG practices result in better operational performance of firms and that 80% of the studies show that the stock prices of companies is positively influenced by good sustainability practices.[4] FactorResearch, in conducting a factor exposure analysis of US companies, illustrated that companies with high ESG scores displayed strong positive exposure to Low Volatility and Quality factors and that ESG factors generate positive excess returns.[5] In the area of Fixed Income investing, according to Barclays credit issuers with high Governance scores experienced lower incidence of downgrades by credit rating agencies and that a positive ESG tilt resulted in a small but steady performance advantage.[6]
There is an obvious link between Quality and ESG. Common characteristics of quality companies are a strong management team, predictable cash flows, balance sheet strength and economic moats. Quality companies will have a long-term focus and pursue sustainable growth at the expense of short-term performance to the benefit of all stakeholders. These companies will have a greater awareness of environmental issues and show similar regard for governance and their employees. Research has shown a positive relationship between employee satisfaction and shareholder returns and that improper management of the environmental and social dimensions may have a serious and negative impact on the ability of companies to conduct business. [7] [8]
How have sustainable funds fared?
Altogether, very well.
The performance of sustainable funds has also been the subject of considerable research. There is evidence that sustainable funds have outperformed traditional funds on both a risk and return basis. Morgan Stanley, in analysing the performance of more than 10,000 mutual funds from 2008-2014, concluded that sustainable equity funds met or exceeded median returns of traditional equity funds during 64% of the time periods examined.[9] For the period 2014-2018 Morgan Stanley also established that sustainable funds experienced a 20% smaller downside deviation than traditional funds. A reduction in downside risk was even greater in the most volatile periods.[10] Carleton University noted superior risk-adjusted performance of Sustainable Equity, Fixed Income and Balanced Mutual Funds in Canada. They also highlighted the ability of sustainable funds to reduce downside risk, finding that the funds in review outperformed their benchmark based on Sortino ratio 61% of the time.
Closer to home, Morningstar measured the performance of nearly 4,900 funds domiciled in Europe, including 745 sustainable funds and ETFs. The report found that a majority of surviving sustainable funds outperformed their average surviving traditional peer over one, three, five and 10 years up until Dec. 31, 2019. The report also demonstrated that sustainable funds held up better during the COVID-19 sell-off. In all but one category in the study, sustainable funds outperformed in the first quarter of 2020.[11] Being underweight energy sectors and overweight technology and healthcare will have benefitted many ESG funds, as will a bias towards quality companies whose attributes make them more resilient during market downturns.
This trend of ESG outperformance continued as markets have recovered. The MSCI ACWI ESG Universal index, which is made up of global stocks that demonstrate both a robust EGS ESG profile and a positive trend in improving that profile, made a total return of 7.98 per cent between the start of 2020 and the 20th October. The wider MSCI AC World index was up 6.39 per cent.[12]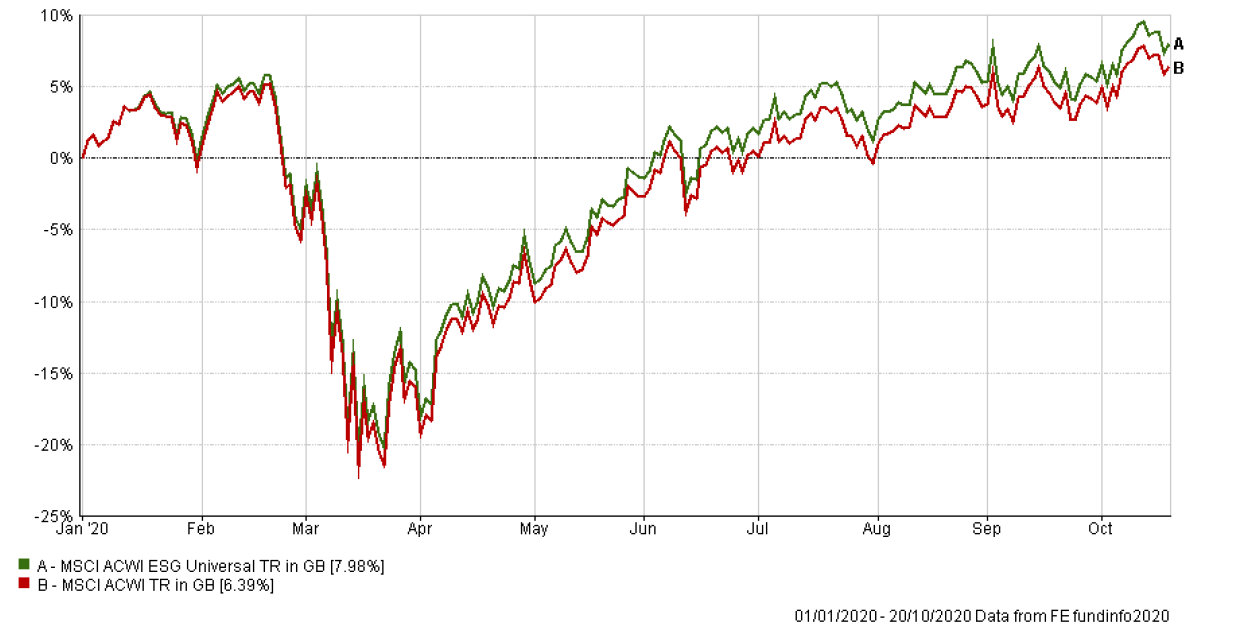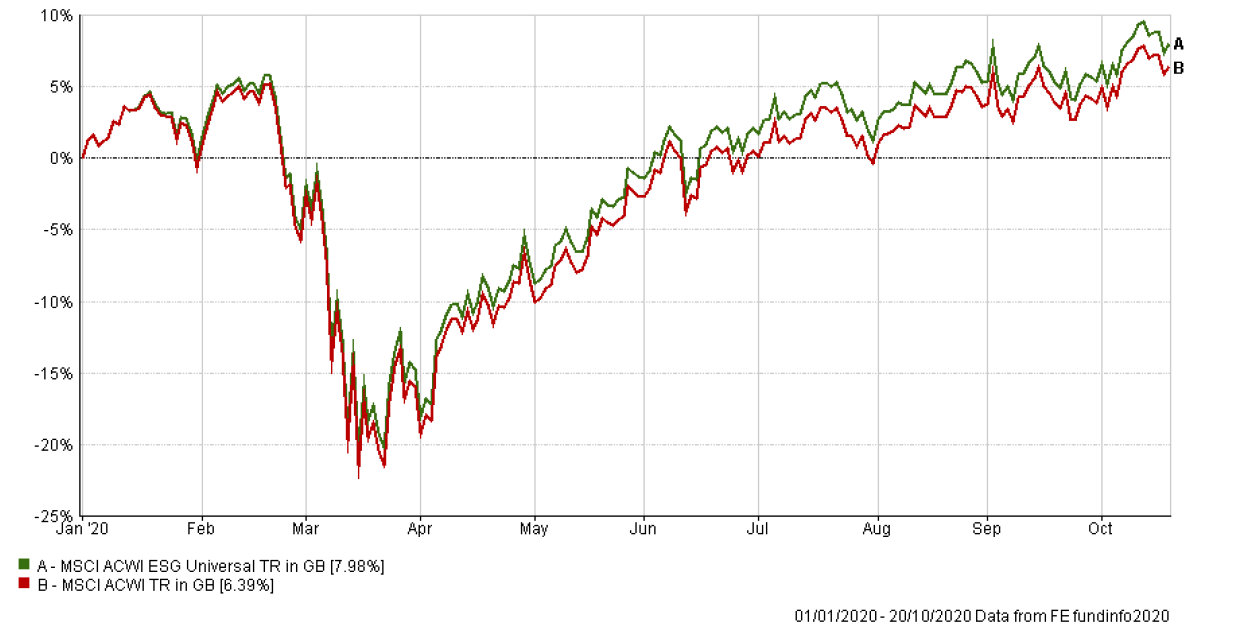 Source: FE Analytics
Conclusion
There is no evidence to suggest that investors incorporating ESG criteria into their portfolios should encounter a performance penalty. To the contrary, the returns of sustainable funds have met or exceeded those of traditional funds whilst offering lower downside risk.
Written by Anthony Kiantos
[1] https://www.dol.gov/newsroom/releases/ebsa/ebsa20200623
[2] https://www.morningstar.co.uk/uk/news/202274/investors-back-esg-in-the-crisis.aspx
[3] MSCI Foundations of ESG Investing – Part 1: How ESG Affects Equity Valuation, Risk and Performance
[4] https://arabesque.com/research/From_the_stockholder_to_the_stakeholder_web.pdf
[5] https://www.factorresearch.com/research-esg-what-is-under-the-hood
[6] https://www.investmentbank.barclays.com/content/dam/barclaysmicrosites/ibpublic/documents/our-insights/esg/barclays-sustainable-investing-and-bond-returns-3.6mb.pdf
[7] Edmans, Alex, Does the Stock Market Fully Value Intangibles? Employee Satisfaction and Equity Prices (January 20, 2010). Journal of Financial Economics 101(3), 621-640, September 2011, Available at SSRN: https://ssrn.com/abstract=985735
[8] OECD (2017), Investment governance and the integration of environmental, social and governance factors
[9] Sustainable Reality: Understanding the Performance of Sustainable Investment Strategies, Morgan Stanley, 2015
[10] Sustainable Reality: Analyzing Risk and Return of Sustainable Funds, Morgan Stanley, 2019
[11] https://carleton.ca/3ci/wp-content/uploads/SRI-Funds-Risk-and-Return-Analysis-final-22052015.pdf https://www.morningstar.com/content/dam/marketing/emea/shared/guides/ESG_Fund_Performance_2020.pdf
[12] FE Analytics
Please note that this article is intended for information purposes only and it does not constitute a personal recommendation or inducement to invest. You should seek independent financial advice first if you have any doubt that any investment strategy discussed in this article is suitable for you, taking into account your investment knowledge and experience, financial situation and your investment objectives. Readers must satisfy themselves that any action they take is appropriate in the light of their own personal circumstances.
All market and performance information quoted is correct at the time of writing, however can be subject to change.
STESGINVBLGAK/10112020